Riders to Remember....Ronnie Moore
By Dudley Jones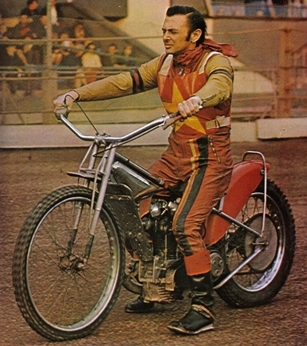 Ronnie Moore
It seems a long time now but I can still see, in my mind's eye, Ronnie in action in a world final at Wembley.
Most will know that Ronnie was twice world champion, those who saw him probably feel that he could have had many more championships, if he had wanted to enough. A strange thing to say perhaps, but here was a supremely talented rider.
Ronnie came over from New Zealand in 1950, and sought a trial at Wimbledon (he was actually Australian borne but had migrated to New Zealand).
That Ronnie was possibly the greatest 'natural' rider ever can be deduced from his start in Britain, in 1950, at age 17.
Ronnie scored a reserves maximum in his second team appearance for Wimbledon and by the beginning of May he was a fully-fledged team member. Picked to ride for Australia he was an international by July, qualified for his first world final and scored seven points in his last three rides to finish eighth.
Ronnie went on to win twice and was one of the 'big four' who dominated the podium for a decade.
Ronnie only ever raced for Wimbledon and he was a team man through and through. It is said that he cared far more about his team winning than individual glory, and that the world championship didn't mean very much to him.
I first saw Ronnie in 1962, at Norwich, in the days when an elite few were handicapped in every race. Ronnie, Ove Fundin, Barry Briggs, Peter Craven and Bjorn Knutssen were the super stars who started behind everyone else.
Matches between Norwich and Wimbledon tended to be hard affairs, grudge matches. There was always tension, which sometimes spilled over. Above all this, and despite my unconditional support for the Stars, I could not help appreciate and admire this superb rider. Ronnie was magic on a bike.
Sadly, Ronnie broke his leg in 1963 (but not before lifting the Malcolm Flood Memorial Trophy at Norwich). With that, and at the age of only thirty, he retired home to New Zealand, where he rode wall of death while recovering from his injury.
Years passed without Ronnie, but we could read reports of this natural star down under. Ronnie was persuaded to fly up to North Island during their summer, where he would borrow a bike and leathers and participate in match races with Ivan Mauger, and this was when Ivan was at the height of his powers. That this man, match rusty to say the least, could put on a genuine show, on borrowed equipment, against a world champion like Mauger says it all, here was a legend.
One of the high spots of 1969 was that Ronnie was persuaded to come back to Wimbledon. By then Norwich was closed, I had moved to Essex and found a new love in Rayleigh Rockets in Division 2 of the British League. Therefore I did not see Ronnie ride often.
Ronnie started where he had left off six years earlier. 1950, Ronnie's novice year, was the only year in his British career when he failed to average 9 points (or nearly so, 8.96 in 1962). In his 'twilight years' in the UK Ronnie's averages 1969 - 1972 read 9.59,9.83,10.19 and finally 11.82 - what a man.
I can still see Ronnie at Wembley, in red and gold leathers (black had just gone out but there were no advertisements). He suffered in those last finals from a mix of injury and the rapid ascendancy of Jawas over his Jap, but the skill still shone through. His mastery of a bike was such that he could switch from outside to inside, or vice versa, in an instant when hunting down an adversary, and often the rider in front had no idea where he was. I have never seen the like of it.
Ronnie Moore, probably the greatest natural talent ever, and up there with the handful who can lay claim to being the greatest of them all. I consider it a privilege to have seen Ronnie Moore ride.
We want to feature similar articles on riders from any era of the sport's rich history. If you'd like to contribute a piece then email us at speedwayplus@hotmail.com or fill out our form here.
This article was first published on 16th July 2009
---

Rob Greatley:

"I started going to speedway in 1969 (aged 5) with my Dad. Wimbledon was my team and I'm happy to say that Ronnie Moore was my idol. I distinctly remember being in the 'pit bend' stand at the Internationale in 1971, with 20,000 fans chanting his name. In one of his last meetings for the Dons at Poole, he scored 14 points, his only defeat being in Heat 1 at the hands of John Louis, all his remaining wins being from the back. I still have the programme from that meeting. Oh, and he went on to win the second half aswell, unbeaten. He was the best Team Rider that I have ever seen."
Denis Pook:

"I remember going to Wimbledon with my dad about 1957 - watching Ronnie Moore come out in red and Ron How in blue and taking on Ove Fundin from Norwich our big rivals- what memories - blaze away playing. I still think Ronnie was the best rider ever, he lit up the place (Pete Collins comes a close second - seeing Peter make a bad gate and then complete an amazing pass to win the race). I still get the goose bumps when I hear the bikes warming up and the smell as you get to a meeting. I also miss the yellow & black helmet covers - but that's progress and a small price to pay. If only we could get back some of the big attendances we used to get!! Now looking forward to the new season & getting just as excited over 50 years later - only having to travel from Wales to Eastbourne now !!!!!"
John Sandys:

"Ah Ronnie Moore! I remember going to Wimbledon in 68/70, to the sound of Desmond Decker and the Beatles, the smell of hot dogs, burgers and meat pies and the visual perfection of Ronnie Moore on the back of a speedway bike. The Team at Wimbledon then consisted of the likes of Bob Dugard, Cyril Maidment and the irrepressable Trevor Hedge, all being led by this genius on a bike with his scarf blowing in the wind. Fantastic memories of Gulf British league matches, Daily Express Spring Classics, plus pairs and four team tournaments. I still have a picture signed by the great man at the end of one of the spring classics as well as several rosettes sporting his picture. The lure of purchasing a pin badge/picture/rosette proved all too much every time we exited the grand stand, and oh! the smell of the bikes!!! What happy memories."
Limpiaparabrisas:

"Ronnie Moore landed in NZ around 1950 with father Les Moore, both globe-of-death riders. Les Moore was also a brilliant speedway rider, killed in a crash at Aranui, Christchurch. "
John Hyam:

"It's good to see Les Moore, Ronnie's dad, has not been forgotten as a speedway rider. He actually rode for New Zealand in one of the home test series against England in the late 1940s. When he came to England with son Ronnie, Les also had a few second-half rides at Wimbledon. I seem to recall him involved also in a match race against the American rider Bud Reda early in the 1950 season - Les won. Over the 1950 and 1951 seasons, Les also rode in open meetings at Shelbourne Park in Ireland and also in 1951 was a member of the Cardiff league team. Just to clarify - Les Moore died in a road car racing accident not in a speedway meeting in the late 1950s."
Peter Jackson:

"Ronnie was the first New Zealand speedway super star. A great friend of Barry Briggs. Ronnie Moore was my dad`s all time favourite racer, great choice dad."
Denis Sutherland:

"I remember seeing Ronnie ride at Western Springs Auckland when he started I think c 130 yds behind in the handicap races and I saw him match race Graham Warren from Australia, and years later I saw his accident at Tomago speedway just outside Newcastle NSW."
Gavin:

"My Aunty went out with Ronnie for about a year, she still speaks highly of him."
Vincent Reilly:

"I remember seeing both Les and Ronnie Moore riding in Shelbourne Park Dublin in the 50's as a lad. The Wimbledon team used to come to Dublin on a Sunday and ride as the Shelbourne Tigers. Used to go every Sunday with my family, pity it didn't last longer. I'm an avid fan of speedway still and watch it regularly on TV."
Daryl Oliver:

"I saw Ronnie Moore ride against Ivan Mauger and Ole Olsen at Christchurch in 1966. "
Ian Meakins:

"I was priviledged to live in South London in the 60's 70's and 80's and followed Wimbledon and Ronnie was without doubt the greatest team rider the sport has ever seen. Who can forget the final heat against Ipswich when Wimbledon were 4 points down and about to lose their long unbeaten home record up against the giant John Louis. He team rode Alan Johns to a 5-1 and a draw in one of the best examples of team riding I have ever seen. Gone but never forgotten Mirac was one of the all time greats. "
Peter Rose:

"Now in my eighties I was lucky enough to see the great Ronnie Moore ride. How great was he is answered by the fact that he was an idol to Ove Fundin. Say no more."
Sean Byrne:

"As a kid I lived within walking distance of the Dons home on Plough Lane. I thought it was magic watching Ronnie. He always rode for team points often protecting his regular partner Cyril Brine from the opposition. Ronnie's ability to hug the white line was the best ever. Marvelous."

[ Use Mobile Version ]

Comment on this Article | Contact Us | Go Back to Main Menu