Rowley Park
By Peter Hunter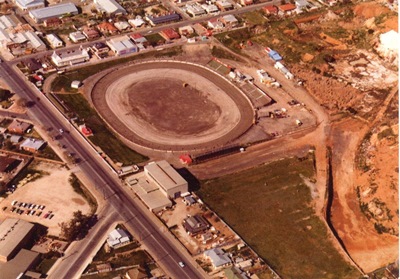 Click on the picture for a larger view.
Just thought I would submit an aerial picture of the now defunct Rowley Park Speedway in Adelaide, Australia. I can't take credit for the photo as it was taken during the late 1970's when I was only a toddler.
For your reference, the start-finish line was located between the two grandstands on the right of the track. The pit gates were located on the outside of turn 4.
The photo shows how close the speedway was to suburban houses. Located only 5 km from the city centre of Adelaide, Rowley Park ran from 21 December 1949 until 4 April 1979.
This article was first published on 9th March 2014
---

Phil Rice:

"I had in my youth always wanted to see the massive 500 yard plus track and by chance in 2013, found myself on a train from Adelaide to Freemantle which went right past the Showground. Am curious to know if the railway was around when Peter's photo was taken."
Graeme Frost:

"Phil is getting his cities and tracks confused. If he was on a train to Fremantle, and went pass the site of a former 500+ metre track, then he was travelling from Perth to Fremantle and went pass the site of the former Claremont Showground Speedway. That is several thousand kilometres from Adelaide and Rowley Park."

[ Use Mobile Version ]

Comment on this Article | Contact Us | Go Back to Main Menu