Book Extract: 70 Years of Rye House Speedway
70 Years of Rye House Speedway
by Norman Jacobs
Published by Tempus Publishing
A complete history of Rye House Speedway 1934 - 2004 plus special chapter on Rye House's triumphant 2005 camapign.
Published end of April 2007, 160 pages with 58 photographs
Order your copy from The History Press
---
Extracts from book.....
1941
With most tracks now closed, Rye House's achievement in putting on ten meetings during 1940 was quite a triumph, but they surpassed themselves in 1941 by managing to stage 13 meetings, with one rained-off.
Still known as Dick Case's Speedway and run under the auspices of Harringay Speedway, the season kicked off with a three team tournament between Ron Clarke's team, Roy Craighead's team and Bob Harris's team. As well as these three, Geo Gower, Doug Wells, Jack Milross, Benny King and Roy Uden all turned out, with Harris's team winning out.
At this opening meeting, George Kay said it was his hope to run meetings every week but that it would be difficult to plan too far ahead as the availability of riders would be a problem as some were now in the armed forces and some working shifts on vital war work.
The following week, Kay said that Rye House had been criticised in certain quarters for continuing to run speedway meetings and "wasting petrol". He said he wanted to make it quite clear that speedway machines did not use petrol, "but wood alcohol which is made entirely in this country and which cannot be used for road purposes." He urged supporters to remember this if criticised themselves for continuing to follow the sport. All the usual suspects turned up at the second meeting, Clarke, Craighead, Gower, Milross, Hall, King and Uden amongst them, but a special treat was announced for the third meeting when it was revealed that Archie Windmill would be home on leave and taking part as a guest rider. Along with Windmill the regulars turned out with Milross winning the big event of the afternoon, the Spitfire Scratch Race final.
The next meeting, on 22 June, was to be the first in a series of meetings held during the season, the Trophy Handicap. The idea was that it would be run on a "Grand Prix" style with the rider gaining the most points at the end of the season declared the winner. The first round proved to be a most exciting affair, as two scratch riders, Ron Clarke and Jack Harris, dead-heated for first place in the final. In spite of this exciting start nothing more was heard of this particular trophy during the rest of the season.
The following week Rye House took on a strong Norwich team consisting of Dick Wise, Syd Hipperson, Bert Spencer and Syd Littlewood. The Rye House team was Ron Clarke, captain, Jack Harris, Roy Craighead and Benny King. Only four heats long, this meeting proved to be an appetiser for a full-scale meeting between the two teams on 24 August when more or less the full Norwich team paid a visit to Hoddesdon. The Rye House team for this encounter was Clarke, captain, Harris, Craighead, Ron Howes, Dicky Harris and Milross with Hall and Gower as reserves. Archie Windmill guested for the Stars. The local lads did Rye House proud, thumping their second division opponents by the magnificent score of 54-28. Craighead scored nine points from three rides but unfortunately suffered engine failure in his other ride.
The last meeting of the season, on 31 August, featured the "Au Revoir" Cup and was won by Roy Uden from Ron Clarke. A sign of the times was that a collection was held for the Prisoners of War Parcel Fund.
1950
By the 50s, the Rye House track had become acknowledged as the best training track in the country with many clubs, including Wembley, Harringay, Walthamstow and Rayleigh taking full advantage of its facilities. Case himself organised two full day training sessions, on Tuesdays and Thursdays for any youngster who wished to come along and try out. The day consisted of a morning session, during which Case put them through their paces, a pub lunch and an afternoon session similar to the morning. Each day was limited to 30 juniors. The other clubs hired the track for half days for their own training. During the winter Swedish teams would also come over for practice while individual riders such as the 1949 World Champion, Tommy Price, also hired the track to try out new engines or just to give themselves a few practice laps.
As well as being the best training track around, Rye House was also pulling in large crowds for its Sunday meetings. Many London supporters made the trip by train or bus, while the Harringay Supporters' Club used to send a regular contingent of 40 fans under the leadership of their secretary, Snowy Beattie, on bicycles. As in the pre-War days, a trip to see Rye House speedway was just one part of a pleasant Sunday out for Londoners. As well as the racing there were the river boats, the fair and the peacocks walking around the large pub gardens to add to the attraction. Having so many supporters from different clubs made the area around the track very colourful as all of them sported their own team's colours.
1974
At the end of the 1973 season, Rayleigh was forced to close down as the site was to be redeveloped. The Rayleigh promoter, Len Silver, immediately began to look round for another track so the Rockets could continue. At first he though he had found the answer at Crayford, a track which had closed in 1970. However, there were planning problems and Silver was forced to continue the search. It occurred to him that maybe Rye House could prove to be the ideal spot. There was already a track in existence and it was used to running at the weekend, which was Silver's preferred option. After explaining the position to Bill Mathieson, Mathieson agreed to pass over the speedway rights to Silver for nothing to keep the Rockets alive. Mathieson himself stayed on as training school instructor and as part of the new management set-up. Peter Thorogood was installed as the manager and Rye House made an application to take over Rayleigh's licence and run in the British League Second Division. For the first time ever, Rye House was about to become a senior league team.
Some alterations were made to the track as the bends were shortened and banked as well as to the stadium to try and bring it up to league standard. Terracing was installed on the back straight, a new office was built, a brand new public address system was introduced and new pits were created on the other side of the track with new dressing rooms for the riders.
At the beginning of April, the new Rye House team, who had taken the Rayleigh team name, the Rockets, with them, was named as Bob Young, captain, Brian Foote, Red Ott, Pete Wigley, Trevor Barnwell, John Gibbons, Steve Clarke and Peter Cairns. It was hoped that two injured Rockets, Peter Moore and Alan Emmett would be able to join the side after recovering from injury. This was almost the same side as the Rayleigh team that had finished bottom of the league in 1973 with the exception of Tiger Beech who had retired. Silver was hoping that several of the riders, notably Foote and Clarke, would show improvement over their 1973 form and that when Moore and Emmett returned they would have a team worthy of a much higher position. For the Rye House supporters it was a big change in their status and they looked forward to the new season as a fully fledged league team although there were some misgivings over the fact that they had imported a team that had finished stone last the season before.
The season began on 6 April with an away fixture at Canterbury for the first leg of the Johnnie Hoskins' Birthday Cup. It proved to be a stunning debut in to the new world which they had entered as they flattened Canterbury 44-33, with Brian Foote scoring 10 paid 11 to top score.
Rye House's first home match in the new era took place on Sunday 21 April when the Rockets beat Canterbury, 41-36, in the second leg in front of a crowd of 3,500 to win the Cup 85-69 on aggregate. This time Steve Clarke top scored with 13 while Foote again contributed 10 paid 11. Silver's hopes for Foote and Clarke looked as though they were about to come good and it seemed to the fans that their misgivings might have been misplaced..
1990
.On 16 September, in the home match against Glasgow, Mullarkey fell and never again returned to the track. It was a sad end for the Rockets' most loyal servant. Nevertheless his fifteen year career as a Rye House rider had been a wonderful example to other riders. His exuberant never-say-die attitude had been an outstanding feature of the team for ten years. He had been a heat leader for seven years, captain of the team that won the cup in 1979 and the league in 1980 and was responsible for holding the team together in the potentially disastrous 1981 season. His commitment to the team was second to none as his massive tally of bonus points in 1979 and 1980 in particular showed. From September 1975 until he left for Canterbury on loan at the start of the 1983 season, he did not miss a single match for Rye House, racking up a total of 295 consecutive league appearances. In 1989, at the age of 38, he made himself available to answer the call of the club when they were in desperate trouble and did the same again in 1990. There is no doubt that Mullarkey had written himself in to the Rye House record books as the most popular rider ever to wear the Rockets' colours.
2005
.The following Saturday saw the Rockets' final match in the league, which they duly won 60-31 over Somerset. It was a night of joyous celebrations at Hoddesdon as, although they had already won the league title, it was the night the trophy was actually presented to them.
With the league and Conference Trophy already won, the Rockets were now trying to land the KO Cup and the Young Shield. In the Young Shield, Rye House disposed of Sheffield in the semi finals and then found themselves up against King's Lynn in both the finals. The season finished therefore with four matches against the Stars.
Sadly, Rye House were unable to add another trophy to their tally as they lost both finals to King's Lynn. After the elation of winning the league, the team seemed to lose a bit of their edge and without Robson for all four matches, they just failed to overcome the on-form King's Lynn outfit, who seemed to have reserved their best for the two finals. Although it was a slight disappointment there is no getting away from the fact that the 2005 Rye House team was, in many people's minds, the greatest to have worn the Rockets' colours. Of course much of the credit must go to the riders themselves. Robson was absolutely superb until his late season injury, while Werner played a real captain's role and the two of them, together with Neath and Kennett, all finished the season with eight plus averages. King was only just behind on 7.57, while Allen and Boxall proved to be all that could be asked for from reserves. Every single member of the regular team scored at least three full or paid maximums during the year.
As well as the riders though a lot of the credit had to go to the team manager John Sampford and to the man who had been associated with Rye House for over 50 years, Len Silver himself.
Silver had been a Rye House discovery himself as a rider back in the early 50s. In 1974 he saved the track from possible closure when he brought senior league racing to Hoddesdon. He was the man who had guided them to their last league win back in 1980 and in 1999 and 2000 he played a crucial role in first resurrecting the Rockets team after their closure at the end of 1993 and then in their return to their home. He also had the courage and foresight to buy the stadium for speedway and had then taken the further step of running clubs in two leagues. There had been many disappointments along the way as the teams suffered from injuries and other problems just when it seemed they were in with chances of taking titles, but Len had never given up and now all his hopes and dreams for the club had come to fruition in 2005. During it all, he had also never forgotten that Rye House had been throughout its history one of the country's leading producers of talented youngsters, a tradition Len is keen to continue today. He also continues the tradition of providing wonderful family entertainment at the track by the river.
This article was first published on 26th April 2007
---

Derek Watson:

"I remember Kelvin Mullarkey's last match for Rye House. His fall was typical Mullarkey, looking around trying to get the referee to exclude someone else despite the fact it was his fault!!! He was one of those riders opposition fans loved to hate and I suspect he knew it. The sport doesn't have characters like him any more!!!"
John Hyam :

"This looks like being an important addition to any speedway library. I was especially intrigued to see the name Roy Uden as racing at Rye House in the war years. I thought that Roy only started on speedway in 1948 when he rode for Rayleigh, although he was a well known performer on grass tracks for many years. And post-1954, Roy Uden drove stock cars at many tracks, including Rayleigh.

In the late 1950s, I spent many Sundays watching Rye House - home and away - in the old Southern Area League, when I was especially friendly with the 'East End Trio' of Vic Ridgeon, Al Sparrey and 'Tiger Tim' Jim Chalkley. The latter, without success, tried to tutor me as a speedway novice - but I could never get above two-miles an hour when on track!!"
Leigh Parslow:

"The excerpt from the '70 years of Rye House speedway' couldn't be more apt. I don't think Kelvin would agree ever that he was excluded as a result of his riding skills!! However, we'll have a good laugh when I remind him of the incident. My children (his grandchildren) especially enjoy the tales of old, sporned from when he is wound up from watching speedway at Mildenhall, or on Sky Sports now!!! "
Clive Uden:

"It was really interesting to see the name of Roy Uden. I can remember my father talking about his cousin who was a speedway rider and it is a joy to see someone has recorded this information. Thank you."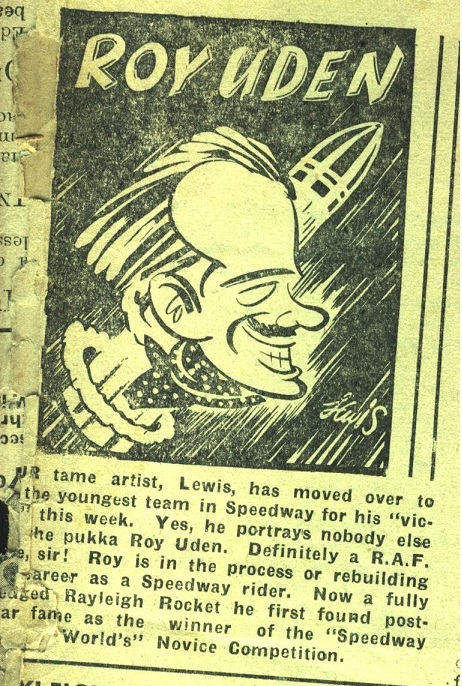 Robert Rogers:

"Re the comment on Roy Uden, please see this picture, Sorry not in very good condition, but the Newspaper was from September 1948, and in a very tatty condition. The paper is twisted, and despite me adjusting it in the scanner to make it straight, the scanner keeps twisting it back! It shows a Charterer of Roy, seem he was in the RAF, and as it states he is rebuilding his Speedway Career after the RAF, I assume he rode pre-war."
Rob McCaffery:

"I started following speedway back in 1971 as a Rayleigh Rockets supporter and well remember Roy's motor business by the Weir. Only later did I learn of his history with the Rockets. In the mid eighties I was in Estepona on the Costa Del Sol covering a pro-celebrity bowls tournament of all things for Screen Sport when I was introduced to an elderly spectator who I was told also had speedway connections. I was delighted to find myself being introduced to Roy!"
John Hyam:

"Roy Uden did ride speedway pre-war at Rye House and also rode in a few meetings there during the war years. After the war he had a 1947 trial in Division Three with Plymouth, but did most of his league speedway for Rayleigh in the late 1940s. Roy was late a leading stock car driver in the latter part of the 1950s, possibly into the early 1960s. He also owned a car showroom/petrol station just outside Rayleigh Stadium. In later life, Roy went to live in Spain. He passed away a few years ago "
Kevin O'Brien:

"I'm sad to report that my great friend Dave Slater passed away recently at the age of 88, Dave was a rider for Rye house speedway team in the 50s, he rode bikes up until his 80+ years and was an active member of the AJSMOC, he built some excellent single engine bikes in the flat tracker style, at the age of 76 he bought a new Harley Davidson sportser which he liked but always prefered his Matchless single, it was fitting that two of the specials he built out of auto jumble parts were ridden to the service on the day of his funeral. R.I.P Dave we miss you lots!"

[ Use Mobile Version ]

Comment on this Article | Contact Us | Go Back to Main Menu