Veterans Tour of South Africa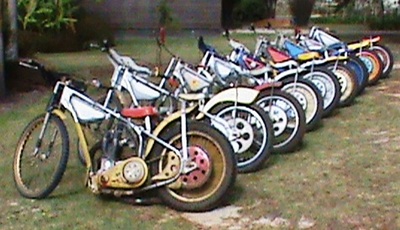 Bobby's Stock of Bikes
We've been contacted by Bobby Hack who is hoping to arrange a veterans tour on South Africa later this year. Bobby said:
I am attempting to revive speedway in South Africa and would like to stage a "Speedway Legends" tour.
There are many dirt ovals around the country used for Stock Car racing and all in good shape. I have built up a collection of older bikes, all race-ready, and was hoping to entice at least 12 veteran riders to visit SA and ride a few demo races.
The supporting events would be Bike and Quad flat track.
The tour would start in Cape Town and from there to the Garden route - George, Outshoorn and Port Elizabeth then on to Natal and finishing in Johannesburg .
The tour would take 5 weeks and all flights, transport, accommodation and meals will be sponsored. It would be a great working holiday for the riders with lots of time between events to experience the many facets of South Africa.
I am looking for overseas contacts who may be able to put me in touch with retired riders who can still ride and would like to take part in a fun tour. I am planning do this in August or September this year.
Bobby can be contacted at bobbyhack@strombolis.co.za
This article was first published prior to October 2002
---

Chris Stockwell:

"What a FANTASTIC idea Bobby, these sort of meeting really appeal to me and I'm sure to dozens of other FANS in the UK. Any thought of bringing it over here? I'm sure it would be a GREAT SUCCESS, I for one used to ENJOY BRIGGO'S GOLDEN GREATS MEETINGS and it's been to long since this type of meeting as been seen in this country. Pure NOSTALGIA. GOOD LUCK TO YOU."

[ Use Mobile Version ]

Comment on this Article | Contact Us | Go Back to Main Menu