Riders to Remember....Sandor Levai
By Dudley Jones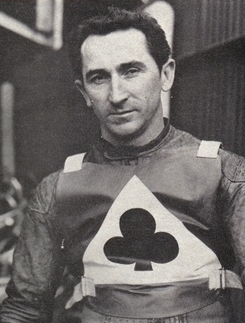 Sandor Levai
Sandor was really my sister's favourite. She used to go round to the pits at Norwich, where Sandor was always willing to chat.
For me Sandor started as, well, something of a lost cause - but came good, sadly largely after the demise of that greatest of tracks, Norwich.
If I remember correctly, Sandor came to Norwich late in the day, in 1964, the last year at the Firs. Sandor had, reputedly, been Hungarian Champion, before leaving in the aftermath of the 1956 uprising.
Somehow, he re-emerged in the 1960's. I believe that it was at Stoke that he tried his luck first, in the Provincial league of those days (but it could have been Long Eaton). Anyway, he failed to impress in the Provincial League and, somewhat illogically, tried to get accepted at Norwich, in the National League (the Elite League of the day).
To say that Sandor was unsteady was, to put it mildly, an understatement. He was all over the place! On the terraces we had, of course, got used to holding our breath for 60+ seconds in the days of Terry Betts early 'do or die' efforts. Just as well, we would have passed out otherwise watching Sandor.
He didn't, initially, get much reward, but he never gave in or gave up. Sandor was the ultimate trier. There were many crashes, a few punch-ups with Colin Goody and others along the road but, eventually, Sandor got the odd point or three. He got steadier, and his never give up approach served Norwich well. We grew very fond of this 200% rider. Sometimes his few very hard won points saved the day for the Stars.
Sadly the Firs died in the name of housing development and the City fathers have relentlessly opposed a new track. Sandor, however, did not fade away. As I matured I moved away, supporting West Ham and, to some extent, Hackney. Later I would return, to support Kings Lynn and ultimately, Ipswich.
I saw Sandor ride again, for Newport and Belle Vue, when he rode against my new adopted teams. Now, however, it was a different and polished star we saw. Age-wise, he must have been a veteran. However, I have clear memories of Sandor as a heat leader, a number one and captain of Belle Vue, sometimes carrying his team..
The story went even further. This great trier served Ipswich in their early British league Division 1 days, and finally, in his 40s, came out of retirement to ride, with distinction, for Cradley. There indeed was a true rider, and a true gentleman, of the tracks.
Thank you Sandor, who knows what you could have been had you started in the UK in 1956.
I understand that Sandor returned to Hungary after the wall came down. If you're still about good on you mate, you did British Speedway proud.
We want to feature similar articles on riders from any era of the sport's rich history. If you'd like to contribute a piece then email us at speedwayplus@hotmail.com or fill out our form here.
This article was first published on 19th March 2009
---

Jim Salt:

"Like Keith Burrows I'm a Cradley supporter, but my Mom and Dad took me to Monmore on the 10th October 1969 as a "birthday treat" - (Cradley had finished their home fixtures the previous Saturday). Naturally we shouted for Newport, in particular my favourite ex-Heathen Chris Julian, but the real hero of the night was Sandor who was the only Wasp to win a race. The Flying Magyar contributed 12 from 5 rides out of a 23 point total. He also went on to win the 2nd half so I suspect that could be the match to which Keith refers."
Keith Burrows:

"I remember my dad taking me to Wolverhampton one Friday night (a bit of an adventure, we were Cradley fans!) and Sandor rode for Newport. He was pretty much a one man team and I think got 17 from 6 rider after a duck first time out. For me that night he was superb, and he made the Wolves riders look poor, which was great for us, happy days! Anyone know the date? I think it would have been 1969 or 70?"
John Hyam:

"I remember when Sandor Levai and Zeke Zoltan arrived in the UK after the 1956 Budapest uprising against the Russians. They contacted me at 'Speedway Star' and, as they were then in the Manchester area, I contacted Belle Vue and they had second-half rides in - I think - early 1957. Levai persevered and made the grade in the UK but Zoltan seemed to vanish from the speedway scene. I never found out what happened to him."
Ewen Nicolson:

"A succinct and enjoyable piece about a rider who obviously took many years in a new land to find his way. In many ways, this is why I love speedway and football. Guys who die a death at one club can become heroes at another, and true class often rises slowly to the top."
Bryan Tungate:

"I first heard of Sandor in Belle Vue & Stoke teams in the 1960's. When he came to the Firs in 1964 he was earmarked to replace George Major, who had been riding for the Stars instead of joining the blacked Provincials like numerous other riders. Sandor obviously gained from riding extra bookings at Rye House as well. He soon settled in at the Firs and proved a popular bloke with the Supporters as well. As said he only scored a few points but he had to "wrestle" his way through to get those. He soon became known as a rider "they didn't mess with" and watching him became as important as watching the Ove way of winning.

Although we knew the end was nigh for the "Fabulous Firs" it was still a blow to say goodbye to the Stars like Ove, Billy, Terry, Derek, Trevor, David, Reg and those riders we had come to love over the years it was soon obvious Sandor would be missed just as much. His times with Newport, Belle Vue, Ipswich and Cradley in the next years saw Sandor hit the bigtime as a rider of some repute.

I was informed he is now back home in Hungary. I think it was Brian "Mr Birmingham" Buck who put this info on the excellent Birmingham Website.

Bryan Tungate - Norwich Stars - 1930 - 1964, The Memories still linger. If the Lord invented anything better than Speedway, He kept it to Himself "
Ian Harwood:

"I remember Sandor Levai losing his rag riding for Newport at Belle Vue after getting excluded for breaking the tapes, then after being refused entry into the rerun riding full tilt into the tapes and ripping them assunder. My old programmes tell me it must have been 29th August 1970. Bizarrely the incident wasn't even during the match proper but during one of the second half Heinz 57 Club Trophy heats. Just shows the passion that Sandor will always be remembered for."
Tony Sanderson:

"Sandor was one of my childhood heroes and I was so upset when he left Belle Vue. He was very popular with the fans and always had time to sign an autograph and a pleasant hello. I always followed his career after he left and loved it when he came back to ride against us and hoping he would still do well."
Alan Pennington:

"Sandor Levai first rode in England in the late 50's at Belle Vue and Birmingham. He failed to make the grade due to poor equipment apparently. He re-emerged at Stoke in 1963, the local press referred to him as 39 years old and a Hungarian Champion, which he was. He went straight into Stoke's team against New Cross, no second half races at all. We thought this guy must be pretty good for that to happen. His first race he flew out of gate, failed to turn and spent the race trying to free his bike from the safety fence. He was dropped but due to injuries he rode in ten matches scoring 19 points and showed great improvement.

Stoke closed sadly at the end of 63 but I always followed Sandor's career after that. It was great when he finally reached heat leader standard at Newport. I saw him ride for England at Halifax versus Sweden, he would have been really proud. I was saddened when he died earlier this year, I never met him but those who have say what a great bloke he was. It seems the Stoke press got his age wrong. R.I.P. Sandor."
Brian Buck:

"I have a little information about Sandor's Hungarian compatriot Zeke Zoltan who was mentioned by John Hyam. His actual name was Zoltan Zeke as Hungarians alway show their surnames first. He was a speedway rider in his homeland but I don't think he ever rode seriously after coming to England and he was quite a bit older than Sandor. Along with Sandor, Zolly as he was known, came to live in Birmingham and married a much younger Hungarian girl named Ancie. He had little to do with speedway afterwards apart from watching the occasional match at Cradley Heath when Sandor was riding, and he died fairly young some years ago."
Ian Southward:

"My brother in law used to take me to see the Aces on a Saturday, Sandor was my favourite as he once sat me on his bike, a Jawa and asked me would I like to ride it, I of course said yes and told me to come back when I was old enough. I was 10 and I'll always remember him. "

[ Use Mobile Version ]

Comment on this Article | Contact Us | Go Back to Main Menu