Golden Greats at Oxford Stadium
The "Save Oxford Stadium" campaign continue to raise awareness of the important part it played in the history of sport in the city. Their latest advert into the Oxford Mail features a classic encounter between two legends. Thanks to John Fray for sending it to us.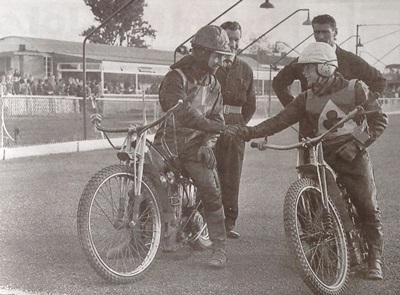 "On Thursday 9th May 1963, two of the greatest Speedway riders ever to turn a wheel met to contest the Golden Helmet at Oxford Stadium. Ove Fundin - the holder (left), shakes the hand of challenger Peter Craven before the best of three heats at Sandy Lane. Two times World Speedway Champion Craven was victorious and in the process set a new track record time of 63.0 seconds. Calculated to be racing at an average speed of 46.0 miles per hour, that track record remained unbroken until the length of the track was altered over a decade later.
The impact of this evocative scene from the illustrious past of Oxford Stadium is further enhanced by the background view showing the unmistakable Directors Bar, and to the right, the double decker bus that would ferry supporters to the stadium from surrounding villages.
So much history in one photograph. So much history in one Stadium. Let's not lose it, let's make more history. Save Oxford Stadium."
The advert appeared in the Oxford Mail on 1st September and was sponsored by S.D.Timmo Car Sales. Click on the image below to see the full sized image.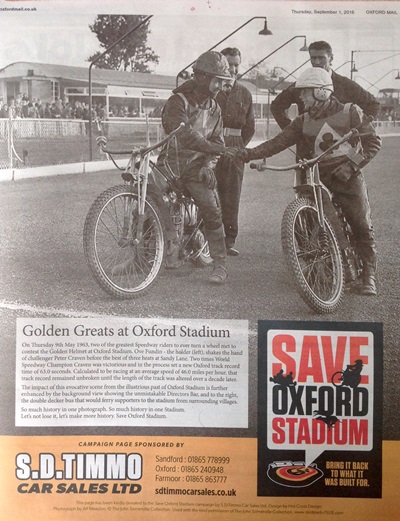 This article was first published on 18th September 2016
[ Use Mobile Version ]
Comment on this Article | Contact Us | Go Back to Main Menu