Riders to Remember....Sean Courtney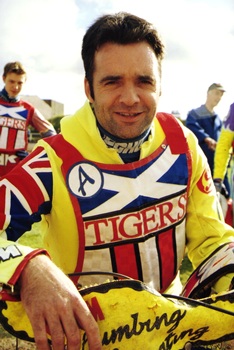 Sean Courtney
(Picture by Ian Adam)
Sean first came to attention when he signed for Middlesbrough Tigers in 1981. His elder brother Mark was an already established star in the Cleveland Park side and the prospect of his younger brother treading the same path to success was an exciting one. Sadly injury prevented Sean from making much of an impact with the Tigers, never even appearing in the side, and he moved to Edinburgh and out of the shadow of his brother.
It was with Edinburgh that he first made an impression on the sport. He broke into the Monarchs side in the 1983 season, displacing the experienced Glyn Taylor mid-way through the year. The breakthrough was hard fought as Sean often seemed to experience great difficulty in keeping a machine of his own on track. Often he'd appear on borrowed machinery or something cobbled together from various sources.
He made the most of the opportunity presented to him and established himself as a solid reserve-cum-second-string in the Monarchs side. It's fair to say that he was considered something of a hot prospect during his time with Edinburgh, though the expected breakthrough never seemed to quite happen. It wasn't a happy time for the club generally in the mid-eighties, particularly during a horrendous 1984 season when virtually all of the side spent time out injured.
Sean moved on to Berwick early in 1985, Edinburgh received Phil Jeffrey and Scott Lamb in exchange and both sides seemed happy enough with the settlement. Lamb, included as a makeweight in what was principally a Jeffrey/Courtney swap, went on to perform admirably over many years for the Monarchs.
Sean rode for Berwick until the end of the 1989 season and was a formidable opponent around their Berrington Lough home, though his away scoring tended to be rather indifferent. He often seemed to start the season in blistering form, suggesting that his long awaited 'big breakthrough' had occurred, then tended to tail off as the season progressed. His variable form led to him appearing as both reserve and heat-leader though he was generally considered to be a good second string. His time in the Borders was soured when a dispute with the club left him on the sidelines, reportedly with-holding his services, for a month or two.
He moved back over the border in 1990 and joined up with Glasgow Tigers, the transfer being funded by new promoter Peter McBride who would become a good friend of the entire Courtney clan. By now it was accepted that Sean had found his level, he would produce solid scoring in the six-to-seven point average bracket and the great expectations that had surrounded his early career were long forgotten.
His elder brother Mark's career had also floundered and he was now back in lower division racing after a top-flight career that took in spells with Leicester, Belle Vue and King's Lynn. The brother's shared the same care-free attitude to life and racing, but their riding styles were very different. Mark was a classic armchair stylist, very similar to Leigh Adams on a bike. Sean was that bit bigger and always seemed to sit tall in the saddle, making his style a little more-unorthodox and certainly not as free-flowing as his brother's.
The two brothers were team mates at Glasgow in 1991 when Mark was introduced, amidst much acrimony, when Kenny McKinna was axed from the side. The pair provided strong backing for Steve Lawson, Shane Bowes and Jason Lyons as the Tigers charged up near the top of the table.
Big changes were afoot at Glasgow the following year and both Courtneys were left out of the side. Sean phoned every promoter in the land looking for a deal and was delighted to accept an offer to join Rye House. Most certainly a long way from his traditional northern beat - but a job's a job. Brother Mark tagged along also and Sean performed his usual middle order job in his only season in the south.
It was no great surprise when Sean opted to ride closer to home the following season and he rejoined Edinburgh in 1993, still operating from Powderhall at that time. That was the season when each team consisted of eight riders and meetings were staged over eighteen heats. The format employed made things a little different for middle-order riders like Sean. In order to 'protect' the young reserves at seven and eight in the sides it was decided they'd only have one race that wasn't exclusively against their fellow reserves. This meant that Sean was facing heatleaders in virtually every race and some of the 'easy points' from previous seasons were missing.
As ever, he made a decent contribution to the team and it was a little surprising when he wasn't retained by the Monarchs for 1994, presumably the points limit playing at least a part in that decision. It seemed that nobody else could accommodate him either and the season started without him.
His saviour was the formation of the third division, the fore-runner of today's Conference League. The reduced operating costs at that level allowed clubs like Stoke and Berwick, who had both dropped out of the sport at the end of 1992, to re-open with a lower cost base. Sean lived locally to the Berwick track and was an obvious choice to lead the new team. He agreed terms and pulled on the black and gold racejacket once more in some early season challenge meetings.
Injuries are part and parcel of speedway and when Jesper Olsen copped an unfortunate one it opened the door for Sean to replace him in the Glasgow team. He was therefore back in professional racing before the season had reached its mid-way point and his performances helped Glasgow to retain the Division 2 championship they had won the previous year. It was to be Sean's only championship win. It also concluded a curious sequence that had seen Sean move from Edinburgh to Berwick to Glasgow, spend a season with Rye House, then once again move directly from Edinburgh to Berwick to Glasgow - talk about re-tracing your steps!
Radical change hit the sport over the winter and the top two divisions amalgamated into a single Premier League. The redistribution of riders was a shambles and Glasgow, in common with many of their former lower league rivals, were unable to strengthen their side to any great extent. That allowed Sean to retain his place and ride against the world's best on a weekly basis. Paying for those riders didn't come cheap and Glasgow collapsed in a pile of debt at the season's end, leaving Sean on the sidelines once again.
His only action in 1996 came in a short mid-season spell with Belle Vue, one of the reduced number of clubs in the all-embracing Premier League. He never found any kind of form and announced his retirement from the sport. That wasn't to be the end of the story, in an almost direct reversal of decisions taken two years previously, the Premier League was split into upper and lower divisions in 1997 - now to be christened the Elite and Premier Leagues. A number of clubs were able to reopen or move up from the Conference League and these riders needed competent performers. Glasgow were amongst the clubs returning to the sport and they turned to Sean to fill one of the gaps in the side. He came in on a handy low average thanks to his struggles for Belle Vue the previous summer and he proved a capable number four in a side led by Neil Collins, Mick Powell and Stewart McDonald.
The new Premier League gave Sean a new lease of life and he rode for Glasgow until May 2000. During that time the club moved from Shawfield to Ashfield and Sean was a virtual ever-present. He also used this time to mentor his nephew Scott through the first steps of his career, the pair actually both appearing in the same Tigers' side on a number of occasions.
His departure from Glasgow in the first May of the millennium was pre-planned and marked his retirement from the sport. He had intended to retire at the end of the 1999 season but agreed to start the following year and then give way when his brother Mark was available to replace him. Mark had spent some time 'away' and his release date wasn't until May. Sean's scores in the early season weren't up to his usual standard and it was clear that his heart was no longer in it.
His contribution to the sport was marked later in the year by a farewell meeting at Ashfield. A good crowd turned out to pay tribute at "Sean's Show" and his career was at an end. How now manages Berwick Bandits in their home fixtures.
We want to feature similar articles on riders from any era of the sport's rich history. If you'd like to contribute a piece then email us at speedwayplus@hotmail.com or fill out our form here.
This article was first published on 18th September 2008
---

Derek Watson:

"Sean was one of those riders that every side needs, a team man, someone who may not be a tall scorer but could pull a heat win out of the bag when it was really needed. I also remember Neil McFarlane saying that Sean was one of the main reasons for Tigers' winning the league in 1994. Probably says it all!"

[ Use Mobile Version ]

Comment on this Article | Contact Us | Go Back to Main Menu