Flashback....September 1999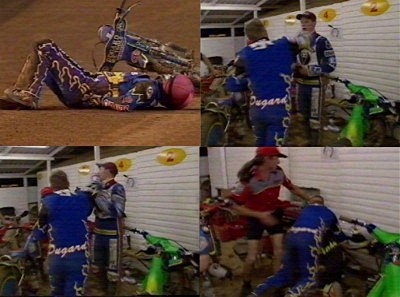 Dugard Goes Crazy
Martin Dugard made the headlines after thumping Stefan Andersson. The 'Master of Arlington' lost the plot after Andersson knocked him off in a televised match between Eastbourne and King's Lynn. After receiving treatment on the track he returned to the pits, in a heavily concussed state, and landed a powerful punch on his former team-mates face. The startled Andersson fell to the floor, banging his head off his tool box as he fell. The match referee banned Dugard from the rest of the meeting and fined him £250. It's interesting to note that Sky pundit Kelvin Tatum was also involved in that race, the fourth participant being Shane Parker.
Tony Rickardsson claimed his third world championship, and his second under the Grand Prix system, at Vojens. The Swede pipped the unlucky Tomasz Gollob by winning the final. Gollob had led the series since the first round and, had he not been suffering from injuries sustained eight days previously at Wroclaw, may well have clinched his first world title. Rickardsson immediately announced his plans to take up rally car racing in addition to his speedway commitments. Hans Nielsen finished third in the overall standings in his last season of racing. It was a remarkable comeback from the old master as he had been in sixteenth place in the standings halfway through the series.
Sheffield Tigers clinched their first ever league title when they were crowned the Premier League champions. The side was led by Sean Wilson, in his first season back with the club, who was ably backed by a whole squad of promising youngsters. The riders in question being Andre Compton, Adam Allott, Scott Smith, Simon Stead, Paul Lee and Simon Cartwright. Wilson also enjoyed individual success when he made the most of his home track advantage to win the PLRC. Jesper Olsen and Craig Watson joined him on the rostrum.
Poole Pirates were blocked from signing Malcolm Simmons to fill their vacant number seven position. They had been using guests since Martin Willis quit in May. Their plan to include Simmo, by then 52 years of age, was designed to boost attendances as much as to pep up their scoring. His last competitive action had been a couple of matches for King's Lynn in 1993, his participation in those meetings apparently being the reason that the BSPA would not sanction the reduction in his average that Poole required.
This article was first published on 18th September 2004
[ Use Mobile Version ]
Comment on this Article | Contact Us | Go Back to Main Menu