Opening Nights: Shawfield 1988
Speedway has seen few higher-profile openings than the 1988 relaunch of the Glasgow Tigers at Shawfield Stadium. The Tigers had become something of a laughing stock as the eighties progressed, tracking weak sides and racing on a poor track in a stadium that was barely adequate to stage professional sport.
The situation reached a whole new level of farce in 1987 when a move to a new track at Roseberry Park fell through and the team ended up racing 150 miles from home at Workington. Few things went right that season and by September the B.S.P.A. elected to expel the promotion from the league and expunged the team's results.
The situation looked bleak, but behind the scenes discussions were taking place that would lead to the Tigers moving into the salubrious Shawfield Stadium in Rutherglen. The stadium was best known as a greyhound track and as the former home of Clyde Football Club. As well as a new stadium, the club also made some new appointments on the managerial side.
Key amongst those were Dick Barrie and Neil Grant. Barrie had been the centre-green presenter at the club's previous homes, while Grant had been a highly-regarded clerk of the course. Together they made a formidable team, Barrie's showmanship complementing Grant's intelligent and methodical planning and management skills. They took over the day-to-day running of the club, with long-term promoter Jimmy Beaton taking on a new title as "Team Owner".
Barrie was interviewed by Bob Radford in Speedway Star magazine and talked through the events of that 1987/88 winter:
"After Workington/Glasgow were expelled from the league last year, Jimmy Beaton decided something had to be done. His former partner (Dave Thomson) did not want to continue so Jimmy asked Neil Grant and myself if we would undertake a greater involvement in using our skills to bring speedway back to the city".
"Jimmy met the chairman of Shawfield Stadium who agreed for the Tigers to race there, subject to planning permission - which Neil Grant masterminded. We were told our application was highly professional."
"I then went to the National League to put our case for re-admission and I was very pleased when the chairman, Mervyn Stewksbury, said it was the most professional presentation he'd seen."
"The track is 331.8 metres, about the same size as Newcastle but a better shape and much wider - 16 metres wide on the turns. It will be floodlit from four pylons, each with 15 lights shining on to the speedway track."
"There are five bars from which a panoramic view of the track can be enjoyed, and a cavernous bar under the stand. All are equipped with video/TV installations from which the racing can be watched. There is terracing from the second bend all the way round to the grandstand with the tote and pits area on the first turn."
"The lessons of diminishing returns from diminishing investments have been learned - and already people are believing in us. Kishorn Windows have doubled their sponsorship and they are joint team-sponsors with Radio Clyde who have been wonderfully supportive in underwriting our advertising and promotional budget to the tune of £100,000."
The backing from Radio Clyde was vital in spreading the word about the new venture. Paul Cooney from the station was fully on-board and highly supportive:
"We were delighted to hear that the Tigers were coming back into the city for the first time in fifteen years. We have had no hesitation in supporting this effort to re-establish racing in the city, and get Glasgow back on the speedway map."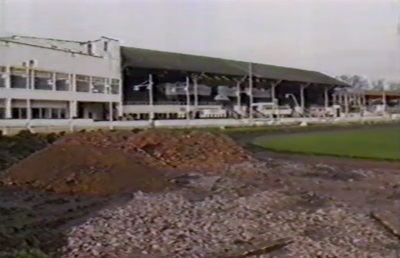 The track under construction
The opening meeting was scheduled for 15th April, with old rivals Edinburgh Monarchs heading along the M8 to battle for the Convenor's trophy.
Tigers were able to call on the services of Steve Lawson, entering his 11th season as a Tiger and preparing for a well-deserved testimonial the following month. Joining Lawson at the top of the side was new signing Kenny McKinna, tempted back from Belle Vue to re-join his first club and stepping back into the lower league racing for the first time in five years.
The Monarchs were able to boast significant top-end strength of their own, with Les Collins and veteran Doug Wyer still very capable of beating the best the National League had to offer.
The opening night programme included an article of welcome from Jimmy and Betty Beaton:
"Tonight fulfils a family dream, bringing speedway racing back to Glasgow after too long an absence. We hope you like what you see. Long-time fans on the terracing, we became more deeply involved with speedway when our son Bobby began racing at the old White City in 1968. Later, at Hampden Park, we first took involvement in the running of the club. From Hampden to Shawfield isn't far, maybe a couple of miles but it has taken us 15 years to make the journey, calling on the way at places like Coatbridge, Blantyre and even south of the border at Workington. At times it hasn't been all that enjoyable, but there was always hope."
Dick Barrie's "Straight Talking" column set out a clear expectation that entertainment was on the agenda:
"This is our Friday-night Fun Factory. We are here to entertain. The 261 Tigers, out on track will be doing their entertaining by thrill. I'll be doing mine by pointing out a few funny happenings, making sure you know who to cheer for and just sort of acting as anchor-man - and I hope that you, should you tonight be a casual spectator, will soon become a caring supporter, too."
Long-serving skipper Steve Lawson impressed with the facilities on offer:
"Like everyone connected with the 261 Tigers I can't wait to get started here at Shawfield. There were a few tired muscles after our practice day here 10 days ago. I was impressed by the track then and the pits are so plush no-one will want to come out to race!"
The contrast with the facilities at Tigers' previous home at Craighead Park could not have been more stark. Shawfield had been through a recent refurbishment (reportedly costing three quarters of a million pounds) and boasted a large stand, numerous bars and covered terracing around the spectator areas. A far cry from the corrugated iron roof and portakabins that had provided the spectator 'comforts' in Blantyre.
This Jeff Baker cartoon from Speedway Mail International magazine captured the contrast beautifully: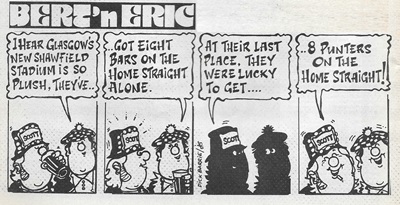 On the big night, the stadium was packed long before the 7.30 start time, fans happily queuing to pay the three pounds for their admission and an extra fifty pence for a 24 page programme. Representatives from the local authorities were on hand to officially declare the track open and the tapes rose on an exciting new era.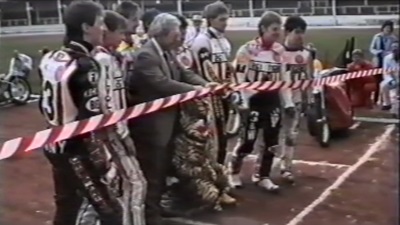 Opening Ceremony
Speedway Star's Jimmy Meldrum's report on proceeding was as follows:
The return of speedway to Glasgow was magnificently successful, with 7,916 good citizens packing Shawfield Stadium to roar home their new-look 261 Tigers in a close encounter against the old enemy from Edinburgh.
Racing was excellent, with plenty of passing on a track which defied the belief that all new surfaces cut-up when put to the test. Even rain, which obligingly waited until the closing heats to fall, failed to spoil a very fine strip for which full credit must go to the volunteers who helped in its construction over the past few months.
Bobby Beaton was out of action with a back injury so the 261 Tigers relied heavily on their big two of Steve Lawson and Kenny McKinna - and both responded to the call.
Lawson - who ended as track record holder after his return of 67.8 seconds in the opening race - was in irresistible form, with his double pass of Doug Wyer and Scott Lamb in Heat 6 the cream of the night.
McKinna dropped a point to Les Collins but thrilled newcomers with an exuberant burst of wheelies after his match-winning ride in Heat 15.
Shane Bowes and Wayne Ross were the best of the rest of the Tigers while Edinburgh were well-served by Collins, who sparked Monarchs' revival over the late heats.
Australian Darrell Branford, a spirited reserve for the visitors, also impressed and was unlucky not to have been given more than four starts.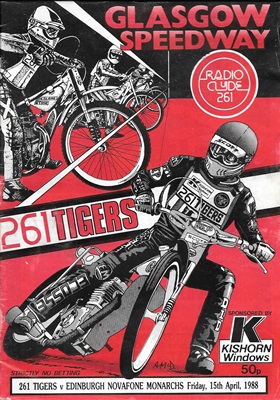 First Night Programme
The individual scores were as follows:
Glasgow '261' Tigers 50
1. Steve Lawson 15
2. Martin McKinna 1
3. Kenny McKinna 17
4. Wayne Ross 6 + 1
5. Bobby Beaton R/R
6. Jacko Irving 4 + 1
7. Shane Bowes 7 + 2
8. Phil Jeffrey 0
Edinburgh Novafone Monarchs 46
1. Les Collins 15
2. Jeremy Luckhurst 5 + 3
3. Doug Wyer 8 + 2
4. Brett Saunders 0
5. Jamie Luckhurst 10 + 2
6. Scott Lamb 1 + 1
7. Darrell Branford 7
Heat results:
Heat 1: Lawson, Collins, Jeremy Luckhurst, Martin McKinna 67.8
Heat 2: (re-run) Bowes, Branford, Irving, Lamb (f, exc) 70.0
Heat 3: Lawson, Jamie Luckhurst, Ross, Saunders 68.8
Heat 4: Kenny McKinna, Branford, Irving, Wyer (ef) 69.6
Heat 5: Collins, Ross, Bowes, Jeremy Luckhurst 69.0
Heat 6: Lawson, Wyer, Lamb, Martin McKinna 70.4
Heat 7: Kenny McKinna, Irving, Jamie Luckhurst, Saunders (f) 70.2
Heat 8: Branford, Bowes, Jeremy Luckhurst, Martin McKinna 70.2
Heat 9: Kenny McKinna, Ross, Wyer, Lamb 69.4
Heat 10: Lawson, Collins, Jamie Luckhurst, Bowes 69.8
Heat 11: Kenny McKinna, Collins, Jeremy Luckhurst, Irving (f) 70.0
Heat 12: Lawson, Jamie Luckhurst, Wyer, Ross 70.4
Heat 13: Collins, Kenny McKinna, Bowes, Branford 68.4
Heat 14: Jamie Luckhurst, Jeremy Luckhurst, Martin McKinna, Irving (f, rem) 71.0
Heat 15: (re-run) Kenny McKinna, Wyer, Jamie Luckhurst, Jeffrey (f, exc) 70.0
Heat 16: Collins, Wyer, Ross, Lawson (f, exc) 71.8

After the dust settled, the Beatons were delighted with how things had gone:
"Although we are aware of so many travelling speedway fans here, with folk from places as far away as Canterbury, Stoke and Coventry augmenting the attendance, it still amazed us when we checked the total admissions - no less than 7,916 paying customers and we can truthfully say we were well satisfied with that figure. At Blantyre and Workington we could hardly ever attract anything approaching four figures."
Kenny McKinna was similarly delighted with how the first night had gone:
"It's great to be back at Glasgow - in front of a crowd like that, in a stadium like this and on the track that we've got. I can't tell you how good if feels".
Mike Hunter, writing in the Edinburgh programme the following week, commented:
"This was about as good a first night as you could ever get, with none of the teething problems normally associated with openers. I am reliably informed this was due to a thorough technical rehearsal two days earlier and if so it paid off with a totally polished show....Heat six was the best of the night with Scott (Lamb) and Doug (Wyer) leading early on only for Steve Lawson to squeeze inside in a fine ride....It has been said the score flattered Edinburgh and we can hardly deny it - especially with about 500 blue-and-gold witnesses!"
Although crowds never quite reached the same level again, they continued to be very good indeed for the rest of the season. So much so that substantial debt built up over many years was wiped out within the first few weeks of the season.
Bobby Beaton's back injury never healed sufficiently and he quietly slipped into retirement without ever turning a wheel in anger at Shawfield. The Tigers replaced him with David Blackburn, recruited from Middlesbrough after an acrimonious dispute over his contractual status.
Monarch's Doug Wyer's career came to an end later in the season after a nasty crash at Cleveland Park in Middlesbrough. Remarkably Les Collins' career still had another fifteen years to run, ending in 2003 after having crossed the divide to ride for Glasgow.
Despite the remarkable success of the 1988 season, the Beatons decided not to retain the services of the Barrie and Grant partnership for 1989. Barrie made the shock announcement at the end of the final meeting of the season, casting a shadow over a most memorable season. Former promoter Neil Macfarlane took over the running of the club the following year. Barrie and Grant took their skills to Berwick.
Shawfield proved to be a happy home for the Tigers. Gradual improvement over the years led to consecutive league and cup doubles in the 1993 and 1994 seasons. Things thereafter weren't so great, an expensive season in the all-embracing Premier League in 1995 led to closure and a temporary occupation by homeless Edinburgh racing as the Scottish Monarchs. Tigers were back in their own right in 1997 and 1998 but high-rental costs forced a move to Ashfield in 1999.
Shawfield Stadium is still in regular use as a greyhound circuit, though showing signs of its age with most of the spectator areas now fenced off and overgrown.
This article was first published on 15th April 2018
[ Use Mobile Version ]
---

David Pickles:

"What promoter now wouldn't wish for almost 8,000 on an opening night? This was one year after my involvement at Wimbledon. We pulled in around 1,700 on our opening night and averaged around 1,200 in 1987. Imagine it now with the current day admission prices. 8,000 x £18 = £144,000. Probably enough to fund half a season. Happy days!"
Andrew Gallon:

"Quite a contrast to the previous half-season at Workington where the rutted, dusty, crash-every-race track was better suited to moto X than speedway and 'crowds' were in the 250-500 range. Who can forget the Tigers-Middlesbrough Bank Holiday Monday afternoon match when the track was watered with slurry? None of the riders, I'm sure! I was living and working in west Cumbria at the time (1987), and Glasgow's shambolic spell at Derwent Park revived my interest in speedway. I went along to a few of Glasgow's 1988 meetings at Shawfield. It really couldn't have been more different to the miserable months of 'Workington Tigers'! A shame it didn't last. "
Anthony Williamson:

"Re comment from David Pickles. I have not been to a Speedway meeting since Wimbledon closed. Admission £18 now. Maybe this has something to do with the low crowds?"
David Pickles:

"In reply to Anthony Williamson. Good to know you were a "Dons" fan, and many thanks for that. I wouldn't say that the current maximum £18 admission is anything to do with the lower crowds, just the lack of proper promotion in parts. In fact, who out of us who love the sport baulk at paying £18 for an evenings speedway? Rather that than fill the coffers of overpaid footballers at £50 per ticket. "

Comment on this Article | Contact Us | Go Back to Main Menu