Calling All Angelz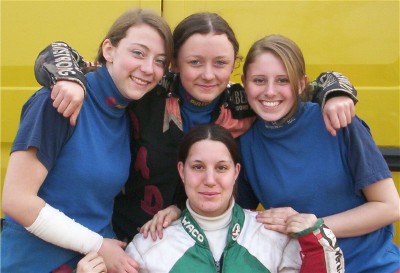 The Sheffield Angelz
Leanne, Samantha, Jemma
Cheryl
Sheffield Angelz are the world's only all-female speedway club. The girls are making their way at the Sheffield training track but have ambitions to progress onto much bigger stages.
The Angelz are Jemma Smith (16 years old); Leanne Fletcher (16); Samantha Fletcher (13); Cheryl Gregory (23); Charlotte Hoskins (8) and Bethany Stewart (14).
Samantha, Jemma and Leanne have all featured in second half races, racing against each other, after Sheffield Tigers meetings. They also appeared, alongside Cheryl, in demonstration races at Scunthorpe's opening meeting. During the 2006 season the hope is that the girls will race against the boys in the Owlerton second half programme, giving them the experience they need to progress.
Observers feel that Samantha, Jemma and Leanne have the potential to push for Conference League places in the medium term, they have developed tidy styles but need to build up to competitive racing speeds. The other girls are at an earlier stage of their careers but all demonstrate some potential. Certainly Charlotte in particular has plenty of time on her side!
Despite the unique nature of the club, the Angelz are not the first women to take up the sport. Pioneer racer Fay Taylour rode successfully at home and abroad in the sport's early days and remains the best known lady rider. For many years females were actually forbidden from riding at all, a ruling that was only lifted as recently as 1988. Shortly afterwards Lisa Whibberley and Maxine Hill appeared in junior racing but neither progressed to professional status. In more recent years both Charly Kirtland and Jessica Lamb have made odd appearances at Conference and Premier League levels. Sabrina Bogh and Jackie Mauger, niece of Ivan, have also competed successfully in World Championship rounds overseas.
So how have the lads taken to the Angelz muscling in on this usually male preserve? We asked one of their leading lights, Samatha Fletcher:
"A lot of the Sheffield riders are backing us, James Birkinshaw was our teacher and he taught us like we were lads, which helped us a lot. The lads at the training track have reacted very well giving us advice and we are great friends with most of them. A lot of lads on forums online have said we won't succeed, that we won't last long and we won't be able to win anything. Some lads like the competition from girls, so all around it's a pretty good reaction from them."
Samantha acknowledges that it's more difficult for a girl to make it than a boy -
"Strength is obviously quite an issue but once you build up that strength and fitness then it's fine. Some clubs might not want a girl on their team and there is obviously a lot of negative publicity. It is more difficult, but it can be done. Off track the girls may be very different but once that helmet goes on and the riders are at the tapes or on the track each rider is just the same as another! We all try to ignore all those comments and if every girl who has a go can do that then we can probably succeed in the sport."
So how ambitious are Samantha and the girls?
"We want to make a mark on the sport with this team and we all set out to get a lot further and hopefully get into the professional league. I think women can compete in the professional league it's just a case of them sticking at it and not giving up after a bit of negative publicity."
The team will always welcome new blood to their sessions at the Sheffield Training Track. Find out more about the track and the Angelz on the following websites:
Sheffield Angelz
Sheffield Training Track
This article was first published on 6th January 2006
[ Use Mobile Version ]
Comment on this Article | Contact Us | Go Back to Main Menu