DVD Review: Memories of Sheffield Speedway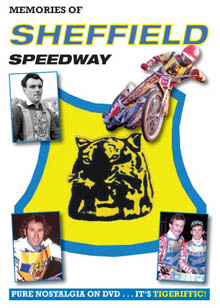 Sheffield is one British Speedway's longest established and most stable tracks. The great history of the club is the subject of a new double-DVD from Retro Speedway.
"Memories of Sheffield Speedway" is a mix of racing action, interviews and interesting pieces of historical archive footage.
It's really very, very good indeed and we would recommend it to all speedway fans.
It concentrates on the history of the club up until the nineties, with particular attention paid to the sport's golden era in the 70s and 80s. Riders and officials from throughout the years were interviewed this year specifically for this DVD set. These include Guy Allott, Nicky Allott, Doug Wyer, Craig Pendlebury, Neil Machin and Reg Wilson. There are also interviews with many others like Clive Featherby, Shawn Moran and Dave Morton.
The star of the show is very definitely Dougie "the flyer" Wyer. Doug is tremendous value, with his very honest and candid opinions and recollections. He admits that he wasn't much of a team rider, just concentrating on winning races, rather than trying to shepherd home a slower team mate. He also remembers the disappointment of having to take a pay cut when he was on the verge of a testimonial, admitting that racing for less money resulted in him putting in less effort. His career was highly successful and he's rightly proud of his achievements, being able to freely reel off statistics about the number of points he scored.
You can't think about Wyer without also bringing Reg Wilson to mind. Reg's career as a Sheffield Tiger pretty much over-lapped with Doug's, forming a stromg spearhead throughout the seventies. Reg is also interviewed at length, perhaps not quite as comfortable in front of the camera as his old pal, but very happy to share stories and reflect on his own vast contribution to the cause.
In the late eighties the undoubted stars at Sheffield were the spectacular Moran brothers. We see some of their great races, demonstrating their remarkable skills on a racer's track that suited their styles. There are also interviews with both of the boys. Kelly is no longer with us, but we hear his final interview when Tony McDonald phoned him in him hospital shortly before his passing. It's a very moving piece of audio, with Kelly still maintaining the good humour he was famous for. The interview with Shawn is also quite emotional as he looks back on his own career, concentrating on both the highs and lows of his time with Sheffield.
There was a gap in the story of Sheffield Speedway when the club closed down prior to the 1989 season. Thankfully their absence from the sport was relatively brief as they re-emerged as a lower tier side in 1991. Their first meeting back, under the stewardship of Cliff Carr, is covered in depth, with contemporary interviews with the likes of Neil Evitts and Peter Carr, cousin of the aforementioned Cliff.
The Cliff Carr era didn't last too long, with Neil Machin and Tim Lucking forming a new promotion that brought long -term stability to the steel city side. Machin is now best in West Australia but that didn't stop the producers from tracking him down for interview. He's another that speaks well and offers an honest assessment of his time in charge.
One of the biggest stars of the Machin era was Sean Wilson, a tremendous rider and larger than life character. This DVD pays a warm tribute to both his on and off track antics.
Eric Boocock, who had a lengthy associated with the Tigers, is another plain speaking participant, sharing some great stories from "behind the scenes", including a mad dash to Oxtord in the Maurice Ducker era and how he deliberately mismarked programmes to get the best from some riders. A remarkable character and true speedway legend.
The interviews actually tend to be so good that the racing action is almost secondary, though there are many brilliant races included. Whether that's Collins v Michanek in '73, the Moran brothers in the 80s or Sean Wilson in the 90s.
The whole thing runs for over five and a half hours, perfect viewing material for these long winter nights and certainly an ideal Christmas present for any speedway fan.
You can order "Memories of Sheffield Speedway" from retro-speedway.com
This article was first published on 15th December 2021
[ Use Mobile Version ]
Comment on this Article | Contact Us | Go Back to Main Menu