New DVD:
Shooey - Life and Times of Shawn Moran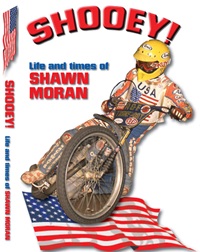 Modern speedway is not overly blessed with charismatic superstars who combine extraordinary skill on a bike with a universally friendly off-track persona that appeals to supporters of teams way beyond the ones they have ridden for.
This explains why Shawn Moran was so warmly received on his whirlwind visit to Britain last week.
The popular former Hull, Sheffield, Belle Vue and USA star flew in from his current base at Pocking, Germany to launch his new DVD, produced by Retro Speedway, titled: SHOOEY!: Life and Times of Shawn Moran.
He was signing copies before the British GP at Cardiff, then moved northwards to take in Wolverhampton on Monday before two separate personal appearances at Sheffield on Wednesday and Thursday.
The four-hour, double disc package includes:
Candid new interviews with the ex-World No.2, who talks in-depth about his brilliant career. The highs, the lows, the bans and the fans.
Great action footage of him racing for club and country in the 80s & 90s, including classic team-riding moves with elder brother Kelly.
Beers and tears - Shooey on the Moran lifestyle and how it turned sour for him and Kelly after their racing days ended.
New footage of him relaxing back home in California with old friends and USA team-mates.
Interviews with some of those who know him best, including former USA captain Bobby Schwartz, current American No.1 and British GP winner Greg Hancock, plus Shawn's former Sheffield team boss Eric Boocock and team-mate Sean Wilson.

Retro Speedway's Tony McDonald interviewed Moran for the DVD and says: "Shawn is not comfortable talking about himself, especially at such great length, but he came out with a lot of good stuff about subjects that just had to be tackled.

"He had a great career at the top level but there were some unhappy blips too, like failing alcohol and drug tests in 1989-90, that can't be brushed under the carpet.

"One of his most endearing qualities is that he doesn't take himself too seriously, or seriously at all. Can you believe it . . . Shawn didn't even wish to see the DVD when we'd finished putting it together and all the editing was done. 'I trust you, just go for it!' he said.

"As for the action footage, there are few riders, past or present, who make a better DVD subject than Shawn, because he always put so much into his racing and never knew when he was beaten. The racing sequences reveal Shawn at his very best - against the best of his era. We show him beating Erik Gundersen, Hans Nielsen and Kenny Carter, all from the back.

"Shawn's German girlfriend Sabine Neiss took her camcorder with them to California a couple of months back and managed to capture some neat offbeat footage of Shawn chewing the fat in the desert with former USA team-mates Dennis Sigalos and Rick Miller, plus an eight-minute interview with Bobby Schwartz filmed at his home. Sabine also got an interesting interview on camera with 'Mr Grand Prix' Greg Hancock at his hotel the night before he won the recent Czech GP, which also features on disc two of the DVD.

"I don't think Shawn realises just how well liked he was, or still is, and how fondly people remember him as a rider and as a person. But it was very evident from the many supporters, of all tracks, who came up to him at Cardiff and wished him well that he is still right up there as one of the sport's genuine nice guys. He proves that nice guys do win.

"It's no secret that he has fallen on hard times since he suddenly quit racing in 1994, so we're hoping the release of his life story on DVD will give him a much-needed boost, both financially and in terms of the feel-good factor that has been missing at times in his life," McDonald added.

We'll be featuring a review of this DVD in the near future but in the meantime you can order it direct from Retro Speedway for �16 (post-free in the UK). Phone their Credit Card Hotline on 01708 734 502 or go online at www.retro-speedway.com

This article was first published on 30th June 2011
---

Noel Grise'::

"We attended a lot of speedway races in southern California in the late 60's and into the 70's. I worked with Tommy Moran, Kelly & Shawn's Dad and also did some desert riding with Sam Ermolenko. I have a lot of great memories of the Moran brothers from the early days on the Jr. bikes. I haven't attended a speedway race in a long time and I think it's time I went back."

[ Use Mobile Version ]

Comment on this Article | Contact Us | Go Back to Main Menu