Smythe's Speedway World
By John Gallon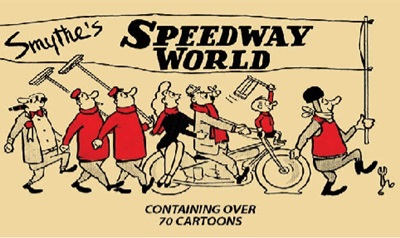 Almost everyone knows of the world famous cartoon character Andy Capp created in 1957 by Reg Smythe and still going strong today. What I have yet to find is anyone who has heard of a speedway cartoon strip created by Reg at the start of his cartooning career many of which feature a character called Skid Sprocket.
I came across a rare booklet of these strips and set about finding the copyright owner with a view to doing a reprint. To cut a long story short I managed to contact the family of the late Reg Smythe and they gave their full backing to my resurrecting Skid and friends. The booklet shows speedway in the early 1950's and is interesting not only from a historic point of view but many of the jokes are relevant to today's speedway as well as being very amusing in their own right. The booklet containing over 70 cartoons is being sold and all income is going to the Speedway Riders Benevolent Fund.
With the help of a graphic designer friend we have put together the 44 page A5 size booklet containing the 70 plus cartoons.
These are a combination of single picture funnies, under the "Smythe's Speedway World" banner and short comic strips chronicling the adventures of wanna-be star "Skid Sprocket". These often deal with the big speedway issues of the time - including the dreaded "entertainment tax" that virtually killed the sport off.
Reg Smythe's widow and his niece Helene de Klerk gave me their full backing for doing the reprint and has even donated an original Andy Capp work board to sell/auction for the fund. We are meeting Helene at the beginning of February as she has some more of Reg's effects to pass on to benefit the fund.
"Smythe's Speedway World" is available for £7 (plus 70p if posted to a U.K. address).
Anyone interested in more information or in purchasing a copy should contact skidsprocket@gmail.com
Here are a couple of cartoons from the book, click on the picture to see them in a larger size.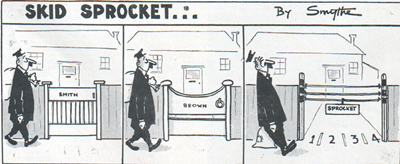 Reg's widow died in May 2015 and since then Helene de Klerk has had a book published about the life of her uncle Reg titled My Dancing Bear.
This article was first published on 17th January 2016
[ Use Mobile Version ]
Comment on this Article | Contact Us | Go Back to Main Menu