Somebody Up There Likes Me
By Cary Cotterman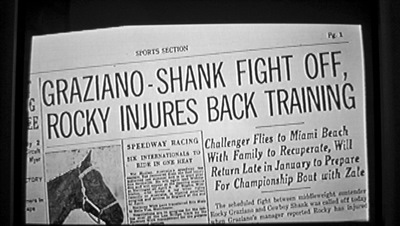 I was watching a Paul Newman film from 1956 called "Somebody Up There Likes Me", the biography of champion boxer Rocky Graziano, when a sports page in what was supposedly a New York newspaper from 1946 showed on the screen.
I have a habit of reading the other headlines--the ones you're not supposed to notice--whenever movies show newspapers, and this time something caught my eye: to the right of the picture of the horse, a small headline reads "SPEEDWAY RACING, SIX INTERNATIONALS TO RIDE IN ONE HEAT". I put the machine on pause and took the accompanying photo, then tried to decipher what was written in the article.
The first paragraph reads
"Vic Huxley, Australia's speedway test captain, has recovered from the foot injury sustained last summer and is to start practicing. He will again lead Wimbledon and will appear at the opening meeting at Harringay on April 6. W. Rogers, Wimbledon, who broke a leg when riding recently in Australia, is making excellent progress and arrives in England at the end of April."
The second paragraph reads
"Hackney Wick have transferred Eric Blain to Belle Vue, Manchester."
Unfortunately, the remaining text was illegible, and partly cut off by the bottom edge of the screen. The meeting with "six international to ride in one heat" remains a mystery.
A little research revealed that Vic Huxley sustained the foot injury during the 1935 season, and only rode in England through the 1936 season. This places the article early in 1936, ten years before the 1946 period of the movie!
This article was first published on 15th February 2015
[ Use Mobile Version ]
Comment on this Article | Contact Us | Go Back to Main Menu