South Africa
By John Hyam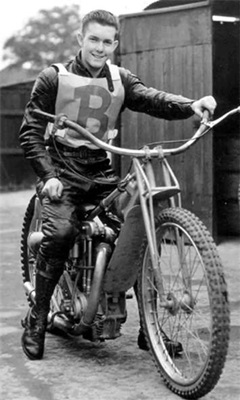 Doug Davies
SOUTH African involvement with British speedway goes back to the sport's earliest days. But since the mid-1980s, South African speedway has gone into such a decline its riders are no longer competitive at international level.
Yet in the 1950s, South Africa was sending some extremely talented riders to Britain. Henry Long at Belle Vue was more than a match for most top riders in the National League's Division One. Other South Africans who made their mark on British tracks were the Birmingham trio Doug Davies, Neil Mortimer and Arthur Duncan. Serious-looking Long - nicknamed 'Poker face Hal' by some British fans - was marginally better than Davies.
Long has rightly won acclaim as the best-ever South African rider, and the most serious contender provided by the country for world championship honours. He achieved the highest world final place by a South African rider in 1952, when he placed 10th with seven points. Davies qualified as reserve in 1955 but did not ride after suffering from meningitis days before the final at Wembley. The following year he was 13th with four points.
Long arrived in Britain in 1948 to ride at Second Division level for Sheffield, but the following season moved up a division to ride for Belle Vue, where he raced until 1952. Davies was with Birmingham between 1954-56, then came back to ride for the ill-fated New Cross promotion in 1961. Duncan and Mortimer joined Birmingham in 1956 for one season. In 1961, Mortimer was back for another try at British racing with Leicester. Fred Lang was another Springbok who came to Britain with a big reputation but did little in his one season at Wembley in 1954.
While Long was always calm and collected, Davies was a more temperamental character, and this tended to stop him fulfilling his undoubted potential. A case in point was an incident in the 1958 South African season.
At the time, Swedish ace Ove Fundin was sweeping all before him in the Republic. Davies, who had not raced for more than a year was persuaded to make a come-back at Pretoria. He beat the great Swede by a quarter-lap in his first race, then pulled out of the meeting. A Press report indicated that after the race Davies' nerves made him sick behind the pits area. He didn't race again until 1961.
In analysing the Long v. Davies grading, it was Long who usually came out best in their clashes for the South African match race championship, but the victor always conceded: "Doug made me pull out all the stops to beat him."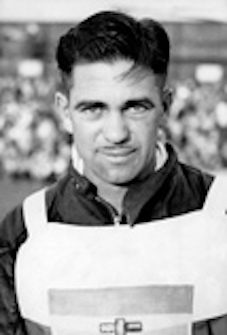 Buddy Fuller
These riders were all part of a post-war South African invasion which had been spearheaded in 1948 by the South African champion Arthur 'Buddy' Fuller at Division Three track Hastings. He was back in Sussex in 1949, and when a local residents' court case led to the track's closure, joined Liverpool in 1950.
Fuller's arrival on the British scene led to an influx of South African riders to tracks in the lower leagues over the next few years. Then there were no restrictions on the use of South Africans - the Republic was part of the Commonwealth - and Springboks were as welcome as riders from countries like Australia, New Zealand and Canada.
Among those who came to Britain in subsequent seasons was the talented Roy Bester who raced for Edinburgh in 1953 and 1954, and later had a spell at Leicester. In 1949 and 1950, Liverpool had a swashbuckling duo in Fred Wills and Doug Serrurier - the latter one of five speedway racing brothers. Serrurier had two seasons at Stanley Stadium while Wills moved on to Stoke in 1953. Fuller, Serrurier and Wills were also regular starters in meetings at the Buffalo Stadium, Paris, France, in the early part of 1950.
Other South Africans who raced for Second and Third Division tracks in this time included Bob Quick (Edinburgh 1948), Toby Boshoff (Plymouth and Rayleigh 1949), Syd van der Vyver (Leicester 1949), Bob Serrurier (Sheffield 1951), Vern McWilliams (Poole 1953-54 and also a spell with Glasgow), Harry Serrurier (Wolverhampton and Bristol 1954) and Trevor Blokdyk (Poole 1958-59).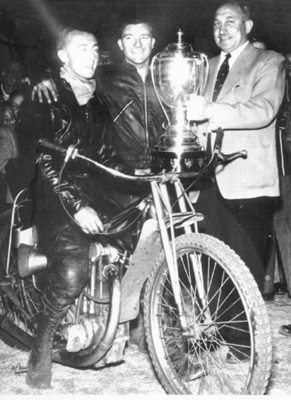 Henry Long and Dave Collins
Dave Collins was another with South African links who tried to make the grade in Britain. His efforts included trials with Swindon in 1953 while in the 1960s he made efforts to break into the Newcastle, Leicester, Plymouth and Sunderland teams.
However, while most of Collins' early racing years had been in South Africa, in reality he was a Londoner who had taken speedway seriously in South Africa in 1948. Collins actually raced for an England team against the South Africans in the late 1940s. Then in 1953 Collins was in a touring party which tried to popularise speedway in Spain.
A rider with a similar background to Collins was the old Poole favourite Alan Chambers. He went with an England team to South Africa in the 1948-49 season and loved the country so much he decided to emigrate there. In 1949-50 he changed nationality and was riding for South Africa against England.
Bert Clark was another British immigrant to South Africa who returned as a speedway rider after gaining his initial motorcycle racing experience in Rhodesia. He signed for Edinburgh in 1954, but when they closed dropped out of the sport.
Pat McKenzie, who subsequently married an English girl and lived for many years in Essex, made various appearances for Rayleigh between 1957 and 1963. Never a big scorer, he was an enthusiastic rider who endeared himself to British fans. In South Africa, MacKenzie raced in test matches.
This article was first published on 19th June 2016
[ Use Mobile Version ]
---

Tracy Biird:

"You did not mention Howdy Cornell who rode for Neath in 1962."
John Hyam:

"I did unfortunately overlook Howdy Cornell at Neath, but in what is a tame defence on my part the preface to my specified "John Hyam looks back on SOME of the great South African riders that made their way to the UK." All the same, I hold my hand up Tracy Bird - and admit my error. I did overlook Howdy Cornell."
Jim Henry:

"Re South African riders. Harry Serruirer, another of the 5 brothers, had second halfs at Poole in the mid 1950s. Also on this strand - I'm sure I have seen something that said Bert Clark was not a native South African and had emigrated from Scotland. Anyone confirm this one?"
Arthur Duncan:

" Congratulations on gathering all this historica information on speedway. At 85 never expected to see a photo of myself at 20 participating in speedway racing. I am now a competitive cyclist and currently the South African and provincial road and individual time trial champion in my age category. Good luck with your future endeavors. "

Comment on this Article | Contact Us | Go Back to Main Menu