An Evening With The Champions Of Speed
By Neil Burrows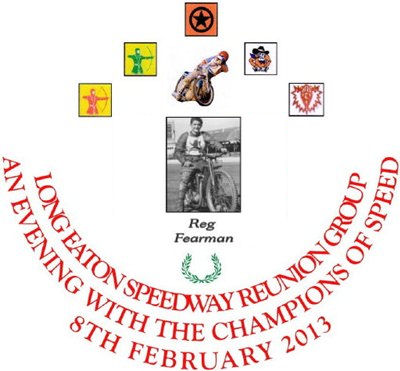 The Long Eaton Speedway Reunion Group are proud to present An Evening With The Champions Of Speed with former rider, team manager and promoter Reg Fearman as guest speaker. It is now to be held on 8th February 2013 at the Westgate Suites, Westgate, Long Eaton, Nottingham NG10 1EF at 7.30pm with host Mark Mason (former Long Eaton Speedway announcer).
Reg began his riding career at Rye House on 1st August 1948 (scoring eleven points) but was immediately banned by the speedway authorities when it was discovered that he was only fifteen years of age. But this didn't stop him from pursuing his dream as he was presented with his first speedway licence in front of 40,000 West Ham speedway fans at the tender age of sixteen in 1949. He became known as "Fearless Fearman" for his daredevil style of riding and went on to represent England as a test match rider before retiring from riding in 1961.
He became involved in promoting in the winter of 1959/60 when he helped form the Provincial League and was a multi-stadium promoter from 1960-1986 with Long Eaton and Leicester being amongst them. During this time he was also chairman of the British Speedway Promoters' Association (1973-76, 79 and 83-84), chairman of Division Two (1968-1972) and Great Britain/England team manager where he guided them to win the World Team Cup and World Pairs. Reg has latterly had various roles within the World Speedway Riders' Association and was their president in 1992.
Reg will be reflecting on his career and there will be plenty of opportunity for fans to ask questions.
Chairman of the Reunion Group Peter Wrathall added: "Due to circumstances beyond our control we (the committee) have had to change the venue and guests. We apologise for any inconvenience caused but It will still be an entertaining evening and I look forward to seeing everyone there."
Entrance fee (which includes free raffle) is Adults: £3 Children: Free
All proceeds from the evening will go to speedway related charities.
For further information on this or future events please contact Peter Wrathall Tel: 01332872187, Mob: 07970419170, Email: wrathall39@tiscali.co.uk or visit longeatoninvaders.co.uk
This article was first published on 23rd December 2012
[ Use Mobile Version ]
Comment on this Article | Contact Us | Go Back to Main Menu