Book Review: Diary of a Speedway Kid by Drew Kemp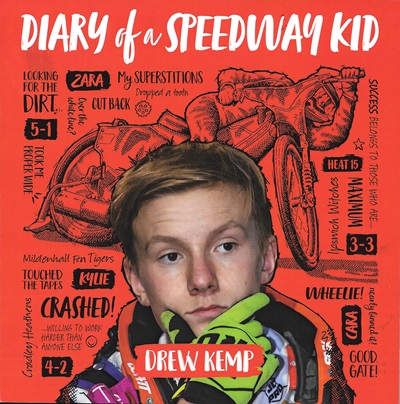 Studying for school exams, making sure his hair is on point and throwing a 500cc speedway bike into tight corners are all in a day's work for Drew Kemp.
The highly-promising youngster kept a diary throughout 2018 and with the assistance of Barry Cross it's been published for all us to share.
"Diary of a Speedway Kid" is an honest and entertaining insight into his experiences throughout his first full season in the senior leagues. He started the season as a 15 year old, signing up to ride for both Mildenhall Fen Tigers and Cradley Heathens in the National League competitions, later being drafted into the Ipswich Witches side as soon as he met the minimum age requirement for that sphere.
There's a clear learning curve to his season and he's mature enough to recognise that, building up his knowledge through experience and by picking up information from team mates. Rory Schlein suggests he gives up his tradition of getting change in the van, saying he'd benefit from being alongside the other riders in the dressing room in the build up to the meeting. Danny Ayres and Jon Armstrong are others that are generous with the advice and help they offer. There's a tangible sense of all these little nuggets of wisdom being digested and applied to good effect on the track.
Drew follows in the great tradition of the superstitious speedway rider - lucky socks, pants and Weetabix are all seemingly essential in him maintaining a positive frame of mind.
Complementing the diary entries are hundreds of great colour photographs, covering the meetings that Drew raced in throughout the season. There's a good mix of action, portrait and behind the scenes shots, including one of him getting a cuddle from his mum, a reminder of his tender years.
Despite his youth, he comes across as a lad with a sensible head on his shoulders. He set achievable objectives for the season and seems to have a clear plan on how he wants his career to progress. Anyone who has seen him action will agree that he's a very decent prospect who we can expect to follow in the footsteps of the likes of Robert Lambert and Dan Bewley before too long.
We not only get insights into the speedway life, but also into the life of the modern teenager, such as the horrors of running out of data on a long road trip.
The book ends with a two page spread detailing all the meetings he competed in, showing his race results and his own three word summary of the meeting. June 17th was the night that "Kylie Saves Day", while "Crashed on Parade!" sums up 11th September. You'll need to buy the book to find out who Kylie is.
In a generous gesture, £2 from each sale will be donated to the Speedway Riders Benevolent Fund.
You can buy you copy for £10 from https://barrycross.bigcartel.com/product/diary-of-a-speedway-kid
This article was first published on 3rd March 2019
[ Use Mobile Version ]
Comment on this Article | Contact Us | Go Back to Main Menu