Book Review: Speedway Legends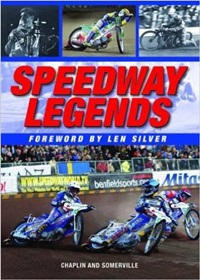 John Chaplin and John Somerville are back with the final part of their trilogy of speedway history books - Speedway Legends. Following on from "Speedway Superheroes" and "Speedway: The Greatest Moments", this work contains more great stories and pictures from the sport's rich history.
Partially inspired by their previous collaborations in Vintage Speedway Magazine, the chapters are dedicated to a single rider. The featured riders were mainly at their peak in the sport's first forty years, with only Tomasz Gollob, Ole Olsen and Mike Bast being from what we might be considered the "modern era". The chapter on Gollob takes the form of an interview, conducted by Tomasz Lorek, who has also performed translation duties. It's a rare chance for us to get a first-person insight into Gollob's career, much better than the television interviews in broken English that we have been accustomed to.
The others featured are Wally Green; Oliver Hart; Eric Langton; Ron Johnson; Frank Charles; Geoff Mardon; Bill Kitchen; Buddy Fuller; Allan Hunt; Wilbur Lamoreaux; Tommy Price; Georgie Newton; Bob Andrews; Alec Statham; Ron Johnston; Eric Chitty; Jack Young and Freddie Williams.
John Chaplin is on writing duties and combines his incredible speedway knowledge with an entertaining writing style, sprinkling in fun anecdotes alongside an appraisal of the rider under discussion. Quotes from the riders themselves and from contemporary press reports are masterfully weaved in to advance the story.
As ever, the pictures provided by John Somerville are of equal importance to Chaplin's words. Pleasingly, they are also well captioned, with a couple of sentences generally being used to explain what we're looking at. Somerville is now the owner of many speedway photography collections, comprising of millions of images. Some of these are now available on his new website - skidmarks1928.com and you can find out more about him from an excellent article by Mike Hunter on the Edinburgh Monarchs website.
As well as photographs, there are numerous other artefacts pictured - programmes, newspaper cuttings, cartoons, tickets, pieces of art etc. It's a real visual treat and simply flicking through the book and looking at the pictures is an enjoyable experience in itself.
As with the earlier books in this series, the book is a high-quality production, with glossy paper within a hardback cover. There are 160 A4 pages, virtually all of which include at least two or three black and white photographs, always beautifully reproduced thanks to the care and attention that Somerville takes when converting these to a digital format.
You can purchase your copy from either the Halsgrove Publishing website or Amazon.co.uk for £19.99
This article was first published on 13th December 2015
[ Use Mobile Version ]
Comment on this Article | Contact Us | Go Back to Main Menu