The Speedway Workshop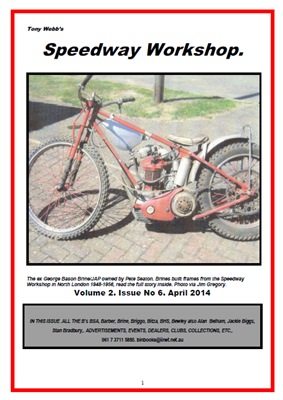 The internet has made the establishment and publication of magazines of niche interest significantly easier. One such example is "Tony Webb's Speedway Workshop", a publication dedicated to speedway machinery of all vintages.
The magazine celebrates the machines, mechanics and manufacturers involved in the sport through the years. It's an excellent medium for sharing technical know-how or gaining an insight into the mysteries of speedway machine mechanics. The latest issue (April 2014) includes features on Jack Biggs, Briggo's 1976 Laydown, Bert Busch and Ian Paterson's amazing Cinders to Shale museum.
The 28 pages are illustrated with current and archive pictures of some classic machines, including "The Vincent Vampire" and "The Street SR4 Cole".
It's probably not a publication that all speedway fans will enjoy, but if you have an interest in the technical side of the sport then it's one not to be missed.
Tony has kindly offered to send a free sample PDF copy to any SpeedwayPlus reader who would like one. Simply drop him an email at binbooks@iinet.net.au
Subscription is $30 for 4 issues in Australia, $40 World wide. For advertisers to include a business card advertisement the costs are $60 and $65 including a posted copy.
One off introductory copies are available at $10 on line copies are now available at $5.
Paypal to binbooks@iinet.net.au cheque or M/O to Tony Webb 15 Tranquil Street, Sunnybank Hills QLD
N.B All prices are in Aussie Dollars.
This article was first published on 23rd March 2014
[ Use Mobile Version ]
Comment on this Article | Contact Us | Go Back to Main Menu