Introducing Sponsor Speedway
By Jez Birt and Keith Goodchild
Introducing ''Sponsor Speedway'' the new youth sponsorship scheme for British Speedway riders aged 18 and under.
Sponsor Speedway is a brand new project with a fresh approach to funding some of the best British youth riders with a more hands on and personal approach to sponsorship with members of the public, supporters and companies being able to get involved at affordable levels. With plenty of hard work, enthusiasm and just a little luck we hope to see the scheme grow into a project that every young rider, NL, Development Club & supporter speaks highly of, recognising the good work it does for youth speedway in this country.
This year there will be four rider places made availible in the scheme, heat sponsorship at one NL club and one development club and we also hope to sponsor some heats in the British U16 championship. The long term plan if all goes well is to extend the scheme to six riders in year two and continue with the heat sponsorship at NL, Development and Junior level. Beyond that who knows! But one aim Jez Birt & Keith Goodchild (the founders of Sponsor Speedway) have is that the scheme runs for a least three years as a significant amount of time and investment has been put into the project which we will never seek to claim back.
Oliver Greenwood
In addition to raising sponsorship via the web site we are also finding, even at these early stages, companies are taking notice and showing a keen interest in becoming involved and more willing to put their name to the project.
One of the really nice things about the Sponsor Speedway scheme is, after speaking to speedway supporters over the last 12 months, that they understand British kids need more help because training & funding oppotunities in other countries are above the level of what our youngsters get. The research also showed that the public would like to help & sponsor riders but think it's to expensive & cannot afford it (''WELL THIS WAY THEY CAN'') and what makes the Sponsor Speedway scheme even more personal is every rider will have the schemes logo on their bikes, van and kevlars so if a member of the public sees this they know it's a rider they have helped.
Sponsor Speedway launched on f-book and twitter on 1st March to help raise awareness of the scheme and reaction we have received so far from both riders and supporters has been fantastic with unconfirmed sponsorship pledges already being offered and comments like ''well overdue'' ''exciting project'' & ''happy to help'' being mentioned by some well known and respected people in the sport. The scheme is such a simple idea that it really could work and we aim to keep it as simple for everybody to understand and get involved with and we belive that is also part of the attraction.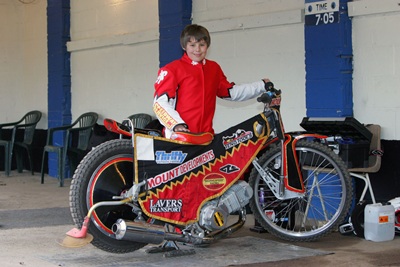 Josh Bailey
How the Sponsor Speedway youth sponsorship scheme works:
Raising Funds & Payment to Riders
Sponsor Speedway is trying to turn speedway sponsorship on its head. The web site will be offering members of the public, clubs, families ''in fact anybody'' the opportunity to sponsor the schemes riders at five affordable levels in addition to inviting companies to become involved as scheme partners with logo, business and product placement opportunities availible at all levels inc web site, riders bikes and vans etc :-
(1st bend) £5 : name on the Sponsor Speedway web site wall of honour (12 months)
(2nd bend) £10 : name on the Sponsor Speedway web site wall of honour + membership card, car sticker & certificate (12 months)
(3rd bend) £15 : (family) 2 x wall of honour mentions, membership cards, car stickers & certificates (12 months)
(4th Bend) £20 : gold wall of honour web site entry + membership card, car sticker & certificate (24 months)
(Executive Box) £25 : club/small business name and link on web site wall of honour & certificate (12 months)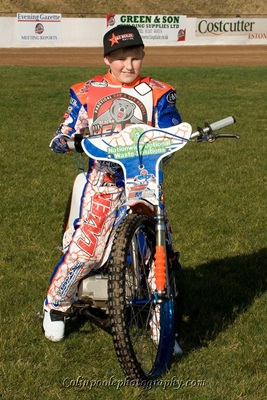 Kyle Bickley
Every rider in the scheme will receive a small advance lump sum sponsorship payment at the start of every season and riders will then receive an equal share of any money raised from the web site and other forms throughout the year via three further payments made in May, July & September (it is almost impossible to predict how much money this would raise but a conservative estimate would be approximate £150 - £250 total per rider in the schemes first year.)
2012 Confirmed Sponsor Speedway Scheme Riders
1) Tyler Govier (Exeter, age 15) competing at 500cc U16 British individual and junior league speedway
2) Josh Bailey (Norfolk, age 14) competing at 250cc & 500cc U16 British indivdual and junior league speedway
3) Kyle Bickley (Cumbria, age 10) competing at British and European junior 125cc speedway and grass track
4) Olliver Greenwood (Midlands, age 16) competing at British National League & Development League
In addition to these riders Sponsor Speedway will also be proud sponsors of Heat 15 at Mildenhall Speedway who compete at British National league level and we are currently talking to a number of development clubs with a view to getting involved.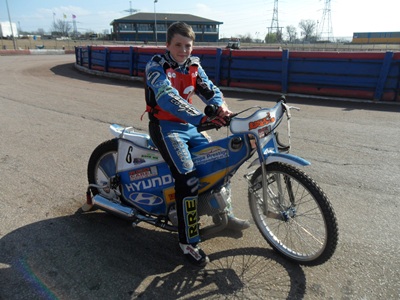 Tyler Govier
Scheme Rules
(1) Riders must be aged 18 or under at the start of the season (April 1st)
(2) Riders will always be given first choice and invited to stay with the scheme for the following season so long as they are still riding at either junior, academy, U18 championship or NL level.
(3) Riders will be required to display the schemes logo in a clear position on any bikes & van etc. We also ask that riders display the schemes and any companies logo or a link to the Sponsor Speedway site via any Website, f-book or twitter they have.
(4) Riders will either email or phone Sponsor speedway once every 14 days during the season and update us with any information including details of future meetings being ridden & points scored at previous meetings so that we can keep the website up to date.
http://sponsorspeedway.weebly.com/
This article was first published on 15th April 2012
---

Maureen Schooling:

"Wishing you guys all the very best.This is an excellent idea to raise not only awareness for the sport, but to help these young lads. Lets hope the British lads can really make an impact to bring the sport in England, back to the numbers it once was. Good luck."
Steve Povey:

"Well done Speedway Plus for your article on Sponsor Speedway, this is just the publicity this scheme needs.This scheme is going to be huge so to all your viewers/readers PLEASE HELP BRITISH SPEEDWAY GET BACK ON TOP!!>>>>.Come along to Mildenhall on Sunday13th May and see for yourselves the talent in British Youth Speedway. Mildenhall will be a great meeting the promotion there are fully invoved in bringing on our young riders. Jez and Keith of Sponsor Speedway will be there too, come and have a chat to them. See you there!"

[ Use Mobile Version ]

Comment on this Article | Contact Us | Go Back to Main Menu