Time For Speedway to Spread its Wings?
By David Pickles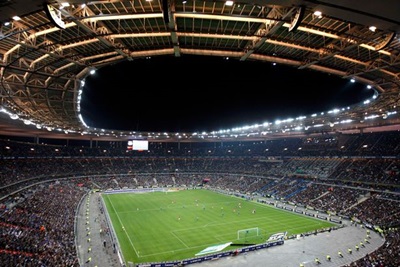 Stade De France
When I view a selection of other motorsports on TV, I often wonder why speedway wants to leave itself behind.
Over the years, there have been sporadic, and largely unsuccessful attempts, to introduce our sport to other foreign shores. This long before the days of satellite TV. Nobody knows the viewing figures overseas for GP's, but it would be fair to say that they must be minimal in some countries.
But herein lies the paradox. For without speedway expanding to other countries the sport will begin to stagnate. I often wonder why those who control the GP's don't instigate talks with authorities in say, China or Dubai, to introduce a Grand Prix there. As we finish the GP season now in Australia, why not start the season in warmer climes with a GP in Miami?
Further to that, why not have a GP at the Stade de France in Paris? Very easy to get to from the UK, and very centrally placed for other European visitors.
I must ask the question - does the FIM not give any backing to expanding speedway like other motorsports have expanded, because it doesn't see any mileage in it?
Thousands of us who are avid and loyal speedway fans go abroad to differing countries now, instead of just Europe. How many of us enjoy some warmer weather in Florida in February and would relish the opportunity of visiting a GP there? Similarly Dubai. Even if those places have not been on your regular itineraries they can then become new ones.
Speedway showing its hand across the world and becoming a sport that people sit up and take notice of. Or is it all just a pipe-dream?
This article was first published on 9th October 2016
[ Use Mobile Version ]
---

Jim Henry:

"Does anyone recall a report of a speedway event in the Stad De France staged a few years ago? I'm sure there was something in the Speedway Star about it. "
It looks like you're correct Jim. Here's a video of the action from a meeting in 2004. Kelvin Tatum, Shane Parker and David Howe are amongst those taking part.
Dudley Jones:

"I think that your correspondent is correct in suggesting that Speeway spread its wings. There are a lot more potential tracks out there. As an example of what can be achieved Berwick's entry into speedway was looked upon with incredulity. How could a small town on the very borders of England last more than a week or two? Well, that was half a century ago and it warms my heart to see them battling on. There are lots of lower league football clubs whose grounds are potentially suitable, to the benefit of both football and speedway. How about Dagenham & Redbridge, recalling the 'Daggers' of pre-war? Surely a new location can be found at Barrow, and Hull. Oxford still exists, Norwich is a natural home for speedway. With a little more marketting Newport could have prospered. Surely there must be several locations around Bradford/Halifax. There must be potential venues around Exeter, and there must be potential at Weymouth. How about the Liverpool area? It could be done...."
Cary Cotterman:

"It would be nice to have a GP in Florida; however, first choice for a USA round, should there ever be one, should go to southern California, which has always been the main centre of American speedway. California also has produced five individual world champions who have now won nine titles! "

Comment on this Article | Contact Us | Go Back to Main Menu