The Daily Express Spring Classic
By Tracy Holmes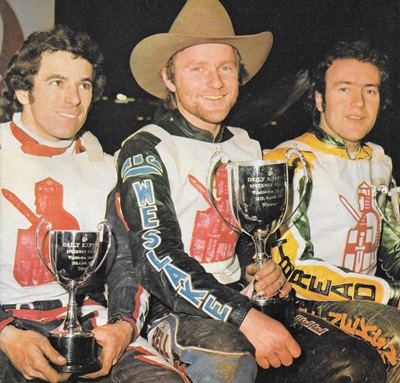 The Rostrum from the 1979 Spring Classic
For 9 years, 1973 to 1981, this event was one of THE biggest attractions on the UK calendar and on the World stage. Sponsored by The Daily Express newspaper, readers voted for the field and those who were able, got to line up at Wimbledon. Not everyone could but the fields were always first class as this prestigious night called for.
THE biggest star who never rode in the meeting was Ivan Mauger. It was not that he was not interested. For him, the timing was at issue. His Australasian season usually started around December/January and went into March with bookings in the USA. He then got back to England and prepared for his British League/European season. The first BIG meeting for him was The Golden Key of Bremen, usually held on May 1st. [ Ivan was not eligible for this meeting in 1974 or 1977. ] Then the Internationale at Wimbledon, later in May or June. [After ten years of riding in The Internationale, Ivan quit the meeting in 1977. ]
He told me that to be thinking of winning such a big event in mid April was too much for him. So, he declined each invitation. Fair enough. And here is where we get to bust the myth, and oh yes, there are still those who cling to such nonsense, that if Ivan Mauger did not win it, it was not worth winning. BOLLOCKS !!! The people who call themselves Mauger fans and who subscribe to this dribble, do the great man's legacy no good at all. They are also the ones who pretend that the CZ Golden Helmet does not exist ! Yes, Ivan is the greatest but he was never perfect. The way he is depicted today as some kind of god like creature is sickening. Please leave the man his dignity at least ! Anyways, enough said.
Just looking through the list of winners and place getters, we see a who's who of 70's and early 80's Superstars. Now, have a look at this;
1973. 1st Anders Michanek. 2nd Terry Betts. 3rd Bengt Jansson.
1974. 1st Malcolm Simmons. 2nd Dave Jessup. 3rd Ole Olsen.
1975. 1st Phil Crump. 2nd Barry Briggs. 3rd Peter Collins.
1976. 1st Dave Jessup. 2nd Tommy Jansson. 3rd Phil Crump.
1977. 1st Billy Sanders. 2nd Peter Collins. 3rd Dave Jessup.
1978. 1st Scott Autrey. 2nd Peter Collins. 3rd Gordon Kennett.
1979. 1st Scott Autrey. 2nd Peter Collins. 3rd Dave Jessup.
1980. 1st John Davis. 2nd Dave Jessup. 3rd John Louis.
1981. 1st Dave Jessup. 2nd Gordon Kennett. 3rd Jan Andersson.
1981. Adjusted;
1st = Dave Jessup/Ole Olsen. 3rd Gordon Kennett.
If that was a menu, it's a meal fit for a King or Queen. Lets check out the action.
1973, April 19.
Superstar Swedish ace, Anders Michanek was in a class of his own and his 15 point maximum reflected the effort. Terry Betts was 3 points behind but this was an excellent performance in a field of perhaps more fancied opponents. He was beaten only by Michanek in heat 3, Martin Ashby in heat 7 and in heat 20 by Bengt Jansson. The Swede Bengt Jansson made the podium after seeing off Eric Boocock and Tommy Jansson in the run-off as they all shared 11 points each. In fact it was Wimbledon star Tommy Jansson that got the ball rolling, missing the start in heat 1, he powered underneath Ashby and then overtook the England Captain, Ray Wilson for a massive and historic win. "Peter Collins at the back watchin it all."
John Louis & Martin Ashby scored 10, Ray Wilson & John Boulger 9. Wimbledon's Kiwi Graeme Stapleton was next on 5 and he won his last race, heat 18 from Soren Sjosten, Peter Collins and Reider Eide in the only time he got to ride in this event. Comeback King, Barry Briggs shared 4 points with Nigel Boocock. Peter Collins was right out of sorts with 3 points equal with Soren Sjosten. Reider Eide 2, reserve Tony Clarke 1. Poor Christer Lofqvist, riding in recovery from back injuries scored 3 ducks before retiring.
5 weeks later, Anders was second in The Internationale when he lost the 1st place run-off to Ole Olsen. Wimbledon fans however went over the moon as their own sensation Tommy Jansson was 3rd, when he beat the World Champion, Ivan Mauger in their run-off.
1974, April 18.
13 points saw Malcolm Simmons take the winners cheque, beaten only by Michanek in heat 6 and Ole Olsen in heat 9. This was the biggest individual win of Simmo's career at this stage and I have heard it said, was the springboard for his glories over the next few years.
Dave Jessup, making his Classic debut was second with 12 points and he beat Olsen in the run-off to do so. DJ dropping points to Olsen & Simmons, heat 9, and John Louis in heat 17. For Olsen, his debut was a nightmare with engine failure at the start of his first heat ! Four straight wins followed. A nightmare start too for Michanek. A first heat duck in heat 1 behind Jessup, Briggs and Betts, was followed by 3 straight wins and a second to Olsen in round 5. His 11 points were equal with John Louis while Betts scored 10.
Next was Barry Briggs with 9, followed by Christer Lofqvist 6, Tommy Jansson, John Boulger and Dag Lovaas on 5 each. Bengt Jansson won his first heat but a solitary point was all that followed. Ray Wilson also scored 4 while Scott Autrey, reserve Barry Thomas and Peter Collins all scored 3. Leaving Chris Pusey with 2. Yes, not a happy evening at all for PC. A tapes exclusion in his first heat followed later by a fall in round three.
However, Peter Collins redeemed himself 5 weeks later, winning The Internationale from Ray Wilson and Ole Olsen.
1975, April 10.
The rain, the park and other things never worried Australian champion Phil Crump. With 4 wins and a duck, well it rained all night, his 12 points saw him singing in the rain, 1 point clear of a muddy Barry Briggs and Peter Collins. The legendary Briggo showed he could still enjoy himself at this level and beating PC twice was an added bonus. 10 points each for Simmons, Olsen and Betts. Ray Wilson 9 and Jessup, falling in round five, on 8. The World Champion, Anders Michanek finished with 7, winning just one heat. Bengt Jansson also scored 7 and Tommy Jansson 6. John Louis shared 5 points with Dag Lovaas. John Boulger scored 4 while Barry Thomas bought the house down, winning his first race from Simmons, Briggo and Martin Ashby. However, those 3 points were the only ones he got. Ashby did not enjoy his evening with 2 points to his name.
Six weeks later at The Internationale, Ole Olsen won his second title from Crumpy and Ray Wilson.
1976, April 15.
After 4 straight wins, Dave Jessup needed one point from round 5 to win outright and that's exactly what he got in heat 18. Being forced to follow home John Louis and Peter Collins, staying clear of Anders Michanek. The home favourite, Tommy Jansson started well with victory in his first two heats. But defeat at the wheels of John Louis in heat 10, may have dented his focus. Still, it was in that heat, Tommy held the World Champion, Ole Olsen back into third spot.
The crunch came in heat 15 as Tommy faced the unbeaten Dave Jessup. This was a gate he could not afford to miss and while it wasn't a bad one, Jessup hit the front and stayed there. Tommy got by Terry Betts but was only able to get a point behind DJ and Phil Crump. Heat 20 saw Tommy fly from the gate ahead of John Davis, Gordon Kennett and Zenon Plech to take the win and 2nd place overall. Crumpy made it to the podium with 11. The defending Champion started off just right with two wins. But a disastrous last behind John Davis, Ray Wilson and Anders Michanek in heat 11 saw his downfall. And those 2 points were the only ones Wilson got all night !
Crump followed home Jessup in heat 15, restoring some pride winning heat 19 from Malcolm Simmons, Mike Lee and Scott Autrey. John Louis, World Champion Ole Olsen and Malcolm Simmons all ended the night with 10 points. . Peter Collins 9 and John Davis 8. Seven points for Martin Ashby, Michanek 6 with Scott Autrey and Chris Pusey ending with 5 each. Reserve Gordon Kennett scored 4 from his two rides, both second places while the teenager making big headlines, Mike Lee also got 4. Terry Betts who broke down leading his first heat, Zenon Plech and Ray Wilson got the leftovers, 2 points a piece.
Malcolm Simmons was second in all his races but 6 weeks later, he made it five straight wins to take The Internationale. Chris Morton runner-up with Mike Lee 3rd.
Back to the Classic, Tommy Jansson would have been disappointed with that result but he, like his devoted fans knew it was only a matter of time before he would stand as the winner. He really was THAT good and like the winner Dave Jessup, was just 23 years old. On May 13, he won the Golden Helmet from Jessup at Wimbledon. On the same night, scoring a 15 point maximum in the Southern Riders Championship qualifying round, Jessup second on 14. May 20, Tommy rode in a Swedish round of the World Championship in Stockholm. This would surely be an easy stepping stone on the way to the World Final. Tragically, it turned out to be the last night of Tommy's young life. His first heat that night was to be his last ever. Wimbledon was NEVER to recover and Speedway itself was left with a black hole that never saw light again. Superstars came and went but none could outshine the STAR that was Tommy Jansson.
1977, March 24.
A sensational 15 point maximum by Australian ace, Billy Sanders saw him push the World Champion, Peter Collins to second place with 14. It was Sanders debut in the Classic but he had been threatening such a performance for a few years. He outgated Collins in their second round clash and showed nerves of steel to stay there. Jessup again scored 13 points but this time, it was only enough for 3rd.
After two straight wins, DJ struck trouble in heat 12. He had the lead until his motor slowed which forced Edward Jancarz to lay his bike down. This saw Billy Sanders move into second place and as Jessup struggled for power, Sanders was able to pick him off with ease. Normal service was resumed with a heat 15 win but in heat 20, Jessup was no match for Peter Collins.
As the years rolled on, Jessup and engine trouble went hand in hand. It may not seem fair but it's true. All riders had their share of motor misfortune, however Dave Jessup's big meeting engine failures would become way too common place.
Martin Ashby was 4th with 11 points, the best score he put up in 5 Classic appearances. Terry Betts and Crumpy scoring 10 each. Malcolm Simmons got 9, John Louis and Larry Ross 7 each. Edward Jancarz and Gordon Kennett 6, followed by John Davis and Mike Lee on 4. Tail enders were Joe Owen 2, Chris Morton 2 and Dave Morton "with a blob."
Wimbledon's Polish star, Edward Jancarz would go on to win The Internationale later in June, his team-mate Larry Ross 2nd and Phil Crump 3rd.
1978, March 23.
Missing from the action is Dave Jessup, recovering from injury.
American star, Scott Autrey had ridden in two previous Classics. 3 points in '74 and 5 points in '76. But in this one, the American Eagle soared to 14, beaten only by Terry Betts in heat 18. It was the last turn before Scott was able to overtake Edward Jancarz for the vital point. Scott earlier beat Peter Collins from the back in heat 8.
Now, all eyes were on Collins as victory in his last heat would force a run-off. Malcolm Simmons though, had other ideas. He sped from the gate in heat 20 and PC this time had no answer. So Autrey took the Classic with 14, Collins had to settle for second on 13 and a triple run-off settled 3rd place. All with 12 points were Gordon Kennett, John Davis and Malcolm Simmons;
Kennett beaten by Simmons, Autrey and Collins. Davis beaten by Collins, Autrey and Kennett. Simmons beaten by Davis, Billy Sanders and Autrey.
In the run-off, Davis made the gate but Kennett became the winner. [ Later in the year, Gordon Kennett would score another 12 points, in the World Final at Wembley to take the Silver Medal behind Ole Olsen. ]
This was the last Classic appearance for Terry Betts, scoring 10. Voted into all six meetings thus far, Bettsy had scored double figures in five of them. A very class act ! Scoring 8 was Edward Jancarz with his Wimbledon team-mate Larry Ross on 7. Not a happy night for the defender Billy Sanders, falling in his first heat followed by engine failure next time out. He did win heat 10 but ended with just 6 points to his name along with Illa Teromaa and Finn Thomsen. Mick Hines took 5 points, Mike Lee 4, John Louis 3. Just 1 point a piece for Martin Ashby and Colin Richardson.
At the end of May, Peter Collins got his own back on Simmo, beating him in the triple run-off for The Internationale with John Davis third.
1979, April 12.
What a treat !
The first run-off for 1st place and it's between last year's top two. "How's that like ?" Defender Scott Autrey drops three points but so does Peter Collins. An amazing heat 2 sees Collins beat Autrey, World Champion Ole Olsen, back in the Classic after two years away, and Chris Morton. After that, it's got be Collins year, surely ! However, Wimbledon's Kiwi, Larry Ross only just beats Collins in heat 5. This was Ross' third appearance out of five and yet it would be the only one, in which he scores double figures. Billy Sanders then deals to PC in heat 10. But Collins stays in contention by winning heat 15. Victory in heat 20 will see him lift the trophy BUT, Dave Jessup ruins the party.
Scott Autrey meantime has also scored 12. After that heat 2 second place to Collins, he is third in heat 6 behind Jessup and Steve Bastable. Then Scott goes into overdrive by winning his remaining heats. And he keeps the momentum going by successfully defending his Classic title. This is Collins third straight year in second place AND, the Daily Express Spring Classic proved to be THE biggest straight speedway event that he entered but never won.
[ Peter Collins never did get to ride in the CZ Golden Helmet. ]
Dave Jessup saw his hopes go up the spout in round one, being excluded on two minutes with mechanical difficulties. Three wins and a second to British Champion Mike Lee, gave Dave 11 points and 3rd place overall. See what I mean about engine trouble ?!
Larry Ross, Ole Olsen and debutant, super hot Yank Bruce Penhall, all scoring 10. Billy Sanders, Gordon Kennett and Mike Lee, 7 each. Sanders started with two ducks but then came out with two wins. His 3rd place behind Larry Ross and Bruce Penhall in heat 18 sort of summed up his night. Sharing 6 points each were Mitch Shirra, John Titman and John Davis. Phil Crump with 5. The CZ ace Vaclav Verner scored 4, Steve Bastable 3, Chris Morton 2 and reserve, Edward Jancarz 2.
At the end of May, Lee got it together and won The Internationale from John Davis and Edward Jancarz.
1980, March 20.
Defending champion, Scott Autrey chose not to accept his invitation. He had felt his confidence starting to go and did not feel that he was capable of winning.
John Davis has no trouble taking first place with four straight wins, following Dave Jessup home in round five, 14 points putting him 2 clear of Jessup and John Louis. An exceptional performance from a star who was, much of the time, overshadowed by more shiny Superstars.
Jessup was again on the podium and beats John Louis in the second place run-off. DJ followed home Bruce Penhall in heat 3, Louis in heat 7 then Malcolm Simmons in heat 9. His two remaining wins secured the 12 points. One did have to feel sorry for Louis. In heat 4, Lee jumps into the tapes but somehow does not break them. In the same second, John does the same and snap they go. Well, he was under starter's orders and so was rightly excluded. However, with Lee being the one who rode into them in the first place, an unsatisfactory start would have been the fairer option. Lee was fined for his action.
'Tiger Louis' then delivers 4 straight wins. And he could still raise a smile, despite following Jessup home in the 2nd place run-off. Mike Lee, who was returning after back injuries sustained in January, waved goodbye to a possible podium finish in heat 19, riding straight through the tapes. After two straight wins, Penhall goes on to score 11 equal with Malcolm Simmons while Swede, Jan Andersson hauls in 10. Lee finishes with 9. Seven points each for Hans Nielsen and Finn Thomsen. Then came Larry Ross and Ron Preston with 6. Bobby Schwartz 5, Gordon Kennett 4 and way off the boil, Peter Collins, also with 4. Roger Johns and reserve Mick Hines get a point each. Steve Bastable and reserve Colin Richardson with wooden spoons.
Later in May, Jessup is unbeaten for The Internationale with Bruce Penhall 2nd and Hans Nielsen 3rd.
1981, April 16.
World Champion Mike Lee was sadly missing because of 'illness'. Defender John Davis was injured but he did make the effort. However, a duck in round one saw his night ending there and then. His bravery was widely applauded by all. Bruce Penhall was not in the country and Hans Nielsen was on League duty. And for Peter Collins, it was his year off, on the injured list. So to the action, on and off the track. This was how 'Speedway Star' saw it;
"Speedway's suicidal streak reared its ugly head again ... and provided another kick in the teeth for the sponsors, television and paying public."
Good heavens ! Whatever next ?
Dave Jessup won his second Classic in magnificent fashion and in a run-off. His 13 points came from four wins and a third behind Gordon Kennett and Bobby Schwartz in round 4. His run-off opponent ? Gordon Kennett, who also scores 13 from four wins, one awarded - more on that later, and a third behind Dennis Sigalos and Les Collins in round 2.
So Jessup proves himself King of the Classic. He only misses two years through injury, '73 & '78. And he is on the podium in 6 of his 7 appearances. He with Scott Autrey are the only two time winners in this competitions tragically short life. Delectable, Dynamic Dave indeed ! [ RIP Dave Lanning ]
Third on the night is Jan Andersson with 11 points and be beats Billy Sanders in that run-off decider. Ole Olsen has 10 BUT, here comes the cancer that killed the Classic; Olsen had been beaten by Sigalos in heat 3 and Jessup in heat 6. He then WON heat 12 from Gordon Kennett, Bo Petersen and Billy Sanders. He was however accused of cheating by using a new tyre.
After a half hour delay, the referee excluded him and removed his 3 points. Olsen was more than explosive, "I did not cheat. It was not a new tyre. I will appeal to the Speedway Control Board to clear my name !"
Ole then won his last two heats which would have given him 13, equal with Jessup. It would have left Kennett in 3rd place overall with 12.
So, on the night, Ole is 5th with those 10 points. Chris Morton and Bo Petersen have 9 each. Les Collins 8 and Bobby Schwartz has 7. Sharing 6 points each are Dennis Sigalos, Larry Ross and Kelly Moran. Malcolm Simmons 5. 'Super Simmo', a Classic legend ! Winner in 1974, he rode in 7 of the 9 events and scored double figures 5 of those. In the words of Wally Loak, "What a fighter, what a champion !"
Phil Crump ended the night with 4 points. Reserve Colin Richardson got 1 while Roger Johns and Rudi Muts failed to score from their outings. Not forgetting the heroic effort of John Davis. So that was the night, now for the fallout;
Over a month after the event, the Speedway Control Board found Ole Olsen not guilty of any wrong doing. His name was cleared. Accusations of him being a cheat were thrown out.
His 3 points were reinstated which meant the record books had to be adjusted to read; 1st equal, Dave Jessup / Ole Olsen 13. 3rd Gordon Kennett 12. Nobody could blame Ole for taking such action. It was a shameful debacle that left Speedway a laughing stock and its reputation in tatters. The people at the Daily Express were not amused and The Daily Express Spring Classic was never held again.
"Oh aye, footnote was it ?" The May staging of The Internationale was rained off and eventually held in August. Hans Nielsen was the unbeaten winner from Kenny Carter and Jan Andersson. Sadly, The Internationale was also never held again. In one year, Wimbledon lost both its Golden Geese that laid the Golden Eggs. The disaster that was to be the 80's, was in full swing.
Well, I do hope you have enjoyed my 'scrapbook history'. I have not named every rider or reserve. Not having any programmes from the event, it's all been magazine/paper articles, snaps, You-tube and the 'Erasmus Mk 2'.
But please, any corrections, opinions and eye witness accounts are more than welcome. Look forward to hearing from you ! Afterall, It's "only a bit of fun Den !"
This article was first published on 27th November 2016
[ Use Mobile Version ]
---

Mike Redfern:

"Blimey, this takes me back. How I wish we had the publicity this generated today. I think, and must check it was 1977 I first went, staggered by size of crowd, Thereafter I went to see 'The Dons' every week for a few years. Cyril Maidment offered me second half rides although I never took up the offer. What did speedway miss!! Have to mention, and maybe it was the International meeting but these events declined very fast in terms of attendance and the way they were run. I cannot quite remember and must research it because one such meeting became farcical. Murray Walker, the icon of Grand Prix commented on one meeting and got all his facts completely wrong, such was his interest in speedway!"

Comment on this Article | Contact Us | Go Back to Main Menu