Stan's the Man
by David Hensby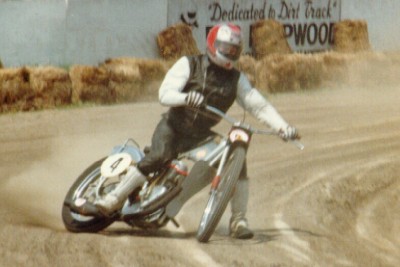 Stan Bradbury in Action
2006 celebrates the 80th birthday of one of Canadian speedway's greats!
Stan Bradbury completed his British speedway racing career in England in 1953 and began to race stock cars. In 1957 he emigrated to Canada with his wife Dorothy, and began a pursuit of putting on speedway races in Canada. Ken Sobel who was a TV channel owner, had a track in Dundas, Ontario which they used for their races. Due to the 1950's mass emigration from the UK, Canada was lucky to have some ex UK riders, such as: Jeff Crawford, Johnny Sargeant, Allan Kidd, Bingley Cree, George Butler, Fred 'Friar' Tuck and Stan's dear friend Mike Tams. They all enjoyed racing and allowed some Canadians to join in the fun with Dave Dodds, Mark Kehoe and another good friend Bob Fisher, coming into the picture later on.
In 1973, Stan, Bob Fisher and Mike Tams got together a bunch of riders to begin the Canadian Speedway Racing Association. Stan was the Secretary for 25 years as well as, being President for a while and chief cook and bottlewasher!!! Many people have continued with this great Association to this present day, and today it also runs with an ex-pat, David Hensby as President who still works closely with Stan.
Stan also took some time out to write a book for all up and coming speedway riders. A copy of this great book is available on the Canadian Speedway Racing Association website. A fascinating book for any rider to read on what to do and most importantly, what NOT to do!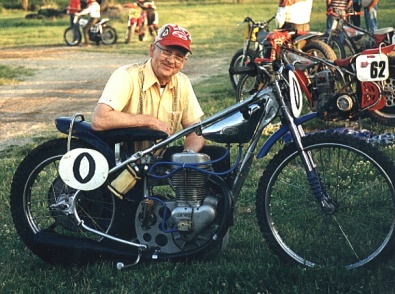 Stan with his trusty steed
His unselfish nature brings the riders closer to Stan. He will often be seen at the Paris Speedway practice sessions giving advice whilst stood on the track, never shouting, never a cross word. Just a calming voice of reason, explaining why it really does hurt when you fall off! During the races, he will wander the pits after watching and listening to a bike and make suggestions for a set-up change or tuning change, that makes the difference between winning and losing. His most famous student is Sheffield Tigers ace, Kyle Legault.
Kyle had this to say "Stan is the man who provided me with a bike so that I could have my first ride on a speedway bike. I first had a ride one Friday summer night back in 2001 on Stan's 250cc junior speedway bike. The next year he would bring along a two valve Jawa and would let me have a ride on that every Friday after the meetings....BUT ONLY IF I ASKED PERMISSION FIRST!"
Stan rode for many years in Canada, and has been the biggest advocate of the sport without question. Giving not only his time to promote the sport, but his mechanical knowledge, bike set-up and unselfish support of any rider who needs help, only instils the title of 'Grandfather of Canadian Speedway' Even today in his 80th year, Stan will still take an opportunity to take a seriously bent frame or misfiring magneto and rebuild them like new! In the Summer of 2006, a 1971 JAWA engine was taken apart after sitting for a few years after Stan had worked on it, and to the amazement of all who witnessed it, they saw some of the most intricate work ever seen. This engine was pristine and runs and pulls as well as the day it was made!
2006 in Canada was also special year for Canadian Speedway. A new 'Canadian Motorcycle Hall of Fame' was formed by Mr. Bar Hodgson. He began a special Hall of Fame that inducted nominated riders from all types of motorcycle racing and promotion, including the Canadian Motorcycle Association, the official Canadian ruling body. Nominations for these inductees was a very high honor and thanks to the great efforts and dedication of Ian March, Stan was able to make Canadian history in becoming the first speedway racing inductee. A proud moment for us all in Canada to witness the well-deserved prize being awarded to Stan on this night from Ian!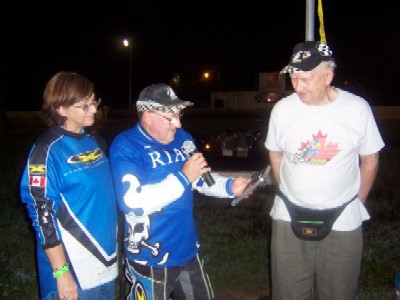 Stan receives a presentation from 'Pirate Wale'
The speedway season was also blessed with a celebrationary night in August, at Paris Speedway in honor of Stan. His great friend Graham 'Pirate' Wale, Tom Marriott and the Canadian Speedway racing Association were on hand to present awards and tributes to Stan for his great work.
This was echoed in front of his peers at the recent 2006 Canadian Speedway Racing Association Awards Banquet. Stan stood proudly in front of his family and friends and was awarded a Diploma on behalf of everyone involved with Canadian speedway racing.
A true gentleman, a true friend, Stan Bradbury known to us all as 'Mr. Nice Guy', and you know what he really is!
Happy 80th Birthday Mr. Stan Bradbury and may you have many more!
This article was first published on 16th November 2006
---

John Hyam:

"An interesting article on Stan Bradbury, who was also featured a while back in 'Vintage Speedway Magazine' as was Mike Tams. However, I am certain that Fred 'Friar' Tuck did not emigrate to Canada nor did he race there. The rider in question was Fred's son, Ron Tuck."
Jeff Crawford:

"Hi Stan, Just found this site and would like to congratulate you on your 80th Birthday and your award, even though it's a little late. I had my 80th Birthday this year too. We raced against each other many times in the UK and in Canada and enjoyed every minute."
Jenny Tuck:

"My name is Jenny Tuck, daughter of Fred Tuck. Just to set the records straight my Father Fred (Friar) Tuck did not travel to Canada, it was his son (my brother) Rodney Tuck who travelled to Canada and raced. Cheers."

[ Use Mobile Version ]

Comment on this Article | Contact Us | Go Back to Main Menu