LONG EATON - Station Road
Former Home of Long Eaton Speedway
Pictures courtesy of Philip Dalling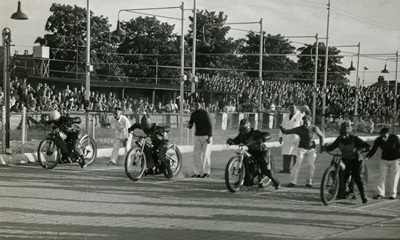 Jack Unstead, Johnnie Jones, Jules Benson and Jack Winstanley leave the tapes in 1951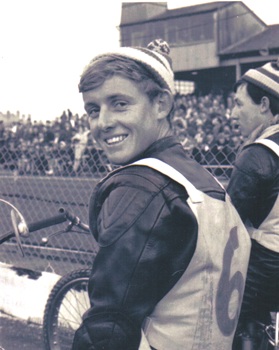 John Bougler on parade at Station Road in 1967
Pictures courtesy of Graham Burrows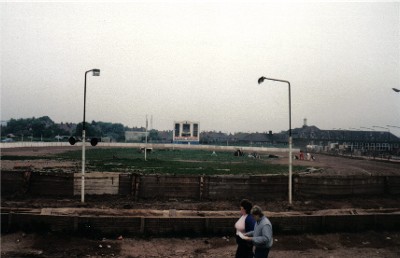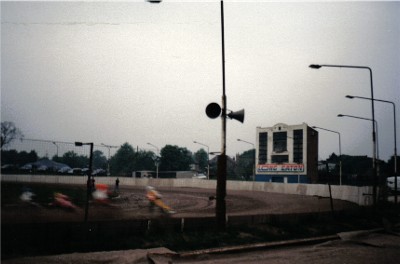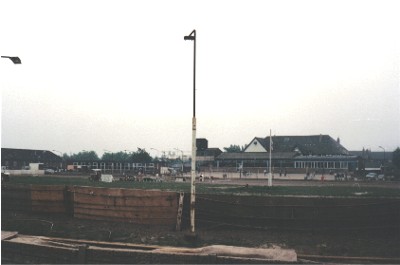 Pictures by Vincent Scothern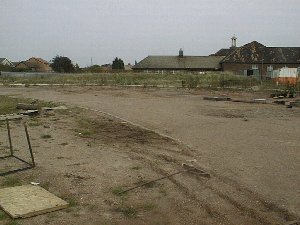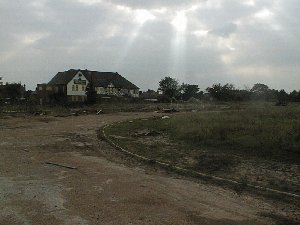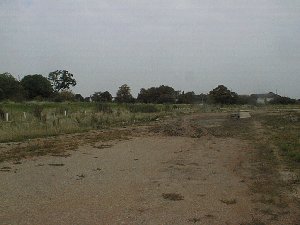 This article was first published on 31st December 2004
---

Malcolm Preston:

"It's a shame to see the stadium the way it is, I went to Long Eaton track several times, even though I came from the Manchester area, I combined it with a visit to the museum at Donnington."
Graham Hall:

"Absolutely wonderful pictures of the old Long Eaton track. I shed a silent tear when viewing these, although good to see the pictures of the track in better times. Like many others, I live in hope that one day, Station Road will echo to that wonderful sound."
Andy Buckley-Taylor:

"I go past the old stadium site most weeks as my wife is from Long Eaton. Looks a real mess now and speedway seems to be no nearer to returning."
Chris Else:

"Another Long Eaton Invaders fan here. So many happy memories of watching speedway with my dad and brother, the Invaders are dearly missed. The pictures of the derelict stadium are so sad. Anyone know any news at all? I haven't heard anything on the stadium in over a year."
Graham Hall:

"As an ex Long Eaton supporter for many years, it brings tears to the eyes to see the track in a derelict condition. "
Trevor Monahan:

"The site is now being developed, I believe there are going to be 130 houses built, safe to say an end of an era."
Dana Neal:

"Plucked up my courage and visited Station Rd. I could have cried, smart new houses half finished all over the site. This could be the fate of all stadiums unless we support them."

[ Use Mobile Version ]

Comment on this Article | Contact Us | Go Back to Main Menu