Stoke's 40th Anniversary
By Philip Dalling
Well-deserved anniversary success at Loomer Road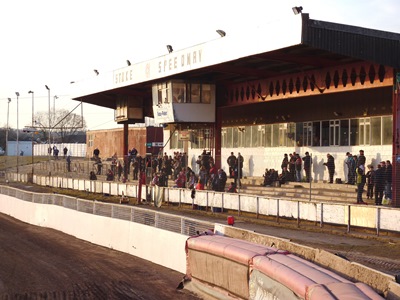 Keeping speedway alive and kicking in the second decade of the new millennium is a tough job.
Despite the sport's problems, it must be fairly common for the casual TV viewer watching the Grand Prix at Cardiff or at one of the equally impressive stadia elsewhere on the circuit to gain an impression of continuing glamour.
The reality of 21st century speedway at grassroots level can be found throughout Britain, at every level. Keeping the show on the road in 2013 at Elite, Premier and National League level, takes a lot of hard work, courage and determination, and some pretty deep pockets.
There is not a huge amount of glamour to be found in the National League, but the competition deserves huge praise for the contribution it has made to the sport in recent years.
It has provided a first step into speedway for new clubs like Somerset, an initial platform for returning sides like Scunthorpe and Plymouth, a safety valve for those for whom a spell outside the Premier League proves necessary, such as Isle of Wight and Stoke, and a home for the smaller clubs such as Buxton.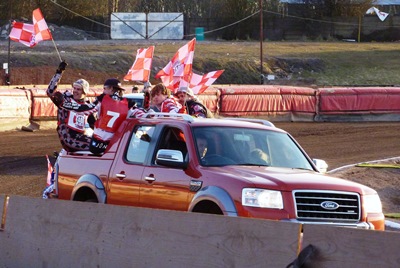 I was privileged to be present at Stoke's 40th anniversary meeting at Loomer Road and it was a reminder of all that is good about speedway.
Although the snow was still piled high in drifts along the roadsides on the hills above Leek as I drove to the Potteries, it was a fine if cool evening at Loomer Road and the track was in excellent condition.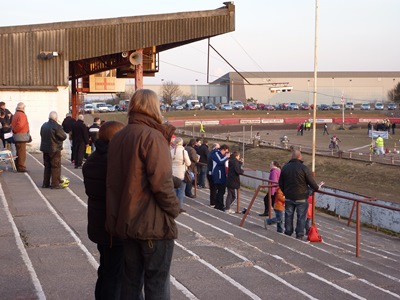 The enthusiasm of everyone concerned with Stoke speedway was obvious and Loomer Road had been smartened up considerably since my last visit.
Dave Tattum and his colleagues do a fine job keeping the sport going in one of its traditional strongholds, and deserve congratulations (and support) from fans as a whole.
It was good to see former Potters Alan Grahame, Steve Holden, Eric Monaghan, Arthur Browning and Ian Gledhill amongst the guests. Their continuing affection for Loomer Road and for speedway as a whole was obvious.
This article was first published on 21st April 2013
---

David Pickles:

"The recent article on Stoke's 40th anniversary meeting, was both heartwarming and heartbreaking. Back in 1987 when I was part of the consortium at Wimbledon, we welcomed Stoke as part of the old "second division". But the heartbreaking aspect of the pictures was the crowd, or lack of it. The massive gaps on the terraces, especially the grandstand shows that the club, now in the third tier of league racing is up against it, and yet the current promotion continue their love of our magnificent sport. Long may it continue there, at least Stoke have a chance of continuing, but the news as regards any continuance of speedway at Wimbledon continues to get bleaker by the week."

[ Use Mobile Version ]

Comment on this Article | Contact Us | Go Back to Main Menu