Svein Kaasa
By Peter Colvin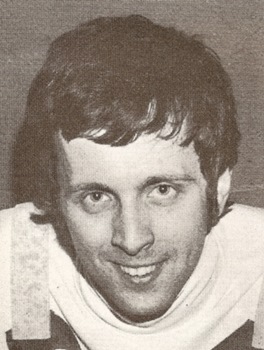 Svein Kaasa
Towards the end of March 1972, the speedway press announced details of the new consortium that was to take ownership of the Oxford Cheetahs. The jazz clarinettist Acker Bilk, his brother David, Charlie and Bob Dugard along with Danny Dunton and new manager Dave Lanning spearheaded the new company that was to introduce the jazz and razzmatazz designed to make the Cowley track a swinging place to be on a Thursday night. They were determined to remove the "unfashionable" tag, which had dogged the Cheetahs in recent times and fashion a new image for the speedway club. The fans were in for a shock. A change of team colours and a new nickname of the Rebels with a race jacket showing the Yankee Confederate flag were to be the beginnings of the shake-up at Oxford.
Since the formation of the British League in 1965, when Oxford finished fourth, the Cheetahs had always ended the season somewhere in the bottom half-dozen. In fact, 1971 had been their poorest British League season to date when they finished 17th out of 19 teams. The Rebels management had hoped to include Sverre Harrfeldt in their team. He had an average of 7.80 and was allocated to Oxford following the closure of Wembley. Unfortunately, the Norwegian was scheduled for a hernia operation that would have kept him out of the saddle for much of the season. The following item, from the Speedway Express magazine for May 1972, takes up the story.
"Dave [Lanning] wasted no time in finding his own replacement. Sweden is a dubious source of rider supply for Thursday tracks because three of the seven Swedish First Division tracks race on Thursdays. Added to this was the fact that there was no non-Thursday Swedish rider of the necessary calibre available . . . . Undeterred, Lanning went for Norwegian Svein Kaasa (the double a is pronounced "or") and the deal was swiftly tied up allowing his new signing to dock at Immingham two days before the Rebels first match at Coventry . . . .
Kaasa is 24 and a bachelor. Dark haired and fashionably dressed, the Oslo draughtsman has been engaged on projects for his employing company running into hundreds of thousands of pounds. Naturally his employers are not overjoyed at his decision to race in Britain.
However, with all his qualifications safely tucked under his belt, Svein feels ready to taste the cut and thrust of British League racing. His record shows that he is unlikely to progress further with the lack of regular meetings in Norway. For the last two years he has been placed third in the Norwegian Championship, well ahead of some British-based Norwegians. He smashed a 15-year old track record at his home track Skien, a record which withstood the challenges of Harrfeldt during his great years and more recently Reidar Eide.
Eide, Norwegian champion for the last five years, recommends Kaasa with the same sort of enthusiasm which he showed for Ed Stangeland two years ago . . . . Very much a full-throttle merchant he will, like all Norwegians take a little time to adjust to the slicker and smoother tracks - and also to the demands of full-time speedway.
Kaasa is known in Norway for his fast sporty cars. Within a year he has owned a Mercedes Roadster, a Lotus Europa, a 2000 GT Taunus and currently he is running a Lotus Cortina in the Norwegian colours of red white and blue. Inside it's luxury all the way, with a stereo tape player [remember those?] and radio.
'I'm hoping that once he settles in, he'll be a right little goer,' says Oxford chief Lanning. 'Certainly he seems a colourful character and I think the crowds will like his all-action style,' declares Dave.
Cars apart Kaasa's main hobby is water ski-ing, and he has his own motor-boat at his home in Gvarv, a picturesque village set by a large fresh water lake and about eighty miles from Oslo. He has a holiday apartment in Benidorm on Spain's Costa Blanca, and one in Oslo - 'Where I have time only to work and sleep,' says Svein.
The British speedway scene will be very different for him. He will need to be successful to keep up the standard of living that his executive job has given him thus far. But then new names are always welcome, and Dave Lanning's gambles have a habit of coming up trumps."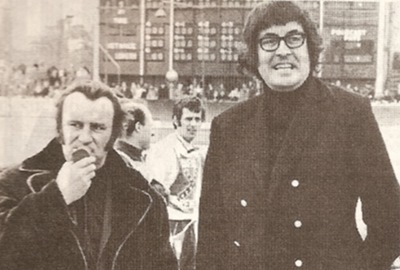 This snapshot was taken at Oxford's opening meeting on 31 March 1972 and shows Acker Bilk and manager Dave Lanning introducing the new Rebels team to an encouragingly large crowd. Svein Kaasa can be seen in the background with Colin Gooddy on his right-hand side. He had scored 1+1 from four rides in a very heavy 59-19 defeat at Coventry six days earlier. The Rebels won their first home match 43-35 against Wimbledon with Svein scoring 4+1 from four rides, prompting the Speedway Star reporter to write that the "young Norwegian rode well enough to suggest he will be a useful acquisition."
Unfortunately it was a false dawn. Because of Svein's complete inability to gate on anything like equal terms and was beginning to look ill at ease on the tight Cowley circuit, he only managed to score two more points for the Rebels in the next four matches to give him an average of 1.71. The Oxford management had seen enough from a rider saddled with an assessed average of 7.50. It did not matter that "he rode his heart out for little reward," the decision was made to release Svein Kaasa and bring in the Dane Preben Rosenkilde from Halifax on an average of 6.40 from four meetings. Svein Kaasa's last match for the Oxford Rebels was at Halifax on 15 April 1972, after only six matches and just three weeks to the day since his first meeting in the British League.
Rosenkilde didn't settle either and he moved on midway through the season with an average of 3.64. Oxford's search for a third heatleader proved fruitless and the Rebels went from late August until the end of the season without winning a single league match and ended up second bottom of the British League, two points above Newport.
A similar scenario was being played out at Glasgow where the tall Norwegian Kjell Gimre, after a promising start, was starting to struggle and was subsequently released after thirteen appearances for the Tigers with an average of just 2.23. Preben Rosenkilde, who had lasted just nine matches for Oxford, was brought in to the Tigers septet and rode at Hackney in mid-August but was unfortunately given a one year suspension by the Danish Motor Union and was never seen again.
Oxford heat-leader and former Tiger Oyvind S Berg spoke to the Glasgow promotion about bringing over Svein Kaasa for the remaining part of the season. Without having seen Svein racing and purely on Berg's recommendation, the next Norwegian to wear the stripes was making the quick boat trip to Harwich for his first meeting as a Glasgow Tiger.
Svein's first meeting was at Hampden Park on 1st September against Ipswich. He rode at number six and won heat two in a very reasonable time for his first race on the huge Hampden circuit. Taking into consideration that two of his rides were on borrowed machinery, Svein did encouragingly well to score 5 + 1 from three rides. In the following week's programme notes Neil Macfarlane wrote ". . . I must make special mention of Svein Kaasa. The handsome Norseman had only arrived in Glasgow at 1am on Friday and had his first look at Hampden on Friday afternoon. The way he tigered for his points made it look as though he had been riding the track all season. We have waited a long time for such a character and I feel sure that given this year to settle in at Glasgow, next year could see Svein challenging for top spot amongst the Norwegians."
At Swindon the following evening, Svein managed to get just one point from two outings. In his third meeting for Glasgow on the 8th September he scored 3+1 at home against King's Lynn. This was followed by a quick dash to Prestwick Airport for a flight home to contest the Norwegian Championship at Sandefiord. Svein finished in fifth place on 9 points, the same total as three other British League riders Oyvind S Berg, Ed Stangeland and Reidar Eide. Svein was unlucky to be excluded in heat 5 when Odd Fossengen fell, and but for this he might have improved on his third placing in the last two seasons.
His fourth league match came on 22nd September when a "two-man" Wimbledon side left Hampden without any league points after losing 51-27. Svein's paid five from three rides made another valuable contribution towards Tiger's big win. This was followed the next day by a trip down to Manchester where the Tigers lost 46-32 to Belle Vue Aces. This was to be the only time that Svein failed to score any points as a Tiger.
Swindon Robins were in opposition at Hampden Park on Friday 29th September 1972. The Tigers had an eight-point lead after ten heats, the Robins already having used Martin Ashby and Terry Betts as tactical substitutes. Svein Kaasa was on paid five from his first two rides. On the last lap of heat 11, Jim McMillan was leading with Ashby second and Svein third. These positions would have won the match for Glasgow but Svein thought that he had the speed to overtake Ashby and on entering the first bend attempted to pass him on the outside. Svein misjudged the relative speeds of the bikes and clipped Ashby's back wheel. He was thrown headlong onto the track, collided with the wooden fence - and received fatal injuries. Svein was taken into the changing rooms where attempts were made to resuscitate him. The news of his death was not announced to the crowd until after the meeting had finished - the two remaining heats of the match plus nine second half races.
Neil Macfarlane wrote the following piece for the next Glasgow programme, "I am still stunned, as I am sure you all are, by the tragic events of last week, so it is with a heavy heart and under great strain, that I pen these notes.
Svein's fatal crash in heat 11 dealt a tragic blow to Speedway, and especially so to Glasgow, where our supporters took him to their hearts. Although Svein was with us for only six short weeks, we had come to respect and admire him for his determination to do his best for Glasgow Tigers and, to our great sorrow, it was his 100% effort which cost him his life. Svein, who was twenty-five years old . . . . is survived by his mother, father and sister, and it is to his sorrowing family that we send from all at Glasgow our deepest, most heartfelt sympathy."
This article was first published on 30th June 2013
---

Neil Macfarlane:

"Well done Peter, a true and factual account of the circumstances surrounding Svein's tragic accident "
andy:

"Great article on Svein Kaasa. Ii had never heard of him as a rider but stories like that show the risks that EVERY rider of all standards and abilities take in entertaining the fans and that fans favourites are not necessary the number 1 superstar all of the time...great but sad story,."
Ian Proctor:

"Hi peter, good, well informed column with info. about Svein which I'm sure not many Glasgow fans were aware of. He had always been a rider who due to his short time as a Tiger, not much personal information had been known and even less photos were available."
Colin Bennett:

"I was working on the track staff that night and it happened right in front of me. The only slight change I would make as I recall. Martin was riding quite wide and appeared to lock up. Svein hit him quite hard not just a clip. Svein's bike went verticly airborn and appeared to come down on top of him , snapping the handlebars on the top of the fence as it did so. I ran on the track and lifted the bike away from him. A very sad night. He was a really nice guy and was always happy to chat away with the track staff."
Ian McLean:

"A truly sad day in Glasgow speedway history. Always in my thoughts. R.I.P. Svein."
Tracy Holmes:

"Thank you Peter. This piece is a real gem and I'm so glad you took the time to share it with us all. To discover his life outside speedway was real treat. It's great too that guys like Svein are not forgotten by the Speedway world, far from it in fact. Cheers !!!"
Bill Elliot:

"It's a remarkable tribute to Svein that nearly 41 years after his tragic death, and considering he rode here for such a brief time, that so many people still remember him with such fondness and sadness at the same time. I was there at Hampden that night also and the place was just never the same afterwards, which was hardly surprising. Don't think that anyone who was there will ever forget it."
Thomas Lewis:

"Yes, a truly sad and another tragic moment in Glasgow speedway. Was also present on this most tragic night at Hampden Park, and occasionally flicks past my speedway memory. Having lived many years overseas I do lose contact with the day to day of the sport however some of the magic moments seen at Hampden, and there were very many, happily dampen this tragedy. One of my angry recollections was the coverage from the local press, Daily Record, Evening Times etc., giving extensive full page coverage of what happened, and in general to a sport which was largely ignored by them.

Looking back on facts and comments from the article I must also show my deception and perhaps dissapointment of the attitude shown by the promotion of the time, as I very clearly remember Neil McFarlane giving his very emotional discourse / speech at the very end of the meeting, although it would appear that they were already very well aware, for qute a considerable amount of time that Svein had in fact deceased from the tragic accident. It ocurred on the entrance of the first bend where Svein clipped the rear wheel of Martin Ashby and was hurled head first, into the then very solid wooden, safety fence None of this of course bears much relevance and will most certainly not alter history. Fond, and on this ocassion in particular, very sad memories, and on reflection a very bitter taste indeed of cinicism from the erstwhile promotion. The show must go on. "
Grant Crawford:

"Mr Lewis have you ever thought the fact for the delay in making the announcement at Hampden that tragic evening was down to the fact that The Promotion wanted to inform Svein's next of kin before making a public announcement? Having talked to various riders who rode that evening, including family members, not all were fully aware of the seriousness of the accident and had they been they certainly would not have ridden on. I was there as an 11 year old and it's not something I ever want to experience again and would hope no one ever witnesses such a sad occurence. "
Thomas Lewis:

"Good day Mr. Crawford, I would certainly consider agreeing with your comment about perhaps trying to contact next of kin, althguogh in the 70's I am not sure if communication was that poor they could not locate any of the family by telephone quickly, even in distant Norway, which would maybe aliviate my declared perception, however the rest I am not quite so sure of......................

Those were the days of amatuer and very dedicated enthusiastic St John's Ambulance Brigade atendees for medical back up on the track, no paramedics and supporting life support equipment in the ambulances, except perhaps an oxygen bottle. Only the track Doctor would be an authority on these issues. However my recollection is that unfortunately given the very extensive time taken to remove the unlucky and unfortunate Mr Kassa, it was more than plain to all present that this was not a routine or simple accident, and was in fact very, very serious indeed.

I am sure that the riders must surely have had some notion of the seriousness and doubts whilst watching the progress of the operation on the track. Just considering the ammount of people who were surrounding the area, and as mentioned the time taken to remove Sven from the track, unfortunately does not perhaps coincide with your understanding or memory of the events, independentaly with whom you may have or not discussed this with recently.

My full agreement however on your standpoint is that it was horrific to witness, and without doubt nobody who loves speedway, as I still do, would remotely like to even think of such a tragedy such as this. My original ending statement I still think reveals my particular thoughts of the very sad, and as I still think, cynical end to the evening's events. It is most certainly not my intention to either offend, pricipally so long after such a horrific and difficult situation, it was very tragic and, as mentioned, none of these opinions will alter the tragic history unraveled during the evening.

I was quite a bit older than your declared age at the time, and although maybe a bit naieve, although most definitely not overly so. When reflecting on this ocurrence unfortunately the taste of biterness still remains surrounding the events commented in my previous corespondence!

The show must go on! Hope maybe to see you around Ashfield, if I can manage next year - still love the sport and try to catch up every year, visiting the UK and other European countries where the sport is showcased, and British Sppedway should have a look at where its going to survive. Poland for example is thriving, perhaps the most popular sport in the country, and it's a pleasure to see enthusiastic and very large crowds packing the stadia in that country. "
Bill Elliot:

"Disappointed to see that Mr Lewis continues to rake over the details and aftermath of the tragic death of Svein Kaasa in 1972 at Hampden Park. Knowing some of the people involved behind the scenes at that time I'm in no doubt at all that everything possible was done both to try and save him and, ultimately, let spectators know as soon as was possible rather than, as he seems to be alluding to, get the meeting completed before giving the awful news, as if, 41 years later, that has any significance. All that matters is that Svein was killed, a lot of folk to this day remember what they saw that night(to this day, every time I see a rider go down I hold my breath until I see him moving, a direct result of my own experience that night), and I don't really want to read about folk suggesting that ulterior motives got in the way of showing due respect to what happened at the time."
Jim Henry:

"Minor nit pick BUT in Scotland we don't have St Johns Ambulance Brigade. The Scottish equivalent is St Andrews Ambulance Brigade."
Andrew Gallon:

"Andrew Gallon on Svein Kaasa: Howard Jones shed a fair amount of light on this tragic incident in issue 11 - Glasgow, Hampden Park - of his Pocket Size History of Defunct Speedway Tracks. Howard quotes Jim McMillan, Svein's partner in the ill-fated race: "I saw someone down but returned to the pits. At the time I didn't think much about it. We were told later that he (Svein) died in the dressing room but that was kept from us. As far as we were concerned, he was rushed to hospital." Howard also spoke to Dick Barrie, the track announcer. Dick refers to Svein being "catapulted into the fence" and adds: "He (Svein) was rushed to the dressing rooms and then to the nearby Victoria Infirmary but Dr Collier (the long-time Tigers track doctor) later admitted he was dead on the track." I visited the 'new' Hampden several years ago, to watch a football match, and was surprised and very pleased to see the memorial to Svein just inside the main entrance. "
Thomas Lewis:

"Good day Mr Elliot, Not raking over in the slightest, as I in fact did mention in my first contribution "all of this is now totally irrelevant" given that nothing will turn back the page of time and the events of that oh so tragic evening. Also in my own defence please kindly note that I have never in any way even remotely suggested that everything possible was not done, or tried, to save Sven, only observations about how things were at that period in time. My last "raking over" was in fact an answer to a Mr Crawford's comments directed towards my initial correspondence and myself, and I would in fact understand I do have a right to reply, as I am also now doing to your contribution to the debate which seems to have been unfortunately installed. Like yourselves I have the right to view the past from a different perspective, although not perhaps through rose tinted glasses.

Not everything was in fact rosy from the promoters in those days, as may be seen from some of the severely scathing comments now revealed in various books from both riders and promoters of the age. Also completely like yourself whenever I see any accident on the track I also am very concerned until such times as the rider is seen to be OK. I am not out to see either accidents or horrific crashes when I go to watch speedway, which as mentioned is all too infrequent these days given that I do live overseas, but racing. I will have no further comments to make on this particular subject matter, as I am sure will relieve you from your declared "disappointed" standpoint.

On a lighter note I do avidly follow most of the comments from veteran Glasgow supporters mto this site (which is excellent), some who I do remember from the past, and who do in fact seem to contribute quite a few of the articles and comments in the readers columns. You, in particular, I do note are a very regular contributor to the various topics which appear on the site. Regards "
Ben:

"My wife and I were sitting in the South Stand at Hampden that fateful night, and 41 years later, we can still recall the terrible crash which took the life of our young Norwegian Rider Svein Kaasa. Speedway can be so wonderful, yet also heartbreaking, and that night was truly heartbreaking. We will never forget young Svein Kaasa. "
Thomas Lewis:

"Sorry Jim, Absolutely correct, my faux pas"
Anonymous:

"Hvil i fred. Know you're missed."
Gunhild Kaasa:

"So many beautiful words <3 I missed my brother very much, so this was a good reading... Svein Harald, you will always be with us. "
Ian (Tich) McLean:

"Nice to hear from Gunhild Kassa, brother of Svein. I don't think any rider was held with such great affection as Svein, given the short time that he rode for the Tigers. I hear that some of Svein's relatives may be making a visit to Glasgow."
Carolyn:

"I was a regular Visitor at Hampden every Friday and followed the Glasgow Tigers for years in my teenage years. I used to sit down at the Pits with the Blantyre group that came in on one of Beaton's coaches. I remember the awful night of the crash well, it was right in front us all. We had been having a laugh with Sven just before he went out to race, he signed my autograph book and put on what he said was his nickname from home. From memory it was ' Kopi or Topi', so long ago I have forgotten exactly. He was such a lovely friendly person . We ranged from 9 to about 14 and he always had time for us and shared a laugh from the Pits. I never have forgotten that night, so tragic . So glad to hear there is a plaque in his name at Hampden. Still makes me sad even after all these years."
Ian Graham:

"Great article. Obviously a few differing opinions here on the "show must go on" theme which I won't go into. Carolyn's reply resonates with me. I was present the night Denny Pyeatt was killed at Hackney in 1982 (I was aged 18 then). It's 33 years ago but I remember it in absolute detail just as you obviously do Svein's crash Carolyn. I don't think those memories ever leave us. I remember vividly having to duck out of the way of parts of his bike which disintegrated after hitting the 4th bend lamp standard at the pit exit. That meeting (Hackney v Reading) was abandoned immediately by a devastated Len Silver, the difference between that and Svein's crash being it was very obvious to everyone just how serious Denny's crash was."
Terry Craddock:

"Great read, thank you."

[ Use Mobile Version ]

Comment on this Article | Contact Us | Go Back to Main Menu