Newspaper Cuttings on the Svein Kaasa Tragedy
By Bill Hamilton
As it's fast approaching 45 years to the day and date (Friday 29th September 1972) of the fatal accident involving Svein Kaasa at Hampden, I thought these newspaper clippings (one from the Scottish Daily Record and the other from the Daily Express) would stir up a few memories for the people that were in attendance that tragic night.
Over the years, a lot has already been written about it in the Speedway Plus website and everbody has their own views on the matter. As for myself, I was sitting just above the entrance to the changing room area, where the stretcher was taken - and it looked extremely serious, even at that stage.
Basically, that signalled the end of Glasgow speedway at Hampden.
Click on a cutting to see it in fuill size
DAILY EXPRESS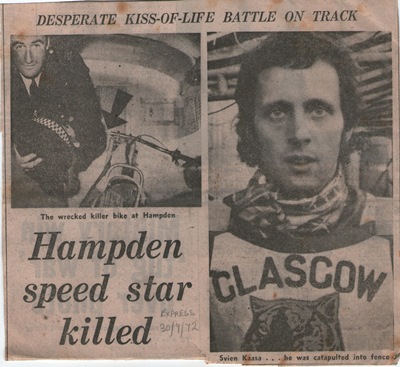 An international speedway star was killed at Hampden Park last night in a freak accident seen by thousands of spectators.
Norwegian Svien Kaasa - signed only six weeks ago by Glasgow Tigers - died after being catapulted from his machine which then reared and trapped him against the safety fence.
A track doctor and ambulance men carried him into the first-aid room. For 30 minutes they fought for Kaasa's life using cardiac massage, the kiss of life and oxygen. But it was in vain.
The accident happened when Kaasa - riding against Swindon Robins in a British First Division league race - touched the wheel of an opponent in front going round a bend.
Next moment he whirled though the air and struck the safety fence. Then his machine rammed him into the fence a second time.
Former speedway star Norrie Isbister, who saw the accident from the stand, said: "I've never seen anything like it. This is a very rare occurrence on the track. It was tragic."
Track doctor Edward Collier said later: "The lad was unconscious when we got to him. We tried every means we knew to revive him but it was no use."
Kaasa, a bachelor from Oslo, was signed after a recommendation from former Hampden favourite Oyvind Berg. He lived in lodgings at Stobbs Farm, Gorebridge, Midlothian.
It was the first fatal track accident in Glasgow since 1929, when Eddie Reynolds was killed at the White City. And it was only the third in Scotland, the second being in Edinburgh's Meadowbank Stadium eight years ago, when world champion Peter Craven was killed.
DAILY RECORD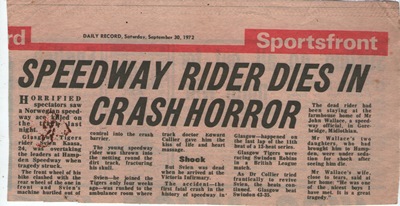 HORRIFIED spectators saw a Norwegian speedway ace killed on the track last night.

Glasgow Tigers rider Svien Kaasa, 24, was overtaking the leaders at Hampden Speedway when tragedy struck.

The front wheel of his bike clashed with the rear wheel of the one in front and Svien's machine hurtled out of control into the crash barrier.

The young speedway rider was thrown into the netting round the dirt track, fracturing his skull.

Svien - he joined the Tigers only four weeks ago - was rushed to the ambulance room where track doctor Edward Collier gave him the kiss of life and heart massage.

But Svien was dead when he arrived at the Victoria Infirmary.

The accident - the first fatal crash in the history of speedway in Glasgow - happened on the last lap of the 11th heat of a 13-heat series.

Glasgow Tigers were racing Swindon Robins in a British League match.

As Dr Collier tried frantically to revive Svien, the heats continued. Glasgow beat Swindon 43-35.

The dead rider had been staying at the farmhouse home of Mr John Wallace, a speedway official, in Gorebridge, Midlothian.

Mr Wallace's two daughters, who had brought him to Hampden, were under sedation for shock after seeing him die.

Mr Wallace's wife, close to tears, said at her home: "He was one of the nicest boys I have met. It is a great tragedy."

This article was first published on 25th September 2017

[ Use Mobile Version ]

Comment on this Article | Contact Us | Go Back to Main Menu