Syd van der Vyver
By John Hyam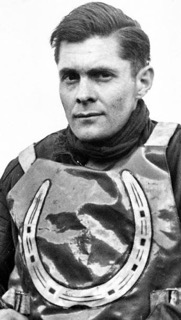 Syd van der Vyver
ONE of the colourful band of South Africans who tried their hand in British speedway at the start of the 1950s was Syd van der Vyver, who had spells with Rayleigh and Leicester. Sadly, on British tracks he never showed the pace that had made him such a dashing and spectacular performer in his homeland.
He came to the UK with an impressive South African pedigree, having been capped in the test series against visiting England in both the 1948-49 and 1949-50 test series. But away from the track, he was also highly regarded as a mechanical genius, and between 1948-51 was also chief mechanic to the Johannesburg Pirates, who were based at South Africa's Wembley Stadium.
South African historian Ken MacLeod tells an amusing item about van der Vyver's period in charge of the workshops. He said,
"When speedway first started at the stadium, some of the less sober spectators used the pit wall as a urinal.
"Syd was watching the racing from the pit wall when he saw them in action. So he went to the workshop (out of sight of the spectators) and rigged up a spare generator and cable, then trapsed it along the ground where the naughty guys were performing. As a result, they received a minor shock where they least expected it. Needless to say, the practice stopped pretty soon afterwards."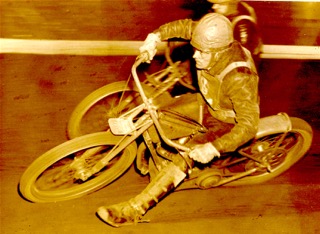 Syd in action
Like his fellow countryman, the 1950s Liverpool star Doug Serrurier, Syd is also a South African motor sport legend, although mainly for car racing. Ken Macleod said that on four wheels van der Vyver was twice South African Drivers champion and in international races in South Africa he did did very well against legendary stars like Stirling Moss, Jack Brabham and Jim Clark.
When van der Vyver died aged 69 years in 1989, a little known secret about him came to light. Although he was known as Syd, his first name was found to be neither Sidney or Sydney as one might expect but was in fact Siegfried.
This article was first published on 14th July 2017
[ Use Mobile Version ]
Comment on this Article | Contact Us | Go Back to Main Menu