Tai Woffinden: It is what it is!
By David Walsh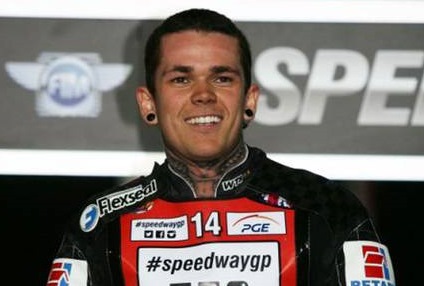 Tai Woffinden
In late summer 2007 I took advantage of a sunny Sunday afternoon to ride out from Halifax to take in a Conference League meeting at a venue I rarely visit, the Eddie Wright Raceway in Scunthorpe. Approximately six hours later when I returned home the first question my partner asked was, as you might expect, "how was it?" My answer was more or less this: "Great. I think I've just seen a future world champion." And then I went on to explain why.
At Conference League level, Scunthorpe's team that year was making most of the headlines. It was very strong and included several youngsters who had obvious potential. Indeed, the team went on to sweep the board in all Conference League competitions that year.
On this particular Sunday, Scunthorpe had won comfortably and there were impressive performances throughout the team, but I wouldn't have been the first to be particularly struck by Tai Woffinden. I can't remember if Tai had remained unbeaten in the meeting, I assume he did though I do seem to recall an engine failure. I could be wrong. But at no time during his races could I say his riding technique was anything other than flawless. Not once did I see him over-slide in the slightest, far less lock-up or otherwise have to check his speed and compromise the forward drive. Fast and never putting a wheel wrong, his was a performance that made speedway look effortless, as if it was something anyone could do. And this from someone who I believe had just turned seventeen.
At the risk of coming across a little hyperbolic, reflecting on the impression I was left with back then, I am reminded now of how the greatest sportspeople do tend to make their discipline look easy no matter how complex or challenging it may be. Off the top of my head I would think of ice-skaters Torvill and Dean's Olympian dance to Ravel's Bolero; the batting of West Indies cricket legend Viv Richards; or any number of impossible goals scored by Dutch footballer Dennis Bergkamp. Is it overstating it to compare the third-tier races of a seventeen-year-old to such examples of sporting perfection? Of course it is. But, the way I saw it, those completed rides back in 2007 were perfect.
But there was something else that was just as significant and which was really the reason for prompting me to talk in terms of the world championship.
After the meeting I found myself in the company of Tai's dad, Rob, talking about the meeting and catching up with the years that had passed since we'd last spoken together. I cannot say I was a close friend of Rob, our careers only crossed at times of occasional on-track competition and we never shared an off-track social scene. But whenever we did speak his warmth and decency was always something that you were left in no doubt about. Indeed, I departed the speedway that day feeling uplifted by the fact I'd spoken to him and, more to the point, that he'd spoken to me.
Anyway, after getting changed, Tai eventually joined us and what quickly became apparent was Rob's influence. Here was a very grounded young man. Not showy or cock-sure, as many teenagers in the limelight can be, but speaking with the composure of emerging maturity and an air of confident self-containment: a sure sign, I thought, of the right sort of guidance. The encounter certainly left a lasting impression on me, as my partner could testify from my review of the day that same evening.
The next time I saw Rob and Tai was about a year-and-a-half later at a supporters' forum in Glasgow, just prior to Tai's inevitable move to the Elite League, with Wolverhampton. While the general mood in the room was buoyant, the circumstances were distressing: Rob let it be known behind the scenes he'd just been diagnosed with a terminal illness. Anyone who witnessed the bond between the two of them will appreciate the difficulties Tai has needed to deal with during the time since.
Of course, the person we all eventually become is in large part the sum of our experiences, and how we react and absorb them. Tai has indeed become world champion and there can be no doubt that even in his physical absence Rob's influence is still very real. Everyone who has lost a loving parent knows the truth of such things.
As far as speedway goes, from the rawest of novices to the greatest champion, anyone who sits astride one of those bikes becomes a hostage to fortune. Actually, every living thing is a hostage to fortune, to a greater or lesser extent. The point is, no one can ever be sure how a speedway career will pan out, how long it will last or, in fact, whether it will get off the ground at all. But I have a hunch that had Rob not fallen ill and sadly passed away, Tai may well have become world champion even sooner than he has.
Nevertheless, to do it now at still such a young age and all things considered, I would say that his achievement stands out as an even greater personal triumph. It also serves as a testament to the continued support from those closest to the rider, who will include his team of mechanics, current advisors and, of course, family. The win is surely a marvellous thing on many levels for all concerned.
There is no need anymore to remark on Tai's prowess on a speedway bike; the highly skilled technique has long since been plain for all to see. But if I were one of his rivals in world championship speedway, the thing uppermost in my mind wouldn't necessarily be how to match the speed, but the fact that he carried off this victory while riding in two Grand Prix rounds with a broken collarbone, and scoring handsomely at that. If anyone is in any doubt about how incapacitating a broken collarbone can be, I could name quite a few speedway riders who would certainly wince at the thought of it and quickly want to put them straight.
As has been noted elsewhere, make no mistake, this was a courageous, legendary win by a remarkable rider and from here I see no reason why with such talent Tai can't go on to become one of the truly all-time greats of world speedway, if he chooses to continue along the dedicated path he has set for himself.
But let's not split hairs here: one world championship win is probably enough to secure the epithet of "truly great", it's a pretty exclusive club, after all. For now it is enough for those involved just to enjoy Tai's triumph for all that it is; for the rest of us to offer our congratulations; and, perhaps for me to offer a little further explanation...
An inspirational and moving story can't help but inspire and move. All the words above are merely a tribute to that simple fact.
David.
This article was first published on 13th October 2013
---

Steve Metcalf:

"Did anybody else see Tai on BBC Breakfast programme, complete with his GP bike? I thought he came over exceptionally well and will prove to be an excellent ambassador for the sport (shame about the ear rings though! ) when I was a lot younger I did break a collarbone twice when coming off my road bikes, so I know how brave Tai was to ride so soon after. Let's hope a British world champion gives a big boost to our great sport. "
Ken:

"What a great article, sums up my feelings as well, I think Tai will win a load more world titles if he can keep as focused as he is at the moment, what really impressed me was he didn't just play safe and ride around at the back arfter heat 5 when the championship was won he went for it right up till the end, a sign of a true champ and a heart of a lion!"
Tony Wilson:

"Great article David and spot on in my opinion The first time I had the privilege of seeing Tai race was at Perry Barr and the experience lasted for approximately half a lap. The poor kid ended up on the dog track after clipping a back wheel coming off bend 2 and clearing the fence superman style. I think he broke his arm which was a shame but it could have been a lot worse. The next time Rye House visited he was injured so we had to wait until the following season to see him. Basically he was untouchable on a track he'd hardly ridden, a story repeated all over the country. He was and is an incredible talent and a worthy world champion if ever there was one. My claim to fame is, on seeing Chris Holder for the first time, whilst holidaying on the IOW, predicting that he too would one day be a world champ. He was (and is) awesome. All the best to speedway fans everywhere."

[ Use Mobile Version ]

Comment on this Article | Contact Us | Go Back to Main Menu