Team Viking's Final Invasion of 2010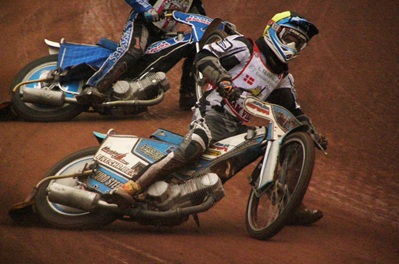 Team Viking in Action
This month sees a UK return for Team Viking International Speedway club and also marks their final visit in 2010. With a host of meetings planned over the two week period you can guarantee the Viking ship will be landing at a track not too far from you.
This is the club's third tour of duty in 2010 (6th in Total) and the squad are looking to put in some impressive performances to back up previous tour success.
Led by team managers Kelvin & Sarah Lapworth the Viking side will feature previous visiting favourites Thomas Jorgensen (DEN) and Robin Bergvist (SWE) along with several new additions to the club's roster.
One of the reserve berths will be taken by a British rider at each meeting as in previous tours and this vacancy sees the return of Lee Geary (an asset of Somerset & Team Viking regular) plus Boston based young gun and ever improving Sam Woods. The pair fresh from impressive performances in the Belgium Golden Helmet earlier this month will share the role throughout the tour.
Squad members:
Thomas Jorgensen - Denmark
Jonas B Andersen - Denmark
Claes Nedermark - Denmark
Patric Tarp - Denmark
Robin Bergvist - Sweden
Jonas Messing - Sweden
Tamas Sike - Hungary
Lee Geary - GB
Sam Woods - GB
Tour Dates:
Thursday 23rd September - Redcar
Friday 24th September - Plymouth
Saturday 25th September - Scunthorpe (Individual Open Series.)
Thursday 30th September - Sheffield (2nd Half Challenge )
Friday 1st October - Weymouth
Saturday 2nd October - TBC
Sunday 3rd October - Newcastle (Vs Scotland Select)
The team will change slightly from meeting to meeting to allow the whole squad track time so keep an eye out for line-ups closer to the meeting times.
For further information or contact with the club you can find them on the Facebook site listed under "Team Viking Speedway".
Picture courtesy of Ewen Nicolson of the Tigers at the Tapes blog. Featuring photographs and videos from Glasgow's Ashfield Stadium.
This article was first published on 16th September 2010
[ Use Mobile Version ]
Comment on this Article | Contact Us | Go Back to Main Menu