Book Extract:
Tears and Glory
The Winged Wheel Story
By Arnie Gibbons
In this extract from Arnie's debut book, we find out about the formation of the Reading Racers in the 1968 Second Division.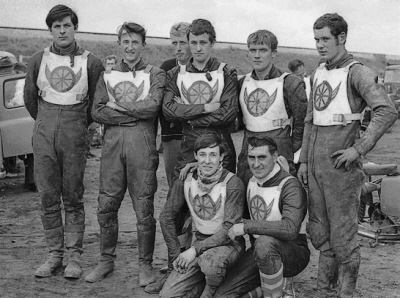 Reading Racers 1968
Phil Pratt, Stuart Wallace, Joe Weichlbauer, Ian Bottomley, John Poyser, Paul Walch.
Kneeling: Ian Champion and Ted Spittles.
(Picture courtesy of J Somerville)
1968 - The Racers Hit Pay Dirt
The story of speedway's arrival in Reading begins in 1967. Local news stories included Reading's efforts to become a city and in October the opening of the Top Rank Suite near the station. The Top Rank Suite is long gone, but Reading is still trying to gain city status.
In speedway circles former California rider Bob Andrews was contemplating a return to Britain after a two-year absence. It was a year when a new star burst onto the scene at Long Eaton - one of speedway's less glamorous venues. A new Swede by the name of Anders Michanek made his British League debut, culminating in a glorious September where a World Final debut was followed by a hat trick of individual meeting wins in just three days. The Olympique (then at Newcastle, now at Wolverhampton, and one of the few open meetings still run in Britain) was won on the Monday, followed by the East Midlands Open at Long Eaton on Tuesday, and the Brandonapolis at Coventry on Wednesday. One of the riders he faced in all three meetings was Ivan Mauger.
1967 British League champions were Swindon - and our Thames Valley rivals haven't won a league title since! But some things never change - the 1967 fixture list was issued late and not published in Speedway Star until May! The British League, formed from the amalgamation of the National and Provincial leagues, was now three years old. It had been a great success, and at 19 teams there was no room for further expansion.
Concerns were being expressed that there were too many foreigners in the British League. In addition to Michanek newcomers that year included: Torbjorn Harrysson, Hasse Holmkvist, Oyvind Berg, Bengt Larsson, Gunnar Malmkvist and Ole Olsen. Most teams included a couple of foreigners, mainly Australians and Swedes. Meanwhile Ted Spittles, an Oxford junior, was writing to Speedway Star complaining about the lack of opportunities. New tracks were needed to provide opportunities for riders like Ted, and to bring on more British talent.
Speculation about a second division grew. Suggested venues included Colchester, Bath, Barry, and Maidstone. Speedway Star columnists Peter Oakes and Eric Linden were downbeat about the chances of a new league taking off. Aside from the organisational issues, concern was expressed over the economic background - Harold Wilson's devaluation and Roy Jenkins's tight Budget.
Reading had last been mooted as a possible venue in 1964. The early 1960s stock car venture had run its course. Johnnie Hoskins ("the man who invented speedway", then Edinburgh promoter) and Maury Littlechild visited the track on November 21. In late December Reading were announced as certain starters with a probable Monday race night.
Five existing promoters formed a consortium named Allied Presentations. The objective was to open tracks in the new second division and pool profits ... and losses. The five were Len Silver (Hackney), Danny Dunton (Oxford), Maury Littlechild (King's Lynn), Ron Wilson (Long Eaton), and Reg Fearman (Halifax and Long Eaton). They opened three tracks in 1968. Wilson fronted Middlesbrough, Silver for Rayleigh and Fearman for Reading.
Fearman, a 15-year-old prodigy at Rye House in 1948, signed for his local team West Ham. After riding for Stoke (Hanley) and Leicester he hung up his leathers in the mid-1950s. In 1960 he returned to the track and topped the Stoke averages, as well as co-promoting with Mike Parker.
In early February the British Speedway Promoters' Association met to approve the setting up of a new league. Eight teams were announced as definite starters. These were Berwick, Eastbourne, Middlesbrough, Nelson, Reading, Weymouth, Newcastle and Newport. The last two were junior teams based at existing British League tracks. Only Reading and Berwick were completely new tracks. Canterbury and Crayford were also identified as possible competitors, subject to planning permission.
When the teams finally made it to track Newport, Newcastle and Eastbourne had been replaced by Rayleigh, Plymouth and Belle Vue II.
Work got under way constructing the 360-yard circuit at the Reading greyhound stadium situated on the Oxford Road at the junction with the Norcot Road. Incidentally just a couple of hundred yards away the country's first 'Little Chef' restaurant was opened ten years before. At the back of the stadium, originally built in 1931, ran the Great Western mainline. Where the back straight once was, there is now a road called Stadium Way. Among those working on the new track was a fencing contractor called John Poyser. It was announced that the team would be nicknamed "the Racers" and riding colours would be blue and white. The nickname and winged wheel emblem both originated with Harringay, a North London team who last competed in the 1954 National League.
Team building took place very quietly, and the septet who finally emerged as the first wearers of Reading's winged wheel were:
Ted Spittles - best remembered for his golden boots; had been second-halving for a decade, riding a handful of league matches for Oxford in 1967.
Stuart Wallace - born in Southampton, he made his debut in 1962 as an 18-year-old for Swindon. Rode for Southampton in 1963 and retired the following year.
John Poyser - aged 29, lived in Oxford where he first rode in 1957, started his league career with Leicester in 1962 before moving to Hackney in 1963. Riding for the Hawks, he progressed to the point where he equalled Colin Pratt's Waterden Road track record in 1965. Eight days later he broke his thigh, and never recovered his form. Over the next two seasons he failed to reach a three-point average with Hackney, King's Lynn and Long Eaton.
Ian Champion - came from Hoddesdon and was another Long Eaton rider, made his debut for them in 1965 becoming a regular in 1967 averaging 2.72.
Phil Pratt - had been second-halving and riding at the Rye House training track.
Joe Weichlbauer - Australian but Austrian born, had been attached to Cradley for whom he made his league debut in 1966 when he averaged 2.40.
Dene Davies - a 20-year-old Australian making his first trip to the UK; at five foot four inches (1.63 m) with white hair he was a distinctive presence.

When the fixtures were published, Reading were due to make their debut at Tilehurst on June 3, with their first away fixture taking them to Plymouth on June 7. The home start was put back two weeks and the Racers made their first appearance at Plymouth's Pennycross stadium. As a result Reading were the last of the ten Division Two tracks to open. Delays in obtaining planning consent were the cause. (Although the pre-existing planning consent for stock cars would have covered the speedway, it was due to expire soon, so it needed renewing.)

The inaugural British League Division Two meeting took place at Belle Vue on 18 May 1968 when the Colts demolished Canterbury 55-23. Taffy Owen, winner of the first-ever race, went on to record a full maximum while Chris Bailey and Ken Eyre gained paid maximums.

The Plymouth away fixture was not the first time that seven Racers took to the track - that happened six days earlier at Canterbury. The Crusaders were riding at Rayleigh, but promoter Johnnie Hoskins decided to stage a meeting anyway - choosing a four-team tournament. A "Canterbury" team including three Reading riders took on "The Midlands" - a team consisting of four Racers - Weymouth and Plymouth. The meeting's top scorers were Ian Champion (riding for the Midlands) and Weymouth's Mike Vernam with 11 each. Plymouth and Weymouth tied for first place with 28 points. Canterbury recorded 24, their top scorers were John Poyser (10) and Ted Spittles (8).

The news headlines on June 7 were dominated by the assassination of US Presidential candidate Robert Kennedy the previous day. Current chart sounds included 'Jumpin' Jack Flash' by the Rolling Stones, Dionne Warwick's 'Do You Know The Way To San Jose' and number one 'Young Girl' by Gary Puckett and the Union Gap. Speedway Star cost £4 4 shillings (£4.20) - for a year's subscription!

A browse of the Evening Post in 1968 reveals that a three-bedroom detached house in Earley cost £7,500. Job adverts stipulated the sex of employees required, and in some cases specified different rates of pay. A petrol pump attendant was wanted for an hourly rate of 8 shillings (40p) - self-service was still a novelty. A typical car, say a Morris Oxford, cost about £900 new. In Reading the first phase of the Inner Distribution Road from Chatham Street to Castle Street was under construction. Reading Football Club, still known as 'The Biscuitmen' had just completed 20 years pottering along in League Division Three (League One in modern parlance) without a single promotion or relegation.

Meanwhile, for the Reading Racers, the pay rates for Division Two's inaugural season were 10 shillings (50p) a start and 10 shillings (50p) a point. Travelling expenses were paid at 2d (1p) per mile.

When Reading arrived at Plymouth on June 7 the home team had already ridden three matches, including their home opener - a 41-36 win against Weymouth. This turned out to be the nearest Plymouth came to losing at home all season! So on first sight, Reading's six-point defeat looks an impressive start for the new club. However, Plymouth were handicapped by the non-appearance of three of their riders who broke down en route and were replaced by juniors, two of whom failed to score.

The first Racers on track were Ian Champion and Dene Davies. Champion won the heat in a Division Two track record of 80.2, eight seconds slower than the record established in the Provincial League days (72.0 by Jack Scott). With Davies third, Racers took a 4-2 lead which they held onto until a 5-1 in heat 7 put the Devils ahead. After Plymouth extended their lead over Reading to six, the Racers team manager Dick Bailey put John Poyser in as a tactical substitute. (At the time tactical substitute rides were available to any team that was six down and involved replacing an out-of-form rider with a stronger one who went off the gate with no handicap or double points.) The Racers first tactical was a success with the resultant 5-1 from Poyser and Champion narrowing the gap to 2 points with one race to go. The final heat was an anti-climax as Poyser and Spittles conceded a 5-1 making the final score 42-36 to Plymouth.

Scorers in that first match were: Poyser 10, Champion 9, Davies 5, Spittles 5, Pratt 4, Weichlbauer 2, Wallace 1.

After a 41-34 defeat at Berwick the gates opened at Tilehurst for the first time on Monday June 17. Promoter Reg Fearman expressed himself to be "disappointed" that the crowd was just under 5,000! And the cost? Just 5 shillings each. (Maybe some of the prospective spectators got lost in the town's new one-way system that had been implemented just the previous day.)

Nelson is a small textile town in Lancashire, that unusually was named after a pub (called the Lord Nelson Inn). Speedway arrived in Nelson in 1967 with a handful of open meetings and the Nelson Admirals were an obvious choice for founder membership of the new division. They were a less obvious choice for first opponents at Reading, but this was a result of the delayed opening, earlier fixtures having to be rescheduled.

Eventual runners-up, Nelson arrived having already credited their account with an away win at Middlesbrough. They started strongly taking an 8-point lead after 5 heats. Nelson's Fred Powell won Tilehurst's opening race, which is also remembered for the immediate impact Dene Davies had - on the safety fence. The young Australian collided with it, demolishing a substantial section and ruling himself out of the rest of the meeting. Racers fought back and took the lead for the first time via a Poyser/Spittles 5-1 in the penultimate heat.

And then the meeting turned into a farce. In the deciding heat Nelson gained a 5-1 to tie the match 39-all. Referee A. W. Day decided after the race had been run that reserve Gary Peterson was not eligible and ordered a re-run. At the second attempt Nelson's Terry Shearer was excluded for causing a three-rider pile-up. In the next re-run his Admirals team mate Gerry Birtwell was unable to take his place, and was replaced - by Gary Peterson! Peterson won the race to end as Nelson's top scorer. The final result was therefore Reading 41, Nelson 37. As at Plymouth, Poyser and Champion were top scorers for the Racers. Fastest time on opening night went to Nelson's Dave Schofield - 72.4 in heat 7.

Among the minor first-night niggles were inaudible loudspeakers - a complaint still to be heard at Smallmead to this day!

Attendances remained high throughout the season, regularly exceeding 5,000, similar to those of Reading FC at Elm Park. Reading was widely recognised as a great success. After only two meetings the Reading Chronicle speculated that the Racers could be destined for Division One.

Few could have imagined then just how successful Reading's venture would turn out to be.

You can order a copy of "Tears and Glory" from the Reading Speedway Website for £15 (with free p&p for orders to UK addresses).

This article was first published on 26th June 2008
---

Bronwyn Davies:

"Dene Davies is my uncle, and doing well in Adelaide, Sth Australia. My father, Laurie Davies, also rode speedway back in the 50's, mainly at Rowley Park and Port Pirie's famous "The Mile" dirt track. He has since passed away. Rode a Norton, ...which he spent many hours in the shed creating and converting a twin engine beast that bloody flew! Sure wish I still had some pics of that. I must send Dene the link here as he would probably love to have a read, and maybe get in touch with some of the riders he used to compete with and against. Love the old pics you've posted. I am glad I stumbled across your site, you have to love Google!"

[ Use Mobile Version ]

Comment on this Article | Contact Us | Go Back to Main Menu