Book Review:
Tears and Glory
The Winged Wheel Story
By Arnie Gibbons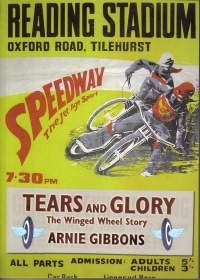 When Arnie Gibbons expressed the view that someone should write the history of the Reading Racers he found most people were in agreement - and was then told to get on with it. The result is "Tears and Glory - The Winged Wheel Story", the comprehensive story of the first forty seasons of Reading Speedway.
The Racers make an interesting subject for a book, they're certainly not a club that one would list amongst the sport's glamour outfits, but despite this they've enjoyed more success than most. Their relatively short existence also makes it possible to tell the full story, much of it from personal memory and first hand accounts. Although Gibbons admits to missing the first three seasons of the Racers' life, it's clear that he's missed very little since. He knows his subject well and his passion for the club comes off every page. This leads to a far more satisfactory product than a detached history over-reliant on other published sources.
This is a written history that flows well and is a genuinely entertaining read. Gibbons avoids the trap of simply recounting each season's results - meaning we don't get the kind painful prose that's easy to write but horrible to read - "June started with a 40-38 home victory over Wolverhampton, followed by a 42-36 reverse the following day at Wimbledon, then blah-de-blah at Hackney etc, etc". Instead he paints each season in broad strokes, focussing on the arrivals and departures, the most interesting events of the year and a few key results.
There are many great stories scattered throughout the book. There's a change of stadium, a bus sinking in the car park, the £40,000 insurance payment to the 1980 title winning side and, of course, the infamous era that saw the Racers rechristened as Bulldogs. All the big issues are covered and the exploits of greats like Jonsson, Michanek, Andersson and Mullett are finally committed to paperback.
The book is illustrated throughout by a wide selection of black and white pictures, many of which came from the archives of the Evening Post and which have therefore probably never been seen by those outside Berkshire. There's also an interesting foreword by Pat Bliss in which she comments (for the first time?) on the BSI/Bulldogs debacle.
Gibbons realises that Reading Speedway doesn't exist in isolation and makes many references to events elsewhere - both in and out of speedway. This puts the Racers' story into a wider historical context, a good example comes in the 1968 chapter (available as an extract on this site) when he draws a comparison between the wage available to a petrol pump attendant and the pay rates the riders could expect.
Although the book is firmly about the Racers, it includes a preliminary section that covers other racing activity in the proximity in earlier years. This most notably concentrates on California-in-England which operated in the mid fifties but also touches on other shorter lived venues. As a result this book will also hold interest for those who like to know about the sport's earlier days. Statistical buffs aren't left out either as a series of appendices list all the Racers' figures you could ever need - averages, track records, points records and much more.
It's hard to imagine a Reading fan who won't want a copy of this book, it's simply a must have for any Smallmead regular. For the rest of us it's a well written and interesting piece of work and good value at £15 (including p&p in the UK). Every club should have an equivalent book
You can order a copy of "Tears and Glory" from the Reading Speedway Website for £15 (with free p&p for orders to UK addresses).
This article was first published on 26th June 2008
[ Use Mobile Version ]
Comment on this Article | Contact Us | Go Back to Main Menu