Riders to Remember....Terry Betts
By Dudley Jones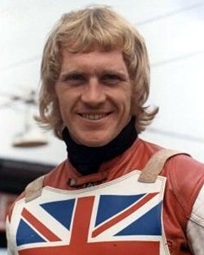 Terry Betts
I saw Terry ride on my first ever visit to speedway, in mid-season 1962, about a week after Ipswich withdrew from the National League.
The Firs was a great racing circuit, but I had only gone along with a couple of friends because I didn't want to be left out. I had seen stock cars once or twice and my expectations of just 4 motorcycles racing compared, with perhaps 30 cars, was not high.
Norwich were having a middling season (although established in Division 1 before the 1957 amalgamation, they never won the top league championship).
The first meeting for me was the CTS Continental Trophy, an individual event. The field consisted Norwich assets, with a few big names added in to give a field of 12 plus reserves.
Ronnie Moore, Barry Briggs, Bjorn Knuttson and Ron How were the big names, and the first three, with Ove Fundin and Peter Craven were, with little question, the 5 greatest riders in the world.
Fundin, as was his way, won the event with a maximum, from Moore (10 points). Joint third, however (with Knuttson), was a young tearaway wearing the Norwich yellow star on green - Terry Betts.
Terry beat Briggo, but was beaten by Reg Trott (as well as Knutsson and Moore). With Terry in 1962 you never knew what to expect (or whether he would stay in one piece).
I was hooked, and was back for more on August 11, when (the hated) Wimbledon were visitors in the league. In a tight fought match Terry managed two seconds and two thirds.
On my 16th birthday (1st September) and against Southampton, Terry scored 9, including wins over Briggo and Knuttson - this wild and often frightening lad was going places - if he stayed alive!
In those days Terry was already the favourite of the teenies, and wore what appeared to be turned down wellies, with green and yellow (what else) football socks.
As to style, I would best describe it as wind the throttle on and hold tight. It was at this time that I learned how to hold my breath for more than 70 seconds (Norwich was a 425 yard circuit, Peter Craven held the track record of 69 seconds, jointly with Ove Fundin) while I willed that Terry would stay on his JAP for four laps.
On 25th August I first saw that other great, Olle Nygren (a new signing - shades of New Cross, with Norwich threatening to pull out of the League unless they got him). On that occasion Norwich scraped home against Wimbledon, with Bettsy scoring 8 paid 9 for a side without Fundin (Trevor Hedge took his place for 3 points).
There was a Gold Cup (knockout) competition in the second half. Terry made the final, but finished last (but he was up against Knuttson, Briggs and Nygren).
Another ten points, including Knuttson's scalp (and Knutsson was close to his peak), were scored by Terry against Southampton on 29th September. Terry had started about 1960, and was loaned to Wolverhampton for a while. Accounts suggest that he didn't pull up too many trees - until Norwich drafted him in to their first division team for a fixture at Belle Vue. On that momentous evening Terry turned in a 15 point maximum, which included two wins over the great Peter Craven. The rest, as they say, was history.
Terry was back in 1963, by now established as third heat leader, in a team that crucially and finally had 3 heat leaders.
Bogey team Coventry (yet again) beat us on 6 April 1963, when Betts took a couple of wins,. Against Swindon on April 13 the weather won, but Terry, now in a killer pairing with Nygren, was undefeated before rain stopped play.
On 27 April, against Oxford, Terry took a full maximum, and two weeks later took 10 paid eleven in a close meeting with Wimbledon.
The Essex boys scores were piling up. 13 from five rides in another defeat to Coventry on May 17 made Terry top scorer on a night when Olle Nygren was limited to 2 points.
May 25 brought Terry another maximum against Southampton. He was now consistently beating the very best around the Firs, but the way he did it still made me hold my breath until each race was over.
June 8 was a setback, with Terry on 7, but Fundin and Nygren saved the day against Oxford. By the 22nd, Betts was back with a paid maximum in an unlikely thrashing of Wimbledon. Things were beginning to look really good for the Stars and Terry (along with new signing Nygren) made them look increasingly like championship material.
Terry was patchy when the Dons returned on August 3, with 7 paid 9. Was the purple patch over? A middle order 'Pride of the East' showing was followed by a lowly 4 in a challenge against, of all people, a Provincial League select, which finished 40 - 38.
At this time Terry was having mechanical problems (his bikes were never the best), but 8 paid 9 from 3 finishes against Swindon on August 23 showed that this rider had class.
3 finishes, each a win, was the story against Belle Vue on September 18. Peter Craven and Soren Sjosten were amongst those he beat that night.
Terry missed the traditional end of term beating by Coventry but we knew, or thought, Norwich finally had what it took to be champions in 1964.
Sadly Terry had a falling out with the management, and never appeared for the Stars that year. Trevor Hedge manfully took over, but Terry was by this time a hard act to follow, and Trevor being Number 1 for the Dons, and one of their all time greats, was still a few years in the future. Worst of all, Terry was sometimes in the pits, when we needed him most.
Rumour had it that Terry considered himself more popular than and as capable as Fundin, and wanted the same terms. Whatever, it looked for more than 12 months in 1964 that Terry was lost to the sport. He was, I believe, suspended and fined, which was not a very meaningful punishment if you happened to have quit anyway.
The winter of 1964/5 was a time of turmoil. The Norwich directors had sold out for housing at a time when the terraces were packed each week, the Stars were no more The National and Provincial leagues, after the 'black' summer of 1964, amalgamated in what I believe was the saviour of speedway, and the beginning of the sport as we know it now. I moved to Essex before the 1966 season and began to support West Ham - but my heart was indelibly green, with a yellow star on the front.
Bettsy had a couple of rides for Long Eaton in 1965, fell at Poole and drove home to find he had a broken leg. Terry had a garage not a million miles from where I then lived, in the group of villages known as the Rodings. I found that Terry could give us the news long before it hit Speedway Star. No, he wouldn't be going back to Long Eaton. He had won the opening individual meeting at open licence Kings Lynn - would he be joining them in 1966? No answer was given but the twinkle in his eye looked very much like a definite 'yes'.
Seeing Terry occasionally at West Ham and Hackney was great, but in the late 60s I became a Rayleigh supporter when they joined the new Division 2, created in 1968.
A few years on and I moved back to Norfolk, Terry had indeed joined Kings Lynn Stars in 1966 immediately became their Number 1. It was a long hike across country to Saddlebow Road, but I supported the Stars for whom Terry was by then a very stylish performer - but still Mr nice -guy.
Terry would ride for the new Stars (who initially wore Norwich jackets and rode under floodlights bought from Norwich) for 14 years, and was number 1 for all but one year (when Mal Simmons edged ahead) of his association with the club. Terry was a regular England and UK international, and for my money one of the classiest acts from the mid 60s to the end of the 70s.
About 1975 I moved to Suffolk, and eventually went over to the 'dark side' (by which I mean supporting Ipswich). However, when Kings Lynn were the visitors I always wished Terry on to win.
Sadly, a new manager let Terry go when he was still at the top of his game (I wont mention Martin Rogers by name). Terry had a season at Reading, and then retired. He, like Ronnie Moore, was primarily a one team man.
Roll on nine years and I was amongst the thirty two thousand who were at Brandon for Briggos 'Golden Greats', a meeting to cherish.
Terry turned out with the riders from the 60s. Some were better than others, but Terry was in a class almost of his own. He went round Coventry, after 9 years away, as if he'd never retired. His times were league times, and his match race with Peter Collins (who had retired only the year before) was great to see. For the riders of the 60s and later, 'demonstration' rides immediately became full blown races. Terry stood out as the pick of the field.
Terry is a great guy, always with a smile. He never took part in a world final, but that is not the measure of this great rider. He was never much interested in being a champion, but he was one hell of a rider and a great team player, and a great and loyal 'Star'. I believe that, if the commitment and drive had been there, he would have been world champion several times. As it was, he was always the guy with the Union Jack race jacket, there to enjoy himself. He was World Pairs champion (with Ray Wilson) and an England and UK regular over many years. Probably of more import, Terry was also the highest averaged UK rider in the British League in his time.
I have been privileged to have seen many of the greatest ever, and if I had to choose a shortlist of those I held in highest esteem, Terry would be right there with Peter Craven, Ronnie Moore, Briggo and Fundin, and a couple of others.
I think that this is a little longer than many of my efforts - because Terry deserves it.
This article was first published on 20th January 2011
---

Robert Rogers:

"How nice to see your item on Terry Betts (known to the Hammers fans as the man who got-way, becasue the amount of time our management said they were trying to sign him)! Always a good rider and always seamed to get on with the fans, never ever heard any fan say they did not like him."
Jim Chalkley:

"I liked the article on Terry Betts. When Bettsy was at Wolverhampton we had some great laughs, I remember his dad used to drive the car to meetings for him. We were riding at Middlesbrough one night and Terry done a complete one eighty turn on the top bend, he hung onto the bike and managed to keep going. I laughed my head off as he came back to the pits. In my next ride I hit the same slick patch as Terry had done, I also done a one eighty but I was not as clever as Terry, I fell off in a big heap. It was now Terry's turn to laugh at me. I wonder if Terry remembers that night in 1961."
Nick:

"Wonderful article! All these names keep popping up from the past! I returned to Speedway after a long lay off having lived a long long way from any track for years. When I was a teenager my favourite rider was of course Briggo! I seem to remember he used to have some great tussles with on of the Swedish guys, Gote Nordin. If my memory serves me well, Gote was indeed a very stylish rider? Would be nice if someone could write a piece on Gote Nordin who perhaps was a little underrated but always gave Briggo a good run. I live in the Lakes now and enjoy supporting Workington Comets. They have put together a good strong team this year and should do well. Love this site, thank you."
Ross Dow:

"I always looked forward to seeing Bettsy. You always knew what to expect from guys like him, Jimmy Mac and a select few others. Whether first or last from the gate they tried hard for 4 laps and oozed class. The main thing which they lacked was the 'killer instinct' to win at all costs which is the main reason that they did not feature in world finals. They were gentlemen of the track. I recall that Terry was rendered unconcious after being struck by a bottle thrown by a 'fan' on parade in an ashes match in Australia. Said 'fan' was later rushed to hospital after others in the crowd gave him a message to remember."
Patrick Beacock:

"'He never took part in a world final' - I thought Terry rode in the 1974 (?) World Final, complete with broken collarbone"
Quite correct - Terry did appear in the 1974 World Final.
Kiethreno:

"After watching the new King's Lynn team on Sky sports took me back to the seventys as a Coventry fan when we went to Saddlebow Lane and the races that took place between Terry and Booie. They were all very close and must have ended with the both of them having equel amount of wins. Terry always seemed to try extra hard against us, he was a great rider."
David Wootton:

"Really enjoyed your piece on Terry Betts. Aged 8 to 12 years old, Terry was my hero. My father would drop us off at Saddlebow when we were home from Prep school. In my view Bettsy was the best and I saw him beat the best - Mauger, Briggs, Olsen etc. I hadn't seen speedway for near on 40 years until saw Lynn stars racing on Sky sports. I suggested to my brother we should go and see a meeting and went to the stars v Coventry Bees. Whilst by the pits I got talking to a man and discovered this was Buster Chapman, the owner of the Norfolk arena. He told me Terry was here and it was his first visit for years.

We ended after the meeting going to the bar and whilst waiting to be served I saw Terry behind us. I went over saying ' you won't know me but you were my hero 40 years ago - can I buy you a drink'. Terry accepted my offer of drink and joined us for a good 1/2 hr chatting about old times. Often you can be disappointed when you meet your childhood heroes. But Terry was charming and I think would have chatted for much longer. Thanks Terry you made our night. All the best to you."
Bill Elliot:

"Had the pleasure of meeting Terry on a couple of occasions at both Hampden Park and at King's Lynn. Always found him to be the mould of the perfect speedway rider in that he was SO good as a rider and an absolute gem off it-40 years on, can still remember him as the perfect gentleman at Hampden coming out to do the 2nd half draw after a big score for the Stars, and equally as genial at Saddlebow Rd after his large return had once again done us out of any chance of a win-if manners and courtesy were anything to go by, then Terry Betts would have been a World Champion with no difficulty whatsoever!"
Allyn Harley:

"I think it's a but unfair to say that Terry never pulled up any trees at Wolverhampton. He gave a lot of pleasure to people like myself with his full-throttle, round the outside style.You were a real pleasure to watch, mate. All the very best to you. "
Martin Rogers:

"I enjoyed Dudley Jones' piece but must take issue with his dismissal of my often-demonised role in Terry's departure from King's Lynn. Far from being 'a new manager' I had been general manager at Saddlebow Road for six years and administratively and otherwise involved for several seasons before that, enjoying what was first a friendship and then a very long working relationship with Terry. In his later seasons he regularly cast doubt on his ability to continue riding because of other commitments and at the end of 1978 (his worst year, not a bad one but well short of his usual high standard) he indicated it was unlikely he would be back. Accordingly the directors of Norfolk Speedways together with the club's then major sponsor backed me in going after Dave Jessup, who was duly signed, and with DJ and Michael Lee in the side and everybody else contracted, by the time Terry very belatedly said he would ride after all, there was no room to accommodate him. The stuff that followed was very unfortunate, and I realise even after this time many people continue to cast me as the villain which I must say I'm not crazy about. All that said, of course this man was the heartbeat of King's Lynn for years and I suggest far and away the one most entitled to be fondly rememberd by old-time fans."
Linda:

" I heroworshipped Terry during the 1970s. I Loved going to Saddlebow Rd on Saturday nights. It was a wonderful world to me. I especially remember 1977. I was 15 years old and loved collecting the autographs . But Terry was my favourite. He was also such a gentleman. I loved him! I have so many wonderful memories - and I saw many legends there. I remember Martin Rogers. I liked him. He was always cheerful, always very smartly dressed and a brilliant tanoy announcer. He used to say "LETS HAVE A WAR CRY. ARE YOU WITH ME -1-2-3-4 who are we for , S-T-A-R-S" ...and the crowd, me included ,shouted out "STARS!!!" Fantastic memories as I type out these words. Thank you Mr Rogers - Martin - Bless you sir. I also remember the then stars team manager Alan Littlechild. He was a Top Bloke and also had a cheerful personality. Where is Mr Littlechild now? I hope he and Mr Rogers are keeping well. I stopped going to the speedway as my life went in a different direction, commitments to home and family etc, but I have never forgotten those happy times at Kings Lynn speedway. They are still with me. I have the Books, "Forty Years On - Kings Lynn Speedway" written by Martin Rogers in 2005. and more recently "Michael Lee - Back from the brink". I still go into Kings Lynn town centre and travel there by service bus. The 46 bus goes past the speedway stadium and I always blow a kiss to the stadium. I also whisper " I Love you Bettsy!" to my hero! I am still "STARRY-EYED" after all these years. Bettsy, you've still "Got it"! A Top Bloke. I am now 50 but part of me is still the wide eyed 15 year old from 1977. Thanks for the memories."
Chris Gosling:

"Wonderful article on Terry Betts, riders come and go, we have been very fortunate to have seen some incredible riders at Kings Lynn. Terry, Malcolm Simmons, Howard Cole (the first Kings Lynn rider to reach a World Final) Phil Crump {started his first division career at Saddlebow Road}, Michael Lee, Dave Jessup, Mark Loram, Henka Gustafsson, Simon Wigg, Tony Rickardson, Jason Crump, Leigh Adams, Nicki Pedersen.

I have enjoyed watching each and every one of them, and many others too. However I firmly believe that none of these will ever be so fondly remembered, so idolised as Terry was. He was a very good rider, very good natured, very funny and just has a place in the hearts of the Kings Lynn public that can never be matched.

I also must take this opportunity to defend Martin Rogers role in Terry's departure, and also recognise Martin's significant contribution to the rise and rise of Kings Lynn throughout the seventies. There were some dissappointments occasionally, but with Martin's input and ability as General Manager, Kings Lynn were one of the "glamour clubs" of the British League, with consistantly high levels of support home and away. It's no coincidence that the great CO at Coventry enquired of his intentions at the time, Martin was incredibly polished on the microphone, as good a presenter as anywhere, and was revered as a very able administrator, and welcomed onto the BSPA management committee.

As Martin mentioned in his excellent book "In my view" his relationship with Terry was both personal and professional, and it was very difficult to interpret Terry's intentions during the winter of 1978. Also the Kings Lynn promotion of the time failed to recognise that Martin was merely carrying out his duties as had been agreed by all until such time as the Kings Lynn public decided they wished Terry to stay, and we can all understand why they would have. Sadly the Kings Lynn hierarchy conveniently used their General Manager as the scapegoat for a plan they had all stood behind until such time as it didn't appear to be successful. So let's all enjoy the memories of the entertainment that Terry gave us, and also finally realise that Martin's actions at all times were always with the best of intent."

[ Use Mobile Version ]

Comment on this Article | Contact Us | Go Back to Main Menu