---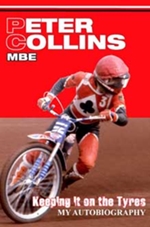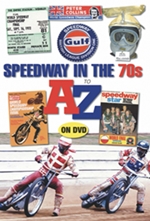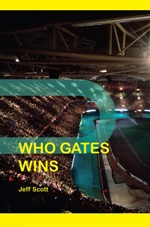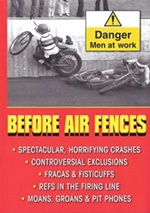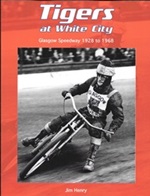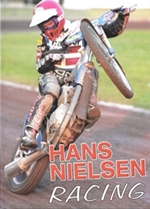 DVD: Test Match Special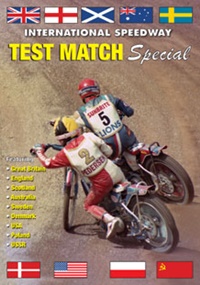 TEST MATCHES, with national pride at stake, were for many years the bedrock of world speedway. The top nations, brimming with superstars, going head to head on the international stage. This nostalgic double-disc DVD set looks back through the years - from the pre-war cinders leg-trailers right up to the end of the upright engine era of the early 90s.
Starring many of the all-time greats and lots of other big name stars, including:
From Great Britain/England: Barry Briggs, Ivan Mauger, Peter Craven, Ron How, Mike Broadbank, Nigel Boocock, Charlie Monk, Norman Hunter, Brian Brett, Terry Betts, Ray Wilson, Martin Ashby, Chris Pusey, Peter Collins, Alan Wilkinson, Eric Broadbelt, Barry Thomas, Bob Kilby, Graham Plant, Malcolm Simmons, John Louis, Dave Jessup, Michael Lee, Chris Morton, Ian Cartwright, Gordon Kennett, Steve Bastable, Kenny Carter, Les Collins, Phil Collins, Neil Collins, Alan Grahame, Andy Grahame, John Davis, Jeremy Doncaster, Marvyn Cox, Richard Knight, Paul Woods, Kelvin Tatum, Andy Smith, Simon Cross, Gary Havelock, Andrew Silver, Joe Screen, Chris Louis, Louis Carr, Peter Carr, Steve Schofield, Sean Wilson, Steve Lawson, Dave Trownson, Chris Turner, Ivan Blacka.
From Denmark: Ole Olsen, Hans Nielsen, Erik Gundersen, Jan O. Pedersen, Tommy Knudsen, Bo Petersen, Mike Lohmann, Finn Thomsen, Peter Ravn, John Jorgensen, Preben Eriksen, John Eskildsen.
From Sweden: Ove Fundin, Anders Michanek, Bernt Persson, Soren Sjosten, Hasse Holmqvist, Christer Lofqvist, Tommy Jansson, Per Jonsson, Tony Rickardsson, Peter Nahlin, Henrik Gustafsson, Erik Stenlund, Conny Ivarsson.
From Australia: Jim Airey, John Langfield, Phil Crump, John Boulger, Bob Valentine, Billy Sanders, Phil Herne, John Titman, Gary Guglielmi, Mick Mckeon, Mike Farrell, Steve Koppe, Danny Kennedy, Stan Bear, Steve Langdon, Steve Regeling, Todd Wiltshire, Craig Boyce, Mick Poole, Troy Butler, Glenn Doyle.
From New Zealand: Ivan Mauger, Larry Ross, Mitch Shirra, David Bargh, John Goodall.
From USA: Bruce Penhall, Scott Autrey, Steve Gresham, Bobby Schwartz, Kelly & Shawn Moran, Dennis Sigalos, Ron Preston, Lance King, John Cook, Sam Ermolenko, Ronnie Correy, Greg Hancock, Billy Hamill, Mike Faria, Bobby Ott, Josh Larsen.
From Scotland: Ken McKinlay, Jim McMillan, George Hunter, Bert Harkins, Charlie McKinna, Benny Rourke.
From Poland: Edward Jancarz, Zenon Plech, Henryk Glucklich.
From USSR: Igor Plechanov, Boris Samorodov, Gab Kadirov.
Classic Test encounters from numerous British tracks (many now sadly defunct) - Belle Vue (Hyde Road), Birmingham, Coventry, Cradley Heath, Wimbledon, Edinburgh (Powderhall), plus we head overseas to the Sydney Showground, Brisbane's Ekka and Newcastle, NSW (Australia), Western Springs, Auckland (New Zealand), Wroclaw and Leszno (Poland) and Costa Mesa, California (USA).
England v Australia Test action from Wembley in 1932 and 1938, and from Birmingham in 1949, starring pre and post-war greats.
Footage from the ground-breaking 60s Soviet Union tours to Britain, including Wembley, Glasgow White City, Belle Vue, Sheffield, West Ham & Exeter.
USA v Rest of World from Costa Mesa, California.
NZ v Australia from Western Springs, Auckland, starring Mauger v Sanders.
Rare clips from various British Lions' tour of Australia.
Available now from Retro-Speedway.com
This article was first published on 10th December 2019
[ Use Mobile Version ]
Comment on this Article | Contact Us | Go Back to Main Menu