Speedway Scrapbook: The Rivals
From Daily Mirror (1974)
Click on the picture to see it in a larger size, or you can read the text from the article further down this page.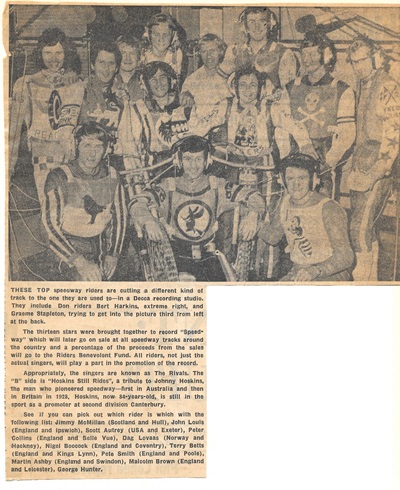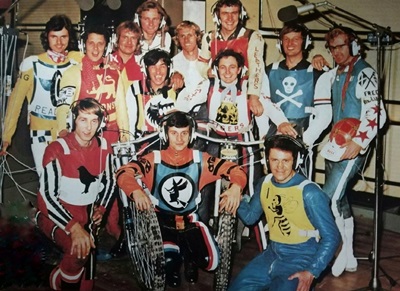 THESE TOP speedway riders are cutting a different kind of track to the one they are used to, in a Decca recording studio. They include Dons riders Bert Harkins, extreme right, and Graeme Stapleton, trying to get into the picture third from left at the back.
The thirteen stars were brought together to record "Speedway" which will later go on sale at all speedway tracks around the country and a percentage of the proceeds from the sales will go to the Riders Benevolent Fund. All riders, not just the actual singers, will play a part in the promotion of the record.
Appropriately, the singers are known as The Rivals. The "B" side is "Hoskins Still Rides", a tribute to Johnny Hoskins, the man who pioneered speedway - first in Australia and then in Britain in 1928. Hoskins, now 84-years old, is still in the sport as a promoter at second division Canterbury.
See if you can pick out which rider is which with the following list:
Jimmy McMillan (Scotland and Hull), John Louis (England and Ipswich), Scott Autrey (USA and Exeter), Peter Collins (England and Belle Vue), Dag Lovaas (Norway and Hackney), Nigel Boocock (England and Coventry), Terry Betts (England and Kings Lynn), Pete Smith (England and Poole), Martin Ashby (England and Swindon), Malcolm Brown (England and Leicester), George Hunter.
You can listen to the song on Youtube.
Thanks to Steve T and Jim Neil for help with this article.
This article was first published on 12th February 2019
[ Use Mobile Version ]
---

Geoff:

"Still got the single somewhere - the only 45 I've got left - although it's probably 30+ years since I played it! I remember buying it: (1) in the vain hope of getting speedway on Top of the Pops; and (2) because Hull had just gone up into division 1 and 'Jimmy Mac' was our new number one. "
Philip Busby:

"If anyone has this record would you sell it to me please? It would make my daughter very happy as we played the record a lot when she was a youngster, that's why she says it was part of her childhood memories!"

Comment on this Article | Contact Us | Go Back to Main Menu