The Ultimate Speedway Board Game
By Robert J. Rogers
The ultimate speedway board game!!
Designed by my Dad about 50 years ago and sadly never went beyond this, but kept us quiet in the long winter evenings.
It was a two part game, the first, based on monopoly where you played the part of a Promoter gaining money to pay for Riders and Spare bike parts.
There were things like the Supporters card which if you landed on their square they donated things like Money or Spares or the Speedway Control Board which if you hit their square normally caused you a problem like a fine or even forcing you to hand back a rider (based on the 1965 Bob Dugard incident at West Ham, where the SCB nicked him from us and sent him to Wimbledon, we never forgave them for that!)
Once the players had gained their riders (and hopefully enough spares) you went to the track, which involved turning the board over.
The second part was the track where your team rode.
You used a dice to moved the riders (originally coloured counters, then we got four riders, posh or what!) The track was marked out with falls and engine problems. The falls you had to try and avoid (these were the Triangle shapes) and the Dots were bike problems, example being you would pick up a card which said 'Handle Bars Broke', and if you had a set of bars you handed them into the Pits and could carry on, if not, that's the end of the race for you.
Dad did write to Waddington's with the idea, but no interest was shown by them.
Has not been played now for about 30 years and some of the cards have faded with age.
The rules were never written down so cannot remember all the aspects of the game.
Click on the picture for a larger view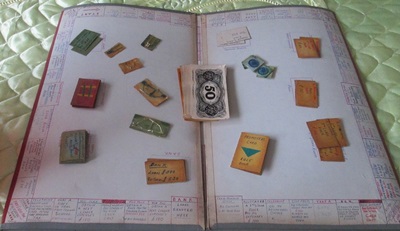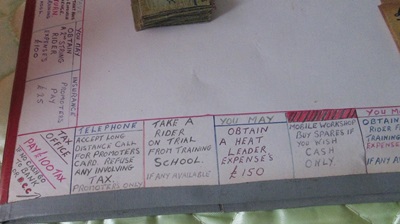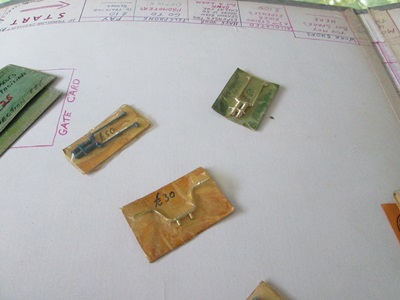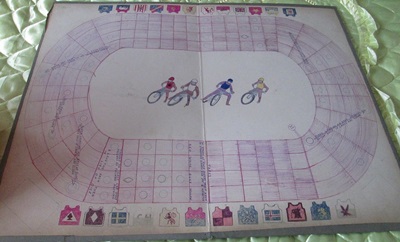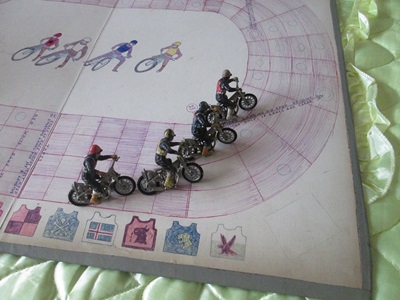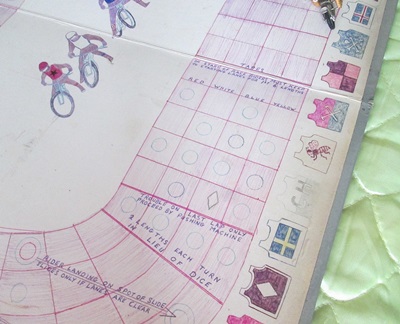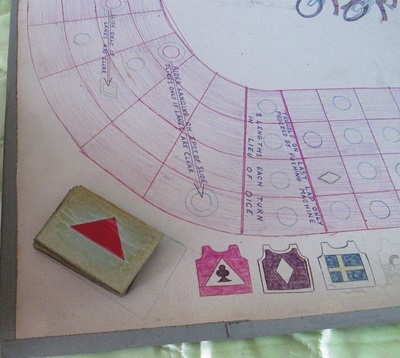 This article was first published on 7th January 2016
---

Doug Kemp:

"This game reminded me of Totopoly, a horse hacing game, which involved training the horses and then turning the board over to run the actual race. (In fact your dad seems to have used Totopoly money, according to your first photo.). An interesting concept, and it's a shame Waddington's didn't take an interest."

[ Use Mobile Version ]

Comment on this Article | Contact Us | Go Back to Main Menu