The Tebbys - Stan and Jim
By John Hyam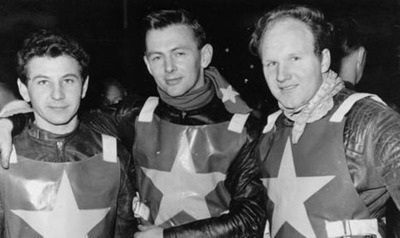 Cyril Maidment, Ronnie Moore and Jim Tebby
THE name of Tebby was around speedway for many years - from 1939 until the mid-1970s.
If asked to give Tebby a first name, most people will plump for Jim, the chirpy character who was such a favourite with Wimbledon in the 1960s and into the 1970s. His abrupt departure from Plough Lane was a shock to many people - as it was the rider. Years of loyalty to the Dons was suddenly cast aside in an abrupt and controversial move by then Dons team manger Cyril Maidment.
Tebby had just invested in new equipment for the 1973 season when he was told by the Wimbledon management 'your services are no longer needed.' It resulted in him moving on to Newport, where he gave the Welsh track devoted service over the next couple of seasons and rode in 94 matches for the Welsh club.
The record books will show that Jim Tebby first appeared on the senior racing scene as a 16 year old junior at Harringay in 1952 along with other aspirants like Roy Bowers and Jimmy Gleed, who both went on to carve respectable niches in the sport. I stand to be corrected on this, but I am certain that Stan and Jim Tebby were the first-ever father-son to ride in a best pairs event when they raced in a meeting at California in 1953.
National Service calls in 1954 temporarily blunted Jim's speedway aspirations. That means he was born in 1936 - then how come the Tebby name was involved in speedway just three years later in 1939? The fact is it wasn't Jim but his father Stan, who for many years acted as his son's mechanic.
Stan was very much an amateur speedway rider. His name first crops up at the California-in-England track in the few months before the start of World War Two in September 1939. His post-war racing career centred mainly on grass tracks in the home counties, as well as the amateur speedway tracks like California and High Beech. And for more than a dozen seasons spanning the 1960s and early 1970s, Stan was a member of the group organised by Victor Boston which staged speedway meetings at various venues in Northern France.
Claude Boston and Stan Tebby
The bike that Stan used in France in the 1970s had unique rear-suspension specially fitted for the bumpy French tracks. It is now on display at the London Motorcycle Museum in Greenford, Middlesex, along with race jackets used by Jim over the years.
I knew the Tebby family very well. In the 1950s, and I was often a weekend guest at their home in Amersham, Buckinghamshire. They owned a variety of road motorcycles and gave me the free use of one of them to explore this picturesque part of the English countryside.
Another highlight of my visits to the Tebbys was trips with them to then Wimbledon and England star Ron How's pub at Missenden, where others who used to drop in for a drink, to chat about speedway and play a game of darts included Danny Dunton, Roy Bowers and George Bason.
This article was first published on 1st October 2017
[ Use Mobile Version ]
---

Steve Bartlett:

"What an unsung hero Jim was for the Dons, really enjoyed his team riding and invaluable points scored, often unexpectedly. Very approachable jolly man and highly underestimated. Thanks for the memories Jim RIP."
David Pickles:

"An excellent and informative article from John Hyam regarding the Tebby family. Indeed, even people of my advanced years (almost 63) would be hard pushed to name another Tebby other than Jim. Never a star, but always a trier, and a loyal servant to the Dons. Shame that "Sid" couldn't find a place for him in 1973. Jim Tebby's passing at a relatively early age was another sad event in speedway history."
Judith Aldridge:

"We have to be fair to Cyril because he was given the choice of losing Jim or Trevor and that was no choice at all."

Comment on this Article | Contact Us | Go Back to Main Menu