The Voice - Issue 65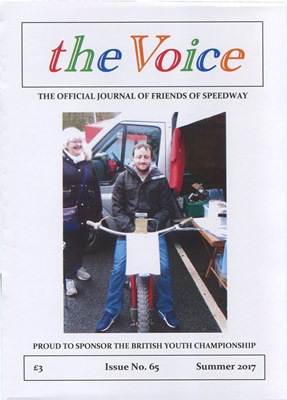 Friends of Speedway (a non-profit making organisation who are proud to sponsor the British Youth Championship - formerly the Under 15's) are pleased to announce the 65th edition of their magazine the Voice which is packed full of interest and enjoyment. This issue is a big 24 pages, which will keep your interest for hours!
In this issue David Telfer gives his inevitable views on all things speedway in general; John Chaplin says 'Fireman, save my bike'; Charles Mackay takes a look at the wranglings going on at Belle Vue; Roy Delaney gives an insight in to Geoff Bennett; John Hyam talks about Bantam Cars; Slider gives his own imitable views on the current direction of speedway at present; Sue Towner discusses new EU laws on motor sport having third party insurance and her financial report and Spike reports on the Ice. There is much more too to keep you going for hours including an insight into Japanese speedway!
Available from:
Friends of Speedway;
117 Church Lane,
Chessington,
Surrey
KT9 2DP.
Please send your cheque for £12 made out to the above for four issues of the Voice to Stuart Towner at the above address or ring 0208-397 6599 for more information.
This article was first published on 14th May 2017
[ Use Mobile Version ]
Comment on this Article | Contact Us | Go Back to Main Menu