Riders to Remember....Tom Farndon
By Paul Houghton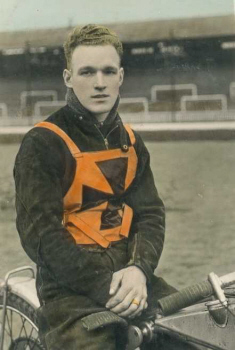 Tom Farndon
When I was told I was distantly related to Tom Farndon I was intrigued, so I set out to find out about this pre-war star of the dirt track.
Tom was Coventry born & bred, my best mate's mum said that her mum used to watch him wheel his bike to the Lythalls Lane track, he would blast round the Foleshill circuit much to the thrills & cheers of local fans. He was a big hit with the ladies too with his film star good looks.
Brandon was where he got noticed when he became a founder member of Coventry's first ever team. When I go to Brandon now, some 72 years after his tragic and way too early passing, I try to imagine him racing round. Going by the newspaper articles that was something else and something which brought the crowd to its feet. I'd have loved to have been there to see Tom in full flight.
Tom then made the move which would signal his arrival in the big time, Crystal Palace. By now he had become an England International and held many track records, he also won national trophies against some top class opposition, his match race against Dicky Case at Wembley where he is pictured making a swoop round the boards is just stunning.
I am sure Tom would have won the world championship if the grim reaper hadn't been present at New Cross that fateful night.
To be a legend full stop is testimony to his riding prowess but to be a legend in his own lifetime says a lot about a quiet and unassuming man who loved to race and then meet the fans afterwards in the clubhouse.
RIP Tom
Picture of Tom courtesy of Norbold's New Cross Gallery.
We want to feature similar articles on riders from any era of the sport's rich history. If you'd like to contribute a piece then email us at speedwayplus@hotmail.com or fill out our form here.
This article was first published on 27th March 2008
---

Norman Jacobs:

"I just thought I would let people know that on 30 August we held a very successful memorial service for Tom Farndon at his graveside in Coventry on the anniversary of his death on 30 August 1935. Strangely enough we were commemorating the 75th anniversary of his death and 75 people turned up. The fact that 75 people came to honour a man who died 75 years ago shows the reverence Tom is still held in in his home town. The event was organised by John Chaplin and the service conducted by the Rev Mike Whawell, speedway's chaplain. "
Dudley Jones:

"Although I came to speedway in 1962 the earlier eras have always interested me. Mention of Tom Farndon and the 75th anniversary of his passing shows how special many must have felt about him. That 75 people should meet to remember is truly remarkable. Was he the greatest of them all, as Norman Jacobs suggests? Perhaps not, but he certainly left an indelible mark on the sport.

I read recently that Johnie Hoskins claimed have declined to sign Tom when he had the chance. This seems logical, if as stated he felt that Tom was too much at risk. John was prpbably right. To lose it all in a second half scratch race perhaps shows John was right.

When somebody dies young then they remain in our memories as being taken before their time. I would love to have seen Tom ride ( I would love to have seen speedway at New Cross), but he probably paid the ultimate price of his devil may care youthfulness. Others have shone bright but briefly, like stars in the heavens, only to die before their time. I recall Ivor Hughes, rising rapidly in the sport to be lost in a few short months, and there were others....

Tom was young, handsome and died too soon. It is a tribute to our sport as well as to Tom, that so many should meet to remember this great rider who might otherwise have risen to be a world champion.

Sleep well Tom Farndon."
Graham Alsop:

"I was so interested to read about Tom Farndon as my father Harry Alsop was a big friend of Tom. He often talked about him and is buried quite close to him at St Pauls. My father said he did a lot of mechanical work for Tom so if anybody can give me any details on there friendship I would like to hear. I have lived in Australia and New Zealand for the last 40 years and my father told me he was going to come to Australia with Tom but it never happened, quite ironic."
Georgina Taylor:

"I too have been told that I am a relation of Mr Tom Farndon. I think he was my Grandmas cousin. I was taken to the cemetery, as a child and told the stories of the then superstar and of how the streets were lined with fans. "
Alison:

"My grandfather was the sculptor who designed and produced the streamlined memorial stone. See this book: Public Sculpture of Warwickshire, Coventry and Solihull"

[ Use Mobile Version ]

Comment on this Article | Contact Us | Go Back to Main Menu