Best of the Modern Era: Tony Rickardsson
By Gareth Hinton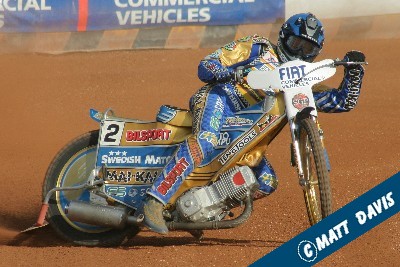 Tony Rickardsson
In modern speedway we have been blessed with an array of talented riders - Jason Crump, Nicki Pedersen, Greg Hancock, Leigh Adams - just to name a few. But there is one that really stands out - Tony Rickardsson.
The Swede was born in Avesta, Dalarna County, Sweden, in 1970. From a young age he wanted to become a professional speedway rider and went on to enjoy a successful time in his long club career. He rode for many British teams; Ipswich Witches, Arena Essex Hammers, Oxford Cheetahs, Poole Pirates and the Kings Lynn Stars all in the British Elite League. His last club he rode for was his local side Masarna in the Elitserien Swedish League.
Tony shot to fame in 1989 when he became Swedish Team Champion in Stockholm. By 1990 he won his first of six Swedish Championships, which was a great feat considering his age. The same year he finished third in the Junior World Championships to cap a superb start to his professional racing career. Rickardsson's early form earned him a call up to the World Championships and he quickly made an impression by winning the 1994 title when it was a one-off event. When the event was organised into six GP's and a points tally - Rickardsson struggled and in three years only had a solitary silver medal to his name, in his home Swedish Grand Prix.
The exciting Swede's dominance started in the 1998 season, when Tony really upped his game and announced himself at the top of the world stage. He went on to win three out of the six GP events which culminated in him winning the series by 12 points. The same year he won both his domestic leagues - Ipswich in the British Elite League and Valsarna in the Swedish Elitserien, and he top scored for both clubs. Rickardsson carried on his stunning form, although this time winning the World Championship wasn't as straight forward. Poland's Tomasz Gollob pushed Rickardsson all the way to the finish in the series.
If Gollob didn't get injured in Coventry and have to retire from the meeting it may have been a different story, but Tony went on to win the world title and pick up his fifth Swedish Championship along the way. Tony was now starting to get used to wearing the number one race jacket, although he lost it in 2000 when British boy Mark Loram, despite not winning an individual GP, topped the points tally and won the series. Tony did go on to win the World Team Cup and the Swedish League again.
After Tony's failure to win in 2000, he was back as good as ever in the following two years. The Swede won back-to-back world titles for the second time in his illustrious career. In 2001 he won the title with a record points haul of 121 and in 2002 he won three events again to win another World Championship crown. In the following few years Rickardsson lost some of his dominance to Jason Crump who was always Tony's rival and there was a new kid on the block in Nicki Pederson. He still managed to pick up the league titles in Britain and Poland and won the World Cup in 2003 and 2004. This led to the Swede not winning the title until his final full year of racing - 2005.
Tony went out in brilliant style by winning his sixth World Championship, a total bettered by nobody and only equalled by the legend Ivan Mauger. He announced he would retire at the end of the 2006 season, but the superb Swede packed away his bike half way through that subsequent season, announcing full retirement from speedway. It brought down the curtain on what was a dominant and successful professional career. He won just about everything there is to win in speedway and he became arguably the best rider of the modern era.
This article was first published on 14th December 2014
---

Tracy Holmes:

"Thank you for this piece Gareth, I very much enjoyed it! He certainly won THE biggest events he could enter. On top of those 6 World Titles were 3 World Cups as you said, 3 CZ Golden Helmets, 2 ELRC titles and was World Pairs Champion. I never get sick of watching him beat Hans Nielsen and Craig Boyce in the 1994 World Final Gold Medal run-off, genius! A true Mega-Star of the modern era. Cannot argue with him being just as you say, 'The Best' !"
Peter Hunter:

"Saw Rickardsson race a few times in Australia during the 1990's. The first was at North Arm in Adelaide when he was part of the touring Swedish team that defeated the Aussies 3-2 in a 1991 test series. Also saw him race a few times in the Series 500 (Australian Masters Series) during the mid-late 90's when the show visited the Wayville Showground. He won the inaugural Series 500 in 1995 from Simon Wigg and Sam Ermolenko and finished 3rd behind Craig Boyce (1st) and Ermolenko in 1996. He was every bit as good as people say he was."

[ Use Mobile Version ]

Comment on this Article | Contact Us | Go Back to Main Menu