Trackin' Down 3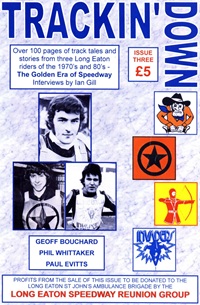 After successful sales of his first two books of interviews with ex-Long Eaton Speedway riders, long-time fan Ian Gill is back with another issue. Here's an extract from issue 3.
PAUL EVITTS on transfer shenanigans
"While I was out of the team with a broken leg, Dad and his promoting partner had a bit of a tiff and they were at loggerheads. The whole situation was making Dad ill. The way forward was that the other promoter arranged to bring in someone (Duncan Corbett, a racehorse owner) who bought my Dad's share of the promotion.
"So, by the time I was fit again after a few months out, Dad was no longer part of Birmingham speedway and I think the new promotion wanted me out of the club as well. I got a phone call and it was John Dews on the other end. Then John Turner rang me, both wanting me to go to Newcastle. Of course, I didn't know what they were on about as I thought I was still a Brummies' rider. They told me that I'd been put on the transfer list, which was news to me!
"I got on the phone to Les Powell, the Birmingham promoter and asked him if I was transfer-listed. "Yes," he said, "but we want you to keep it a secret." As I was the No. 1 and track record holder at the time, it all seemed a bit strange. He went on: "We don't want you to ride here anymore, Paul, but keep it a secret. Anyway, Newcastle want to sign you."
"I thought - but not for very long; "I don't want to go to Newcastle. Nothing against the track, promotion or fans, but it's over three hours driving away and it's Monday nights. I've got a few continental bookings coming up and if I'm riding in Germany on a Sunday, it's a mad rush to get up to Tyneside for their meeting. It wasn't long before I found out the real reason I was wanted by Newcastle. It was a plan between the two promotions to get Perky (Dave Perks) to Birmingham. It was then that I rang Les Powell and said; "If you think that's going to happen, you must be deluded! It ain't happening. I'll retire sooner than go through with that."
"He said, "You can't!"
"I replied saying, "As far as I'm concerned, I've just this minute retired! I'm doing one more meeting - the National League Riders' Championship as the Brummie qualifier and then that's it," and with that, the phone went dead. Minutes later, the phone rings again and it's the BSPA.
"Have you retired?"
"Yes."
"You can't."
"It's getting a bit tiresome now, as you can imagine. All these folks telling me I can't retire. "Why can't I retire? It's up to me whether I ride a bike or not, not you."
Then came the clincher.
"You can't retire because a deal - which involves you - has almost been agreed!" I told them that I had a pretty full diary of continental events, plus a contract to ride on the ice in Sweden over the winter, so it was no problem to give speedway up, deal or no deal.
"The phone rings again and it's Les Powell who is very dischuffed with life in general and me in particular, but all I did was remind him I'd retired. This farce carried on for about three days and then Canterbury came in to offer me a team place. I reckon Kingsmead's about as far away as Newcastle, but it was now a matter of principle. I wasn't going to Newcastle as everything had been organised behind my back.
"I even rang Perky to tell him he wouldn't be going to Birmingham!"
---
If you would like a copy please send a cheque or postal order for £7.00 to Ian Gill, 35 Humberston Road, Wollaton, Nottingham NG8 2SU.
For further details - and the background to the Trackin� Down series - please see Ian�s dedicated website at trackindown.webs.com
This article was first published on 7th July 2011
[ Use Mobile Version ]
Comment on this Article | Contact Us | Go Back to Main Menu