Unknown Rider
Jane Goodwin is trying to identify this rider. The pictures are believed to date from the 1950s.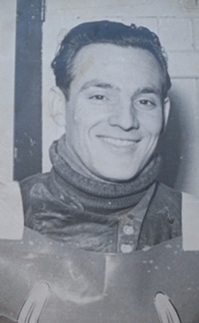 The same rider features in this team shot.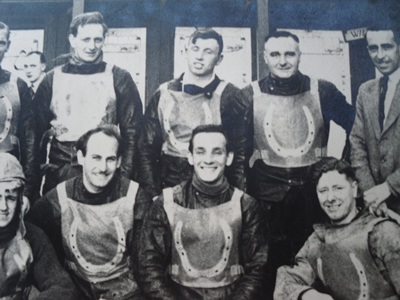 Get in touch if you know who it is.
This article was first published on 27th May 2012
---

Jim Chalkley:

"I think it is Joe Bowkis?"
Chris Holmes:

"I will hazard a guess that the "unknown" rider is Joe Bowkis who rode for Leicester Hunters from 1950-53 (just before I started my pilgimages to Blackbird Road). "
Gordon Day:

"Think this rider to be Joe Bowkis who started with Harringay in 1947 before being loaned to Poole for the 1948 campaign. Was recalled by Harringay for 1949 and then loaned to Leicester. Hope this helps."
Jane:

"Does anyone know what happened to Joe Bowkis when he left speedway?"
Family Friend:

"This photo is most definitely Joe. I knew him and his family when I was child. Joe opened a couple of book maker shops in East London after racing but I have no more knowledge after that. He was a very good family friend and generous person."
Bernard Bowkis:

"The Speedway Rider is Joe Bowkis. He road for Harringay, Poole and Leicester."

[ Use Mobile Version ]

Comment on this Article | Contact Us | Go Back to Main Menu