Riders to Remember: Vic Collins
By John Hyam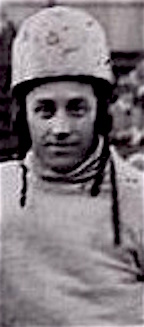 Vic Collins
Vic Collins had virtual dedication to Southampton from his early speedway days until his retirement because of a shoulder injury in early 1948.
He rode in the opening meetings at the track circa 1928 and when league racing started was their first captain. When the club switched to Lea Bridge in the early 1930s, Collins joined them. And he was again a Southampton rider when the club moved home towards the mid-1930s.
The nearest he came to breaking his Southampton links was in 1946 - when Southampton were absent from the sport, and he had second-half rides at Wimbledon and Bristol.
He was back on parade for Southampton when they entered the National League Division Three in 1947. But his racing career ended early in 1948 when he retired after suffering a serious shoulder injury.
This is what speedway historian Ron Hoare wrote about Vic Collins back in 1979:
"Memories of the old Southampton Saints are conjured up by the name of Vic Collins. Vic started his motorcycle career on a BSA road bike, joined the Southampton & District Motorcycle Club and in October, 1928, was riding at the new Wymering Park racecourse where he won the Scratch race for bikes in the 600cc class
In the same month Banister Court opened its doors to dirt track racing and in the following year Vic became a member of the original Southampton side, with Jimmy Hayes, Tommy Cullis, Clarrie Eldridge, Ceceil Bounds and many other well-known southern based riders.
Despite breaking a leg in the early part of 1930, Vic came back tremendously to win the Golden Gauntlet Championship at his home track's final meeting from a class field including Tiger Stevenson, Roger Frogley, Arthur Warwick, Ron Johnson and Reg Bounds.
Vic was another of the early riders who bridged the gap between pre-and-post-war speedway and he made a comeback in 1947 to turn out for his old side when they re-entered the league."
This article was first published on 6th May 2018
[ Use Mobile Version ]
Comment on this Article | Contact Us | Go Back to Main Menu