Riders to Remember: Vic Ridgeon
By John Hyam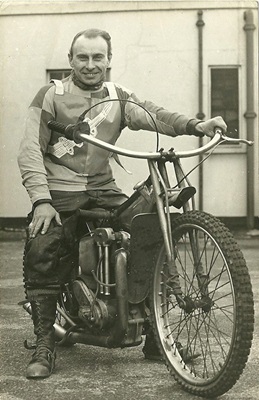 Vic Ridgeon
Vic Ridgeon was one of the stars when the Provincial League started in the 1960s, doing especially well at Wolverhampton where he is in the top 60 all-time scorers for the club with a near seven point average.
After the stint at Monmore Green, he was involved with the ill-fated team at Sunderland in 1964 and also appeared for Rayleigh and Cradley Heath.
As a rider, after National Service in the RAF, Ridgeon came to the forefront at Yarmouth at the start of the 1950s. He initially showed tremendous promise but never realised his full potential with the Bloaters. For all that, he was always a great favourite with East Anglian fans who readily took to his East London style of humour.
Ridgeon has a unique place in international speedway, being the only Southern Area League rider to represent England in a test match. At the time, Ridgeon had switched from National League Yarmouth to Rye House, who were then in the SAl, and was on a free-lance visit to the Republic. His international debut came in the seventh test of the 1956-57 series at Hoy Park, Durban, on February 23. England beat the South Africans 59-49, with Ridgeon scoring just one point - enough to earn him a place in the international speedway record books.
I first met Ridgeon in early 1955 at a car hire office in Forest Gate, East London. It was a business run by Johnnie O'Connor, a colourful character who was a mechanic to then West Ham star Jack Young. Besides running the car office - it had a fleet of big Yankee saloons and was known as 'American Hire' - O'Connor was a West Ham junior and also rode at the California and Eastbourne tracks. Quite often he also acted as the announcer at both venues.
Besides Ridgeon, among other riders who dropped in at O'Connor's cab office was former world champion and then West Ham rider Jack Young. Surprisingly, Jack never wanted to talk about speedway. Other visitors included the the Courtnell brothers Terry, Teddy and Maury of Yarmouth and West Ham fame. Another was George Cole - not the film star but the mechanic for former West Ham rider Keith Gurtner and at that time assisting Young. O'Connor vanished from the British scene around 1958. It was only years later that news filtered back that he had emigrated, virtually on the spur of the moment, to New Zealand.
Vic Ridgeon passed away several years ago.
This article was first published on 29th January 2017
[ Use Mobile Version ]
---

Jim Henry:

"Vic was a Glasgow Tiger for a short spell in 1964. He rode at a number of the Vintage speedway events organised by John Stallworthy at the BMF Rallies at Peterborough. Whist John mentions Vic rode at Rye House in the 1950s, this was Vic's halcyon days as he was one of the top men in the SAL and non league era with the Roosters. I should add that the details of a number of SAL and non league meetings are not in the public domain on the Speedway Researcher site and any additional information would be welcome. I met Vic a few times at Peterborough and once at High Beech and we was always cheery and friendly."

Comment on this Article | Contact Us | Go Back to Main Menu