Australian Speedway is Virtually Dead
By Ivor Craine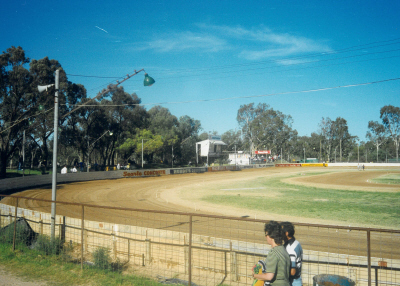 Mildura
Very few Australians would be aware that Australia has a current Speedway World Champion in Chris Holder and even less would care. Since the Australian Speedway GP in 2002 at the Sydney Olympic stadium which attracted a crowd of 31900, surely the biggest crowd to attend a GP apart from those at Cardiff, it has been all downhill for Australian speedway.
There is not one track in the Australia that holds weekly motorcycle speedway and the few tracks that do operate are remote from the major cities with poor facilities and cannot be compared with former prestige tracks such as Sydney Royal, Brisbane Exhibition, Perth's Claremont etc. Mildura the track where such great Aussie riders as Jason Crump, Leigh Adams were developed has declined to the stage where it only holds spasmodic motorcycle meetings and can no longer afford to run a round of the Australian Championships.
Even the future of this Championship series looks bleak with poor attendances and poor quality tracks which the riders don't like. The only incentive for riders to compete being to qualify for the GP qualification rounds.
It must be added that despite the 31900 crowd the Sydney GP it was a financial disaster. The reasons have never been made public but the overhead expense of going for such a prestige facility were probably to blame as it does not add up as a 10000 crowd in NZ can successfully support an on going event
The demise of Australian speedway has flow on effects for UK speedway as 24.8% of the riders listed for 2012 Elite and Premier League starting line ups were Australians and with the lack of meetings in Australia this source cannot be maintained.
This article was first published on 3rd February 2013
---

Peter Hunter:

"I kinda disagree with this article. My local track, Gillman Speedway in Adelaide, is among the best purpose built motorcycle speedway's in the world, and prior to the start of the 2011-12 Australian season over $100,000 was spent installing an Air Fence to improve rider safety, and crowds are good for the speedway's regular meetings.

Other tracks such as Loxford Park in Kurri Kurri (New South Wales), Undera Park in Victoria, the North Brisbane and Gold Coast speedway's in Queensland, and Pinjar Park in Perth all run regular and successful meetings. Add to that the continued success of junior speedway, with all tracks named (including Olympic Park in Mildura) have a junior track at the facility. Pinjar Park is small enough to run juniors, while Adelaide has th e Sidewinders speedway, the only purpose built junior speedway in Australia. All host regular junior meetings for both Solo's and Sidecars with full, or close to full fields. None of the tracks are what could be called poor quality, and the author seems to be forgetting that both Gillman and Pinjar Park are located in the cities.

Of the larger showground tracks located in the major cities, only the Brisbane Exhibition Ground and Adelaide's Wayville Showground still exist. The new Sydney Showground at the Olympic Games site can no longer be used for speedway as its been re-developed into an Australian Rules Football ground, while the Newcastle Showground in regional NSW is also still in use. Speedway in Australia is hardly dead, far from it."
Michael:

"Unfortuantely, I have to agree with this article. It may not be dead, but if our governing body and some clubs don't do anything about it, it will be in the near future. I think it is safe to say, Gillman Speedway is the only "Full time" track that runs both classes of Motorcycle Speedway (Solos and Sidecars) in Aus, with the announcement of NSW Kurri Kurri Speedway no longer holding Sidecar events after the 23rd Feb. Peter... Consider yourself lucky, Gillman is in my opinion, an "A class" facility for speedway, thanks to Dave Parker and the team at Gillman, they have put the money, hard work.

Lets have a look outside of Gillman Once again, in my opinion... Here are some key problems Promotion/Advertising - The age we live in with Social Media etc, it's not hard and doesn't cost big $$$ to Promote a meeting - Gillman do it and look at their attendance (remembering the economy) and the class of meetings they hold on a regular basis. I know of several Major meetings outside of SA that have been held in the last 3 or so months, and not a word to promote the meeting, therefore attendance is shot and very little interest.

I'm from QLD, a state that was once arguably one of the biggest states in speedway with the number of tracks and riders. We literally have no club/track that is a "Full time" Speedway club. Yes we have NB, they hold one or 2 big solo meetings every 12 months, but no major sidecar events can be run at this club. Gold Coast closed in 2008, Brisbane Ekka is no longer and will not hold speedway again (we have tried on numerous occasions with the ekka and councils, not going to happen)

Next we move to Maryborough ... Will be very suprised if they hold another meeting there for bikes (away from practices) ... Ayr - Good track, but finances are a key and they hold a handful of meetings a year (and dropping) .... Pioneer park closed ... One good thing is Macs Speedway at Mackay. They have spent 75,000 on making it friendly for bikes... they have announced 3 meetings for 2013 possibly a few more. So that wraps up QLD...

NSW - As i said Sidecars are no longer at Kurri.. so .. ummmm Next track ???? Tamworth? Finances are a problem also and promoting/advertising a massive issue to get the word out. Vic - Olympic Park Mildura, they have dropped massively over the last 5-10 years. Once again, they seem to have no interest. Media - As the article states, No word here on Holder and the World Title, Jason Crump the same, the only Media attention most of Australia get is if there is a tragedy or someone has played up and in trouble. These are just a few key facts, I could go on all day about the problems, I am involved in speedway and it kills me to see the state it is in, holding on to hope, but unless changes are made, it will be no more."
Tony Webb:

"Australian speedway .I was most interested in the comments by Michael on speedway promotion applications at the Ekka. For the last two years I have been researching for a commissioned history on the Ekka 1926-closure. Any application for speedway events at the Ekka have to be submitted to Brisbane City Council by the entertainment licence holder. The Royal National Aassoc. I have spent hours searching the Brisbane City Council minutes, unless I am missing something there has not been a speedway application made in the last decade.

My final chapter in my draft is related to the situation at the Ekka as it stands today. If Michael has evidence of applications made, as he indicates a personal interest, then I would like to know for inclusion in my draft. I do know that a well known, former Townsville promoter was approached by a member of the RNA about two years ago. He was told the RNA would look favourbly at a speedway proposal.The high cost of rental was a negative factor. I am based in Brisbane and can be contacted on binbooks@iinet.net.au"
Peter Hunter:

"Australia will finally see the return of international speedway with the 2015 SGP of Australia to be held on an artificial track in the 53,000 seat Etihad Stadium (another one with a retractable roof) in Melbourne.

While I can fully understand Etihad Stadium being chosen to stage the event (which has a 5 year contract), I do find it hard to understand that they are taking the meeting to a city which has had no regular speedway track since the Melbourne Speedbowl shut down in the late 1980's. The Sydney public didn't really show a lot of interest back in 2002 (though a crowd of 32,000 is nothing to sneeze at), but Sydney had not had regular motorcycle speedway racing since Liverpool shut down in 1989. Sure there is the poorly attended Nepean Speedway in the north-western suburbs, but motorcycle speedway in NSW had basically been running out of Newcastle and Gosford for 13 years (with the odd meeting at both the old and new Sydney Showgrounds).

For mine, the better choices would have been to use either the Ekka in Brisbane or the Wayville Showground in Adelaide. Both successfully staged meetings of the Series 500 that ran from 1995 until 1999 and both were known to draw big crowds to international meetings. For whatever reason the Ekka never really got a look in, but Wayville was considered by the SGP management in the late 1990's. Unfortunately they decided that Wayville wasn't up to standard and that was the end of that, though considering some of the venues the SGP has used over the years most felt that it sounded more like an excuse not to have to leave the European/British comfort zone than any valid reason.

But Melbourne, despite having run speedway for many years, has not had one for many years so who knows what the local attendance will be? I know there will be a number of people coming from interstate (Adelaide, Perth, Brisbane and Sydney) and there will be those who come from overseas....I just hope that the 2015 SGP of Australia attracts a good (30,000+) crowd and shows that speedway in Australia does have a future."
Andy Davidson:

"Re;Australian GP 2015 It should have gone to Gillman in Adelaide in South Australia, it's just the place for great racing, Dave Parker has done wonders to the place and with MA and the council chipping in some money it would be THE place to hold the GP. "
Tony:

"You can rule the ekka out as it fails to conform to FIM standards and due to the infra structure it is virtually impossible to carry out alterations. The ANZAC stadium was considered but there are transport logistics that rules this one out. The Wayville showground has similar problems to the ekkka to re construct the track to FIM. Victoria has a good base of vintage interest in speedway and I am sure that an inner city location is a wise choice. There are movements to have many speedway related events in the lead up and beyond the SGP date including Broadmeadow on the sunday and Mildura the following weekend."

[ Use Mobile Version ]

Comment on this Article | Contact Us | Go Back to Main Menu