The Voice: Issue 60
By Friends of Speedway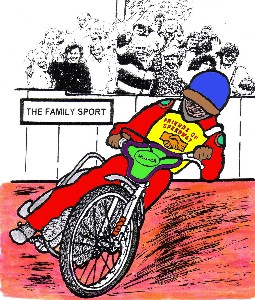 Friends of Speedway (a non-profit making organisation who are proud to sponsor the British Youth Championship - formerly the Under 15's) are pleased to announce the 60th edition of their magazine the Voice which is packed full of interest and enjoyment. This issue is a big 24 pages, which will keep your interest for hours!
In this issue David Telfer gives his inevitable views on all things speedway in general; Annette Maybach gives her thoughts on BBC Sports Personality awards and the GP series going to BT Sport; 'Slider' talks about 'tractor racing' and wonders about the future; Charles Mckay delves into TV viewing figures, where the money went in the GP's and freedom of contracts; Sue Towner writes on helping the British Youth, Darcy Ward and her Treasurers Report; Roy Delaney talks of personalities visiting speedway; John Hyam writes on Midget cars; Neil Vatcher on the coming season with the youth and much more too to keep you going for hours!
Available from:
Friends of Speedway
117 Church Lane
Chessington
Surrey
KT9 2DP.
Please send your cheque for £12 (the first increase in 40 issues) made out to the above for four issues of the Voice to Stuart Towner at the above address or ring 0208-397 6599 for more information.
This article was first published on 31st January 2016
[ Use Mobile Version ]
Comment on this Article | Contact Us | Go Back to Main Menu