My West Ham Memories
By Jim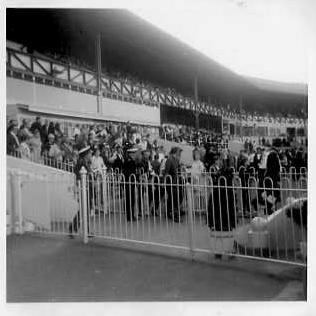 Custom House stadium was HUGE!
When built in 1929, it had a theoretical capacity of 120,000. That was more than Wembley at the time and more than Odsal has ever held. It wouldn't be allowed that capacity nowadays, but would still be a big stadium by any standards.
In fact, its huge stands wouldn't be allowed to exist at all nowadays as they were almost entirely constructed of wood. I assume there was a basic steel structure, but everything you could see was wood.
It was a big track, too, with enormously wide and steeply banked bends, which made for excellent racing. I went there only two or three times, but that included a British Final.
The place was really something of a white elephant. Its vastness was never filled for any sport. In a reversal of the usual form a football team (Thames AFC) was started to use the place in 1928, and it was admitted to the Football League in 1930. If that had succeeded, the place might have been filled occasionally, but it was a flop, recording the lowest ever Football League attendance (469) in the old Third Division (South) and didn't last long.
At that British Final, I decided to watch a few heats from the dizzy heights of the upper stand at the beginning of the first bend. Nobody wished to join me, so up and up I went on my own. It wasn't closed, but it was apparent nobody ever went there, not even with a good crowd in, as there was that night. The wooden seats were thick with with the dust and grime of many years!
That height was not the best place to watch speedway from and the PA system was inaudible there, so I came down again after 3 or 4 heats. Still, I'm glad I had that rather odd experience.
This article was first published on 6th November 2016
[ Use Mobile Version ]
---

Jason Steele:

"Love hearing of people's memories of this grand old stadium. I am currently making a replica model of the main stand and would like to talk with people who sat and watched the action from there. If they could please get in touch to exchange info that would be amazing. jasontotti@hotmail.co.uk or call/ text me on 07742 024414 and I will respond..."

Comment on this Article | Contact Us | Go Back to Main Menu