Speedway Riders on the Wall of Death
By Jim Henry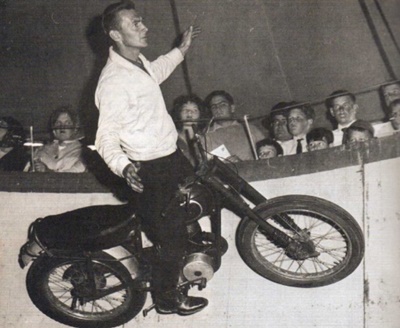 Ronnie Moore Rides the Wall
Whilst I have seen wall of death action many years ago at a BMF Rally at Peterborough I have never really given the links between the action and speedway much thought.
I have recently been in touch with Alan Mercer who is interested in the history of wall of death. Alan's work can be viewed on his web site vintagewallofdeath.co.uk . He has, amongst a wealth of information, compiled a list of speedway riders who rode the wall of death and the globe of death which included pioneers Skid Skinner and Clem Beckett and some from the 40s and 50s such as Dick Campbell and Ronnie Moore. I was surprised to see just how many speedway riders took to the wall for sure.
Alan has scans of albums compiled by Skid Skinner's wife Alma which contain newspaper cuttings and photographs of Skid's dirt track and wall of death activities both in the UK and on the continent. If you are interested in viewing the material please contact Alan via vintagewallofdeath@gmail.com as the files he has are large and need to be transmitted via We Transfer.
There is an Alma Skinner Collection of pioneer days photographs. This can be viewed on the web. Google Wall of Death History UK which will bring you to a NFCA Digital archive and from there you should be able to bring up the aforementioned Alma Skinner Collection.
This article was first published on 16th August 2020
[ Use Mobile Version ]
---

Ann Wright:

"George Todd, Wall of Death Rider 1929 - 1960s My late father was a famous wall of death rider. One newspaper article in the 1930s said he was a famous London speedway rider. Although he left lots of movie film of speedway the riders are too far away to be identified. Can you tell me whether you have come across him?"
Matt Jackson:

"There was a chap called E.A. Todd who rode at Audenshaw and Manchester White City way back in 1928, but I've never come across the name George Todd in my speedway research I'm afraid."
Janette:

"Newspaper article in 1933 states Arthur Handley - Ace Handley - was a dirt bike rider in Liverpool, UK and had travelled with the team to Australia. No date given. Arthur - Ace - was Wall of Death Rider 1930 - 1938 until his untimely death in Jamaica in 1938. Alan Mercer and former Wall of Death Riders have greatly helped me in obtaining information about my great uncle. Is Arthur/Ace Handley noted in your records? Thank you."

Comment on this Article | Contact Us | Go Back to Main Menu