Book Extract:
Warzone Speedway
By Trevor Davies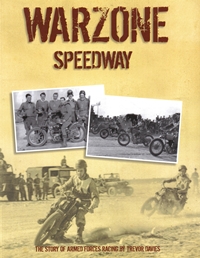 ANOTHER WINTER RIDING SPEEDWAY
Monday October 28 1946 saw the second post-war European tour get underway, this time as a private venture.The plan was to run meetings in France, Belgium, Holland and Germany as part of spreading the speedway gospel to a still war ravaged Europe. Led again by Frank Buckland and Eric Chitty, the itinerary included such venues as Buffalo stadium Paris, Hanomag stadium Hanover, Liege,Antwerp, Hamburg and Heysel stadium in Brussels.
The tour team included: Frank Buckland (manager), Ivor Pole (equipment manager), Norman Barker, Eric Chitty, Geoff Pymar, Jeff Lloyd, Malcolm Craven, Frank Lawrence, Frank Hodgson, Bob Harrison, Kid Curtis, Cyril Anderson, Oliver Hart, Bill Kitchen, Ron Clarke, Bill Pitcher, Alec Statham, Mike Erskine, Ron Howes, Bob Wells (rider-mechanic), Fred Peace and Stan Seal (mechanics).
The group were based in Brussels at the Schleen hotel, the party including some rider's wives who were able to enjoy the shopping in these austere times in England. In 1946 rationing and shortages were rife with most products produced in the UK being exported to the European market and the opportunity to obtain some luxury goods was a major attraction to the ladies. The tour hit problems early on, when it became apparent that some track owners that had agreed to take the English tourists were having second thoughts, leaving Frank Buckland trying to find alternative venues to keep the tour alive.
Meetings were held throughout November, including a memorable individual event at Heysel stadium, the scene of the Liverpool v Roma crowd tragedy in 1985. The organisers were to lay a racing oval on top of an athletics track around the football pitch when they realised they were running out of preparation time. They then had a brainwave. To speed up the process they drafted in 150 collaborator prisoners who had helped the Germans during the occupation of Belgium, to complete the work. Facilities at tracks struggled to match British standards, with some meetings being run without a starting gate, flag or green light starts being employed. In some meetings the opposition were Belgian motor cyclists who had only ridden grass track or scrambles and were riding Tiger Hudson's or Speed Triumph machines. With lack of meetings in Belgium and Holland the tour moved on to Germany (Hanover and Hamburg). The RAF had arranged three meetings for BAOR personnel in the area and they also housed the tourists in an un-named Air Force base where at least the generous hospitality made up for the lack of meetings. Records do exist for the five meetings in Germany, four in Hanover and one in Hamburg. Bill Kitchen was very much the star of this leg of the tour returning to England with the Hanover, Hamburg and German Individual Championships.
Known results:
Challenge Trophy de Bruxelles - 1st Oliver Hart; 2nd Alex Statham; 3rd Norman Parker
Hanover Ind Championship - 1st Norman Parker; 2nd Ron Clarke; 3rd Mike Erskine
Hanover Championship - 1st Bill Kitchen; 2nd Norman Parker; 3rd Frank Hodgson
Hamburg Ind Championship - 1st Bill Kitchen; 2nd Ron Clarke; 3rd Norman Parker
German Ind Championship - 1st Bill Kitchen; 2nd Ron Clarke; 3rd Geoff Pymar
British Riders Championship - 1st Norman Parker; 2nd Frank Hodgson; 3rd Frank Curtis
Warzone Speedway is available for £20 (including p&p).

Cheques made payable to "Trevor Davies" should be sent to:

Warzone Speedways
21 Gatton Way
Hucclecote
Gloucester
GL3 3DG
This article was first published on 14th August 2008
---

Martin Piddington:

"I read your article on the 1946 championship of Germany in Hannover. I have a programme from that meeting signed by all of the riders. I would like to sell it, would anyone be interested?"
Interested buyers can email martinpiddington@outlook.com

[ Use Mobile Version ]

Comment on this Article | Contact Us | Go Back to Main Menu