New Book: Watershed
By Michael Hansen
Readers of Speedway Plus may like to know that Michael Hansen's latest speedway novel Watershed has now been published. This time, the action takes place in the early part of the 1977 season, against the background of the introduction of the BSPA's silencer regulations.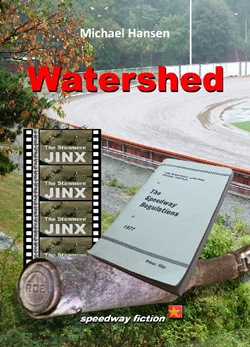 'SILENCERS are going to be the biggest thing this season and you're going to have to get used to riding with one.'
When Joe Barnes's mechanic gives him this advice, Joe assumes he is talking about the BSPA's new, approved silencer, developed at Manchester University by Dr Geoffrey Roe. But Rick has another idea - one that the Noise and Silencer Committee will see as a challenge to its authority.
Joe has other problems on his mind. Booked to double for temperamental actor Martin Francis in the Thames TV children's serial The Stanmere Jinx, he had assumed the racing scenes would all be enacted at Crayford's London Road Stadium but a change of plan takes him to Sweden where he finds himself required to take part in heats on a track which, for very personal reasons, he hoped never to ride.
And when veteran Fleet Street reporter Bernard Rafferty sees the possibility of a story in Rick's closely-guarded secret, difficulties mount for Wimbledon's talented duo.
But there are problems facing speedway itself. As the Control Board's Major Adrian Burkitt tells Rick, 'The people who live close to a speedway stadium but who prefer to prune the roses or watch The Sweeney on summer evenings increasingly resent having their peace shattered by the noise of methanol engines. And, ironically, their voices are becoming increasingly loud.'
For Joe, for Rick and for the sport itself, 1977 is shaping up to be a watershed.
This article was first published on 23rd February 2014
[ Use Mobile Version ]
Comment on this Article | Contact Us | Go Back to Main Menu